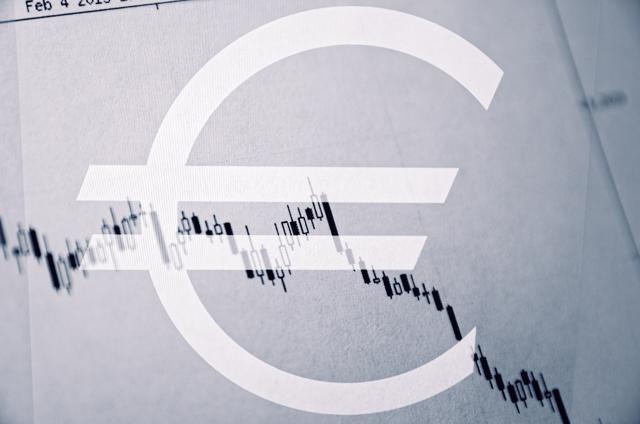 European bank stocks have been getting slammed. Concealed by Chinese Yuan and Federal Reserve headlines, European financials have secretly been having a terrible year. Poster child European banks like Deutsche Bank (NYSE:DB) and Credit Suisse (NYSE:CS) are down nearly 30% and 40% respectively in the last six months-starting this year worse off than 2008. Bank stocks seem to be acting as if we are destined for another 2008 financial crisis or late 2011 European debt crisis. Are equity prices implying another crisis or is the macroeconomic environment just that bad?
Poor Banking Economics
It's not a good time to be a bank in Europe. The European Central Bank (ECB) will likely vote to cut interest rates further into negative territory at their next meeting. According to an anonymous ECB governor in a recent Reuters interview, "doing nothing in March is very unlikely…[and] a deposit rate cut is fairly undisputed."
The ECB has three main interest rate levers it is able to adjust, each with a specific function. The Main Refinancing Operations (MRO) rate, which issues the majority of capital to banks, is currently at a mere five basis points (bps). The deposit rate, used for overnight facilities with the Eurosystem, is at negative 30 bps. Finally, the marginal lending rate, the price at which banks can lend overnight credit to institutions from the Eurosystem, sits at 0.30%. The ECB can move a number of these rates to increase economic activity...in theory.
All of the ECB's interest rates have been trending lower since the 2008 global financial crisis, but the bank is walking a fine line. Cutting interest rates into negative territory may have theoretical benefits, but banks end up eating that cost at the expense of their net interest margins (NIMs). NIMs are a common performance metric fundamental analysts look at. This number examines a bank's investment income vs. interest expense relative to its assets. Bank profitability and NIMs are directly related to the steepness of the yield curve.
Ideally, banks work with a wide spread between short-term and long-term interest rates-reason being, financial institutions borrow funds on a short-term basis in order to invest in long-term opportunities, thus capturing the spread. Challenges arise when bond yield curves flatten out and/or turn negative at some point along the curve. Skeptics suggest that negative rates hurt earnings and margins and ultimately hamper the institution's solvency-especially key when many of these stocks are already in a bear market with poor operating metrics.
Banking in Bear Markets
Equity prices are not the only asset class in a bear market. Commodities have also fallen victim to lackluster economic growth. With oil down over 20% year-to-date, bank investors are concerned about energy related loans.
Numerous Q4 conference calls quantified the amount of exposure banks had to the energy market. In total, European banks are estimated to have gross exposure of over $100B to energy loans. According to Bank of America Merrill Lynch:
European banks could book $27B in loan losses from energy firms, or 6% of the industry pretax profits over three years.
While this may seem significant, analysts are expecting this to be manageable-nothing like the exposure to housing during the 2008 great financial crisis.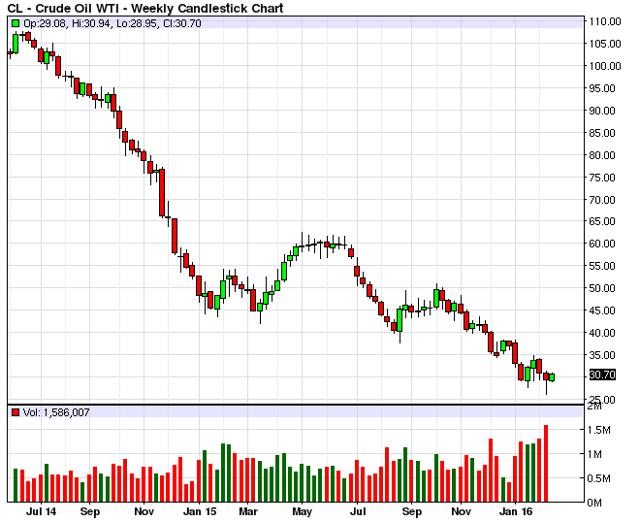 (Chart Credit to Barchart.com and Oilprice.com)
BNP Paribas (OTCQX:BNPQY), for example, has recently suggested that "only around 20% of [its] loans to energy companies [are classified] as high-yield." The firm projects a "manageable" loss of €6B on €400B (1.5%) of energy sector risk.
In related news, the French bank will reportedly be exiting some sectors of the energy lending market. As reported in the Financial Times, the bank will be exiting the "reserve-based lending" market after just entering it in 2014. Management cited a "poor outlook for future fundamentals in the short to medium term."
With commodity related loans seemingly being a "manageable" risk, the macroeconomic environment must be the reason why banks are struggling and risk metrics are exploding.
Measures of Market Risk
Traders and investors like to source input from a variety of markets to form a thesis. In this case, to properly confirm heightened risk in the European banking sector, investors should look at what the options, credit and stock market are implying. Using Deutsche Bank and Credit Suisse as examples, it seems like the market is very uncertain about the fate of these companies. With both of these stocks down nearly 30 and 40% in the last six months, risk indicators in credit and options should be at highs-which they are.
The price of options as measured by implied volatility is currently in the 74th and 83rd percentile for Deutsche Bank and Credit Suisse. This tells traders that risk premiums and price uncertainty are both near 52-week highs. Critics might suggest that these could be two "one-off" examples and not a sector wide trend. For that reason, exploring the iShares MSCI Europe Financial Sector Index ETF (NASDAQ:EUFN) is an appropriate exercise. In this case, implied volatility actually just closed at its 52-week high, meaning that 100% of previous volatility measures over the last 52 weeks are currently below where options are priced now.
On the credit side of the market, similar trends are pervasive. Credit protection as measured by credit default swap rates on Deutsche Bank and Credit Suisse are up over 140% and 80% respectively this year thus far.
With elevated risk indicators, unfavorable yield curves, uncertain central bank policy and a weak commodities market, European bank stocks have witnessed an appropriate downdraft in share price. What is next is equally if not more important.
Recent Developments
ECB President Mario Draghi recently confirmed that his team of policy makers would step in if financial conditions endanger price stability. For example, the ECB is reportedly in talks with Italy regarding a new bad-loan purchase program, where Italy would accept troubled assets in exchange for cash. The ECB looks like they are ready to act and help prevent deflationary pressures from getting any traction. Underscoring all of this recent dovish chatter, in a recent speech Draghi went on to say that, "we will not hesitate to act" if financials conditions worsen.
Similarly, back in the private sector, some financial situations have already started to worsen. Deutsche Bank, which is already in the middle of an organizational restructuring effort, just announced additional plans to calm investors in response to recent market conditions-a new $5.4B debt buyback. In the same release, the German bank announced to the market that they are "taking advantage of market conditions to repurchase this debt...below its issue price, [to] realize a profit" and to further reduce their debt burden.
Stepping back, markets are currently pricing a high risk many traditional investments will likely lose given risk free rates are dropping or negative. With investors, in some cases, paying to avoid making investments and banks implicitly in the business of making investments, the banking environment does not have an ideal macroeconomic backdrop.
Fariba Ronnasi
CEO, Elite Wealth Management
Full Disclosure Here. This article is not intended as investment advice. Elite Wealth Management or its subsidiaries may hold long or short positions in the companies mentioned through stocks, options or other securities.
Disclosure: I/we have no positions in any stocks mentioned, and no plans to initiate any positions within the next 72 hours.
I wrote this article myself, and it expresses my own opinions. I am not receiving compensation for it. I have no business relationship with any company whose stock is mentioned in this article.
Editor's Note: This article discusses one or more securities that do not trade on a major U.S. exchange. Please be aware of the risks associated with these stocks.