Fears of weak global economic growth led by the China slowdown and oil prices crashing to a 13-year low have led to investors fleeing equity markets towards safer assets across the globe. India has not been immune to the carnage, witnessing foreign institutional investor outflow of USD2.1bn, the highest since 2008, and a correction of around 18% since the start of the year. Weak earnings season and asset quality concerns in banks have also added to the woes, as the markets have pulled down equity valuations below historical averages. Though the valuation appears attractive at current levels, we would advise caution; we believe there are lingering concerns and that the Indian market is not yet out of the woods.
India's benchmark indices have been the worst performers amongst the major emerging market indices in 2016, with Sensex sliding roughly 18% through the second week of February. Global risk aversion has led to huge foreign fund outflows as well.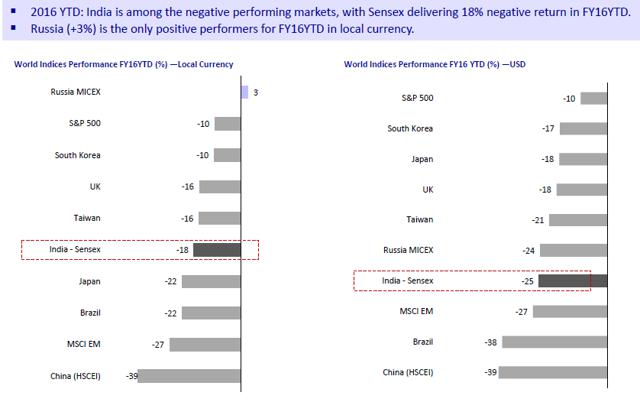 Source: MOSL.
What is more interesting is that the valuations of Indian equities have turned very attractive by some metrics:
The 12-month forward price-to-earnings (P/E) multiple of around 15x is roughly 11% below its long-term average of 16.8x; and
The 12-month forward price-to-book (P/B) of 2.3x is at about an 18% discount to its 10-year average.

Source: Kotak Institutional Equities estimates.
So the big question now is whether it is the right time to enter the market. We would advise caution, despite the markets having corrected nearly 6,000 points since its record high of 30,000.
Please note the bearish view of the Indian market I am expressing in this article is for the medium term (4 to 5 months) and I am long Indian equities for the long term.
The macro recovery is losing steam.
According to CMIE data, the recovery witnessed during the first half of FY 2016 has lost it sheen, as seen from current data on industrial production and core sector performance, which is more severe in capital goods sector and project investments.

Sources: MOSL, CMIE.
The problem is further exacerbated by dwindling exports, currently at five-year lows, over political instability and economic weakness in India's key export consumers of Africa, the Middle East, and Europe. The corporate sector is also yet to come out of successive quarters of shrinkage impacted by deflation, while adjustment to input costs has been selective.

Sources: MOSL, CMIE.
The Indian banking system will remain mired in pain for a long time.
We believe that one of the major reasons for the recent pullback is the sharp fall in stock prices of public sector undertaking, or PSU, banks, mainly due to rising concerns over their high concentration of non-performing loans (NPLs). The Reserve Bank of India's asset quality review ("AQR") forced the banks to recognize loans doled out to weaker companies as NPLs and make higher provisions. There is still uncertainty over the true quantum of NPLs in the system.
We believe systemwide credit growth would be hard to come by over the next 2 years, as the PSU banks account for three-fourths of the loan share. Further, they are mired with difficulties and lack sufficient capital to grant any new loans. Also, they would find it difficult to raise new capital given that they are trading at P/B less than 1. It should also be noted that around 17% of PSU banks loan books fall in the stressed category, mainly concentrated towards the medium-sized and large corporates.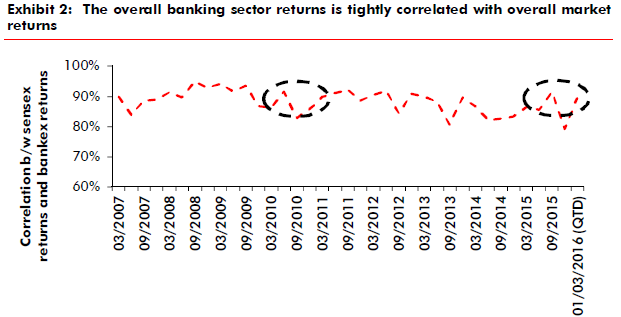 Source: Ambit Capital.
Historical evidence shows us that there is a strong positive correlation between the overall market returns and banking sector returns, largely determined by the broader health of the economy and the banking sector.
The EPS downgrade cycle will persist.
Though we are bullish for the long-term, there are concerns over the near term rebound. The consensus target for BSE Sensex earnings per share for FY 2016E and FY 2017E have been cut by more than 21% over the past year. The Street currently estimates EPS to grow at a CAGR of 12% between FY 2015 to FY 2018E, (cf. FY01-08: 21% CAGR and FY08-15: 7% CAGR), which translate to EPS growth of -2%, +16% and 22% for the following three years.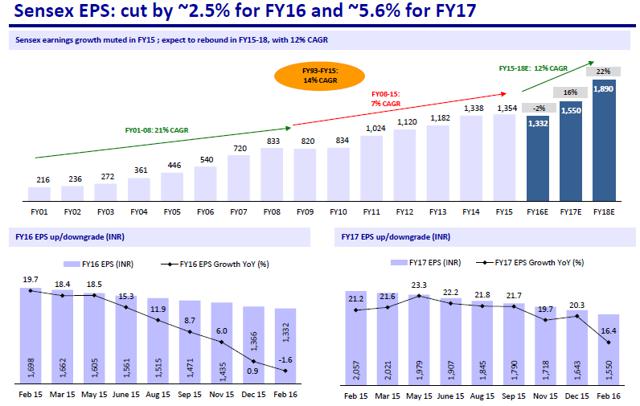 Source: MOSL.
We believe that the two major reasons for the deceleration in earnings growth are: 1) weak nominal GDP growth mainly due to WPI deflation, despite improvement in real growth as ca. 40% of revenues are commodity linked; and 2) still high financial leverage with interest costs eating into profits.

Sources: IBES, CS.
Other key headwinds to earnings recovery include: i) weakening global growth and the modest over valuation of the INR, ii) slowdown in private investments and iii) weak aggregate spending, though government investments have picked up.
The 2016 union budget lacks positive catalysts.
While the budget presentation has always been viewed positively, with a rally during the month of February, it would be different this time. The current year budget lacks meaningful catalyst as it has limited head room to increase spending with slowdown in tax collections, desire to keep fiscal deficit under check hurting government spending, large allocation to implementation of pay commission recommendations and uncertainty over oil price movements. It would also be more focused on social spending to remove rural stress after a series of draught.
A higher implied market ROE points to underperformance.
According to a recent research by Credit Suisse (NYSE:CS), the implied ROE of the Indian market stands at 18.5% as compared with actual ROE of 13.5%, which suggests that there is a big disconnect between the asking rate indicated by the market for the corporate profits and actual figures. In addition to this, India's P/E premium to the Asia Pacific region has dropped from a high of 55% cent in September 2015 to 46% currently. Historically, India has always underperformed once its premium reaches 50%.

Sources: IBES, CS.
Investment implications
US investors can take exposure to the Indian markets through ETFs, namely the WisdomTree India Earnings Fund (NYSEARCA:EPI) and iShares MSCI India ETF (BATS:INDA). However, we would advise investors not to invest in the Indian market at this point in time, wait for the dust to settle and seek entry at lower price points.
One can take at a stock-specific approach, focusing on names with high superior earnings resilience and have witnessed earnings upgrades in the past month. Top stocks picks US retail investors can access with adequate liquidity include: HDFC Bank (NYSE:HDB), Infosys (NASDAQ:INFY), Cognizant Technology Solutions Corporation (NASDAQ:CTSH) and Tata Motors Limited (NYSE:TTM).
Disclosure: I/we have no positions in any stocks mentioned, and no plans to initiate any positions within the next 72 hours.
I wrote this article myself, and it expresses my own opinions. I am not receiving compensation for it (other than from Seeking Alpha). I have no business relationship with any company whose stock is mentioned in this article.