Since I am willing to admit when I am wrong on stocks such as Twitter (NYSE:TWTR) and Party City (NYSE:PRTY), I think it is fair to recognize my accuracy on Boston Beer (NYSE:SAM). The stock is down 16% since my original sell call on December 5th. The stock is up since my reiteration of my sell call on January 25th, but I'm expecting that to change in the next few days. The point of that article was to warn of poor numbers to come in 2016, which is what was reported. I personally tried to short Boston Beer in the mid $180s a few days ago, but there were no shares available.
The earnings report on Thursday afternoon was very bad. The firm beat EPS by 8 cents in Q4 by reporting $1.21. Revenue missed expectations by $9.05 million, coming in at $215.13 million. The problem was guidance and negative commentary. The full-year earnings guidance was between $7.60 and $8.00. This means the mid-point of the range is 28 cents below what Wall Street expected. Not only is this a disappointment, but as I'll get to it later, this guidance is probably too optimistic.
The two themes of the quarter were declines in Samuel Adams' craft market share and declines in the total hard cider category. This is exactly what I predicted. There is simply too much competition in the craft category for Boston Beer to maintain its market share. Depletions for the year increased 4% for the year, but decreased 3% in the 4th quarter as market share losses accelerated. While some bulls scoffed at my experience as a bartender for a few years, my thesis was correct. Craft drinkers are more likely to try new products than Budweiser drinkers. If the competition grows at a 10% clip per year and drinkers have no loyalty to any brands, this is a recipe for market share losses.
My thesis on Angry Orchard was even more negative than Samuel Adams. It was that the entire hard cider category was a bubble. Surprisingly, this led to personal attacks by cideries on Twitter. My theory is that their attacks were based off of poor results, which is entirely possible because of the category shrinkage which is occurring. CEO Martin Roper actually came close to agreeing with my bubble analogy by comparing Angry Orchard sales to a deflating balloon when he said: "So we're still pretty positive. We think we may be seeing sort of the trial balloon bursting a little bit." There is no reason to be positive on Angry Orchard sales as the trend is negative. Management keeps falling back on the gluten-free, natural aspect of hard cider. This is ridiculous. As I have said previously, the amount of sugar in these beverages makes them anything but healthy.
The key word I noticed while listening to the call was the word "hope." While hope may be a great campaign slogan, hope is not a strategy to improve sales. The word hope was used five times, rearing its ugly head particularly when management discussed Angry Orchard. They said the following:
"We are intending to modify our message a little bit to support the category, and we hope - and we believe that will help and that will hopefully be on air later this quarter or early next."
The loss in market share of Sam Adams can be improved by changes in messaging to try to better compete with other brands. Marketing cannot convince consumers to drink hard cider if they don't like it anymore.
As I said in my last article, hard cider is losing share to hard soda. I made the point that this is a negative because Boston Beer will keep having to chase the latest fads, never achieving dominant market share again. The CEO admitted on the call that hard cider losses of share and ads may have been caused by hard soda. Even Coney Island Hard Root Beer is seeing deceleration. It is off its peak in August and September, which management said they were "obviously disappointed" about. The reality is these brands are not sustainable products. They are fads which gain popularity very quickly and lose them equally as quickly. Using management's words, they have "big waves of trial periods" before "settling down." I like to invest in sustainable businesses, not businesses which need to constantly create a new 'must have' product.
As I said, even though Boston Beer had disappointing guidance, I think it is still too optimistic. The full-year guidance anticipates mid single-digit depletion growth which would be an uptick from the 3% decline in the 4th quarter. This possible mistaken optimism was pointed out in the first question on the call. Analyst Judy Hong of Goldman Sachs astutely observed the following:
"So first just in terms of your depletion guidance for 2016, obviously, just given the fourth quarter softness and year-to-date trends and Angry Orchard lapping pretty tough comparison in the first part of the year, it seems like the mid single-digit depletion seems a little bit optimistic."
The firm is expecting slight negative growth trends for Samuel Adams and very slight negative growth for Angry Orchard to reach this 2016 guidance. Clearly I disagree.
The two biggest initiatives cited were Sam Adams Nitro and Grapefruit IPA. Notice how neither initiative has anything to do with Angry Orchard. Remember Angry Orchard is expected to rebound based off of "hope." Usually when a business is trending lower, I would like to see positive results from initiatives before believing in them. Unfortunately, management said these product launches will have "little effect" on the Q1 numbers even though Grapefruit IPA already launched in Q4 and Sam Adams Nitro launches in Q1. I will not give the firm the benefit of the doubt on these launches. If management was seeing positive momentum, it would have stated the business would reaccelerate in Q1. They can talk about the excitement all they want, but the numbers are the only thing that matter.
Boston Beer is also relying on easier comparisons in the second half of the year to help make the guidance achievable. This would make sense if depletions weren't accelerating downwards. Depletions haven't stabilized. I have seen no evidence of the stabilization mentioned repeatedly on the call. Management is relying on the strength of the brand to drive stabilization, but considering they missed the deterioration in 2015, can we trust what they are predicting for 2016? I don't believe the brands are strong which is why I am not as optimistic as management.
Conclusion
If you want a more complete picture of my opinion on Boston Beer, you can read my two previous articles. Shorting stocks is difficult because of timing and the ability to find shares to borrow. You can buy put options on Boston Beer, but since I have never traded options, it's difficult for me to recommend this strategy. That being said, you must avoid Boston Beer's stock until we see stabilization of depletions.
I have had the opinion that the U.S. economy would hit a recession in Q2 since December. This is another opinion to consider when evaluating the potentiality of a turnaround. Craft beer is more expensive than macro beer, so there may be a trade down effect coming. While commenters have said unless craft drinkers lose their jobs they won't trade down, I counter this point with the chart below. I believe jobless claims are going to skyrocket in the next six months as the late cycle economic indicator that is employment finally signals a recession. I agree craft drinkers don't want to trade down to macro beers, but at the margin this may have some effect on sales if the recession is deep.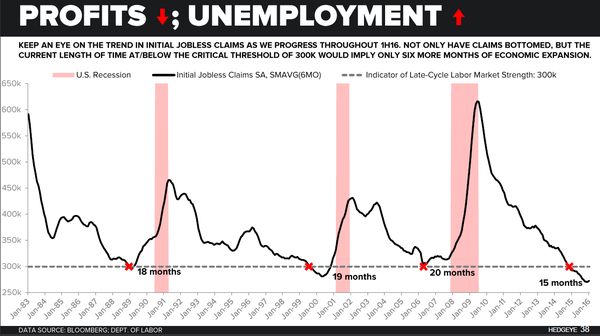 Disclosure: I/we have no positions in any stocks mentioned, but may initiate a short position in SAM over the next 72 hours.
I wrote this article myself, and it expresses my own opinions. I am not receiving compensation for it (other than from Seeking Alpha). I have no business relationship with any company whose stock is mentioned in this article.