On February 23rd 2016, BHP Billiton (NYSE:BHP) (NYSE:BBL) will declare the dividend that will be paid on March 31st. All signs indicate that the dividend will be cut from its current value of $2.48 per share. 2015 was a rough year for the Anglo-Australian mining giant, and 2016 does not look promising either.
The fall in energy and commodity prices has impacted the share price dramatically. At the close of 2014 BHP Billiton's shares were worth $43 each. By the end of 2015, each share was valued at $22.65. Prices have plunged as low as $16.36, and all of this is prior to the dividend cut: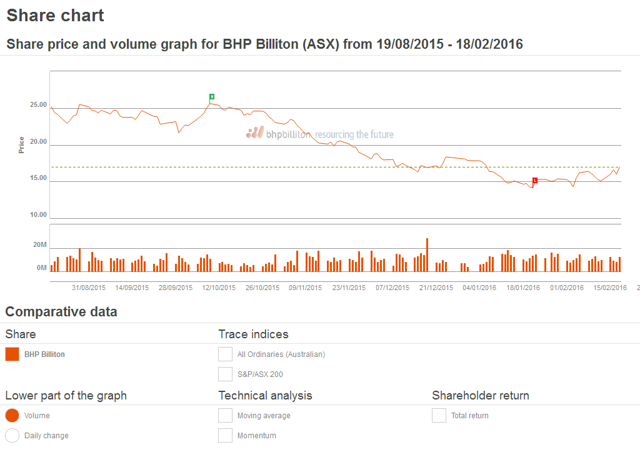 While the plunge in commodities is largely responsible for BHP Billiton's stock price falling, the collapse of the Samarco iron ore tailings dam has also contributed to the decline. Damages for the disaster will cost $4.9 billion and will be borne by BHP Billiton and Vale, who are 50/50 partners in the Samarco project.
That BHP Billiton will cut the dividend was telegraphed at the November General Meeting by company chairman Jac Nasser, who explicitly stated that the balance sheet must be prioritized over the dividend. Given that the most recent earnings per share was $0.72, the current dividend simply cannot be covered without taking on debt, and that is something that Nasser's statement explicitly rules out.
Many investors will see a dividend cut as a valid reason in and of itself to sell a stock, but there are two problems with this thought process:
1. If you sell, you will sell on a loss. An investor who bought BHP Billiton for $43 per share at the start of 2015 will earn approximately $20 per share today. After the dividend cut, that is likely to be less in the short-term.
2. Just because the dividend is cut now does not mean that the company is in long-term jeopardy. BHP Billiton retains the two major advantages it has to virtually all of its peers in the mining sector, its size and its versatility. It is still the biggest mining company in the world, with operations in Australia, the UK, the Americas, South Africa and Pacific Asia. It also still produces vast quantities of oil, gas, copper, nickel, aluminum, steel, coal and potash. Recent short-term problems have not eroded these long-term competitive advantages.
The company still remains profitable, even after taking an 86% hit in after tax profits in June last year. Despite this, BHP Billiton still made productivity gains of $4.1 billion and generated $6.3 billion in free cash flow. Very few (if any) other companies in the sector can say that.
In my view, BHP Billiton will be able to settle the damages from the Samarco debacle, which is a one-time event that should have no bearing on future operations. The dividend cut will occur, but this will ensure that the company's operations are sustainable and will accelerate growth long-term. Shareholders would be wise to reconsider selling their positions in BHP Billiton - it is not going anywhere soon, and when commodity prices rise (which they will), those who hung on through the volatility will be pleasantly surprised.
DISCLAIMER: I am not a financial professional and accept no responsibility for any investment decisions a reader makes. The article is presented for informational purposes only.
Disclosure: I am/we are long BBL.
I wrote this article myself, and it expresses my own opinions. I am not receiving compensation for it (other than from Seeking Alpha). I have no business relationship with any company whose stock is mentioned in this article.