Executive Summary
Guyana Goldfields Incorporated ("Guyana Goldfields") (TSX:GUY) (OTCPK:GUYFF) is a Canadian company that recently put its flagship project, the Aurora gold project in Guyana, into production declaring commencement of commercial operations on 1 January 2016.
A number of deposits have been delineated in the project area of which one, Rory's Knoll, accounts for the vast majority of resources (79%) and another, Aleck Hill, contains another 22%. The Rory's Knoll deposit is carrot shaped, extending for 2 km in depth, being contained within an intrusive stock. The other deposits are tabular and with much smaller dimensions, in particular width.
There is a concern about the resource estimation of the other deposits as it is not clear from the documentation that the interpreted continuity of the mineralization has been fully substantiated. However, with Rory's Knoll being by far the biggest deposit and Aleck Hill mined in the early years by open pit mining that can handle discontinuous deposits better than underground mining, the risk is much reduced.
The mine plan incorporates an initial period of five years with open pit mining only, which is then gradually replaced by underground mining that will be the only source of mill feed as from 2024. The reserves do not provide for underground mining at other deposits than at Rory's Knoll. Mine closure is provisionally planned in 2030 should no other reserves be found.
The average grade of 2.77 g/t Au for the open pit reserves is high for this type of operation, but this grade is generally too low for underground operations. However, the dimensions and size of the Rory's Knoll deposit below the open pit reserves allow for underground bulk mining with sufficiently low operating cost to make these feasible. The 2012 feasibility study envisaged a very deep operation serviced by a shaft of more than 1,100 m depth and using long hole stoping as mining method. The economics of this approach proved poor and Guyana Goldfields together with its consultant, SRK Consulting (Canada) Incorporated, redesigned the underground mine with a top down approach allowing for a much shorter pre-production period and initial investment, lower operating cost and much lower total capital expenditure.
There are risks associated with the revised mine design, mostly related to inflexibility to adapt should actual operational conditions in terms ground conditions and grade dilution be much worse than planned for.
With the mine in operation and no major teething problems announced, the project has been substantially de-risked. This valuation has arrived at a net present value of the net free cash flow of US$651 million for a discount rate of 5% (NPV5), assuming a gold price of US$1,235/oz. At the share price quoted on 18 February 2016, the enterprise value, assuming full exercise of all share options, is at US$510 million, well below the value of NPV5 and even below the NPV7.5 of almost US$550 million.
The NPV5 would be double current valuation at a gold price of US$1,520/oz.
I have not come across many precious metal companies for which the market did not need to discount much higher than prevailing metal prices to warrant the valuation given. Guyana Goldfields must therefore rate as an excellent investment opportunity.
There are some risks attached to the Aurora project, but these will only be tested a few years down the line. Meanwhile, there is much upside from additional discoveries in the area and operational improvements.
Introduction
Guyana Goldfields is a Canadian company which was incorporated in 1953 in Quebec. The company is a mineral exploration company, which, as its name insinuates, is primarily focused on the development of gold deposits in the Guiana Shield of South America. The Guiana Shield is in the northern part of the Amazon Craton and covers parts of Guyana, Venezuela, Suriname, French Guyana and northern Brazil.
As from 1998, Guyana Goldfield's main project has been the Aurora prospect in Guyana. The first available news releases from the company date 2005 and provide updates of attractive drill results at the property. Given that the project was brought into production in 2015, this is a good illustration of the long-term nature of mineral exploration.
Whereas the shares of the company had originally been trading on the TSX Venture Exchange, on 8 March 2004, the company commenced listing on the TSX under the symbol "GUY".
In April 2005, Guyana Goldfields amalgamated with 6357458 Canada Incorporated, which had been incorporated in March 2005. The exact underlying motivation for this amalgamation is not evident from the documentation, but it could well be a reverse takeover by a group with the funds to advance the project, or that the company wished to be governed by the federal Canada Business Corporations Act ("CBCA"), rather than under the Quebec jurisdiction. The combined company continued to operate under the name Guyana Goldfield Incorporated.
Figure 1 shows the share price history for the last 10 years compared to the gold price performance.
Figure 1
Guyana Goldfields Share Price on the Toronto Stock Exchange Since January 2010

Gold Price Since January 2006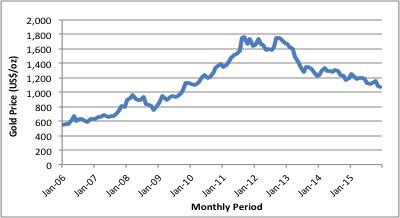 The Guyana Goldfields is one of the few companies reviewed where there is no close relationship between gold price and share price, being affected dominantly by other factors. The slide in the second half of 2007 coincides with release of drilling results at Aurora and a mineral resource estimate in October 2007 of approximately 4.5 million ounces gold. During 2008, further exploration results were announced, but the slide in share price points to these not meeting the high expectations of the market, exacerbated by the effects of the 2008 Credit Crisis.
On 28 January 2009, Guyana Goldfields acquired Aranka Gold Incorporated ("Aranka"), thereby adding 19 contiguous prospecting licenses covering over 307,589 acres to its mineral holdings, which are located 19 miles north east of the Aurora properties.
Following the uptick in gold prices from end 2008 until 2011, there was a strong share price recovery together with a revised Mineral Resource estimate of 5.4 million ounces with 3.7 million in the Measured and Indicated categories at an average grade of 3.7 g/t Au. The release of the results in February 2012 of the "positive" feasibility study caused a precipitous drop in the share price. Obviously, the pre-tax IRR of less than 15% and a pre-tax Net Present Value at 5% discount ("NPV5") of US$644 million came as a big disappointment, considering that initial capital cost were estimated at US$525 million.
The share price has never materially recovered from this disappointment, but has shown a rising trend as Aurora produced a feasibility study report in 2013 with a development approach resulting in much lower initial capital expenditure estimated of US$205 million and on which the go-ahead of the project was based, followed by construction advancing substantially along plan and the mine being put in production, resulting is considerable de-risking of the project.
Background on the Aurora Gold Project
The technical information is mostly contained in a technical report on an updated feasibility study, dated 18 January 2016, by SRK Consulting (Canada) Incorporated ("SRK").
The Aurora project (Figure 2) is located in Guyana, 170 km west of the capital Georgetown and 130 km west northwest of Bartica, a settlement at the junction of the Essequibo and Cuyuni Rivers. Bartica is a regional hub for accessing the interior of northwestern Guyana.
Figure 2
Location of the Aurora Project in Guyana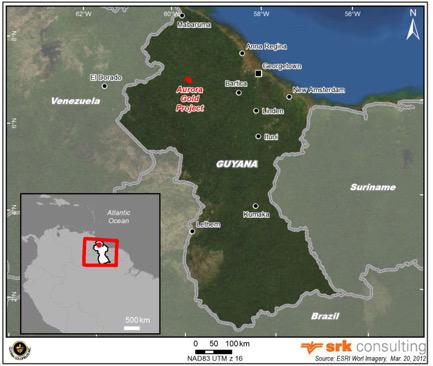 Guyana Goldfields owns 100% of the Aurora gold project area in Guyana covering 38,900 ha, of which 5,802 ha area has mining license (so-called A1 license), obtained in November 2011, and the balance covered by 10 contiguous prospecting licenses around the mining license. Figure 3 shows the extent of the mineral properties, including the Aranka properties, together with main access routes to the license areas.
Figure 3
Outline of Mineral Property Areas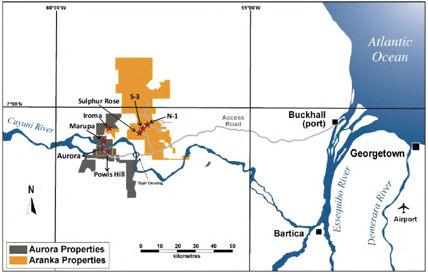 The conditions attached to the Aurora mining license are that it is essentially without termination date as long as mining operation continues after the first 20-year period expires. Other details are:
Mining royalty of 5% on gold sales at a price of gold of US$1,000/oz or less.
Mining royalty of 8% on gold sales at a price of gold over US$1,000/oz.
Corporate income tax rate of 30% and no withholding tax on interest payments to lenders.
Duty and value added tax exemptions on all imports of equipment and materials for all continuing operations at the Aurora gold project, including the construction and operation of a planned port facility, road and power improvements and the construction and operation of the mine.
Royalties are deductible from income taxes, and tax losses can be carried forward indefinitely.
Political Stability and Corruption in Guyana
From commentary by the Heritage Organisation and the UK Foreign & Commonwealth Office, it is evident that Guyana scores relatively low on economic freedom within the America/Caribbean region. Excerpts from the Heritage Organisation are reproduced below:
Guyana's economic freedom score is 55.5, making its economy the 123rd freest in the 2015 Index. Its overall score is 0.2 point worse than last year, with improvements in freedom from corruption and labor freedom counterbalanced by declines in property rights and the management of government spending. Guyana is ranked 22nd out of 29 countries in the South and Central America/Caribbean region, and its overall score is well below the world and regional averages.
On politics:
President Donald Ramotar, an economist and head of the left-wing People's Progressive Party (PPP), was elected to a five-year term in 2011. The PPP has been in power since 1992. Local municipal government elections have not been held for almost two decades. Political reform has been attempted only under framework agreements with international organizations. Although the risk of political violence is low, relations between the ruling Indo-Guyanese PPC/Civic parties and the Afro-Guyanese People's National Congress/Reform parties remain hostile.
And the Rule of Law:
In November 2013, Guyana was blacklisted by the Caribbean Financial Action Task Force after the government failed to strengthen anti-money laundering legislation. Organized criminal activity and narco-trafficking have increased, and violent crime is a major problem. The judicial system is generally perceived as slow and ineffective in enforcing contracts or resolving disputes. Protection of property rights is poor.
On corruption, the following is observed by the Foreign & Commonwealth Office:
In 2014, Guyana was higher ranked than the previous year on the World Transparency International Corruption Perceptions Index at 124 although it was a 3 point improvement over the previous year's score of 27. The World Bank's Ease of doing Business rankings saw a small drop in rankings by 2 points to 123. However improvement is expected in the coming years as the new government campaigned on anti-corruption measures.
From the above, it can be concluded that the risks of doing business in Guyana is not very much higher than in other countries outside North America and Western Europe where mining companies are active. A further mitigating factor against risk is that the International Finance Corporation ("IFC"), part of the World Bank, has a major shareholding (4.6%) in Guyana Goldfields.
History of the Aurora Project
The area around the Aurora project has a long history of exploration stretching back to the early 20th century and has even known limited mining between 1940 and 1948. Guyana Goldfields became involved as from 1998 with its first drilling program in 2002, evolving to delineation drilling from 2004 until 2009. Since then numerous mineral resource estimation, preliminary economic assessments and feasibility studies in parallel to further drilling led to a go-ahead decision in 2013 to develop a mine, which reached the commercial production stage on 1 January 2016.
Geology and Mineralization
The Aurora gold project is located within a region where the rocks have been deformed along a northwest trending sub-vertical direction. The deposit is located in metamorphosed sediments and volcanic rocks present to the northeast of a large granitic intrusion.
The deformation is by means of shearing, which is bending of the rock in a ductile way in zones of a certain width as opposed to distortion in a brittle way, which causes rocks to rupture along faults. The shear zones are interconnected and have widths of 1 m to 50 m. Figure 4 shows the geological map around the Aurora deposits with the shear zones indicated in light blue.
Figure 4
Geological Map Around the Aurora Project Deposits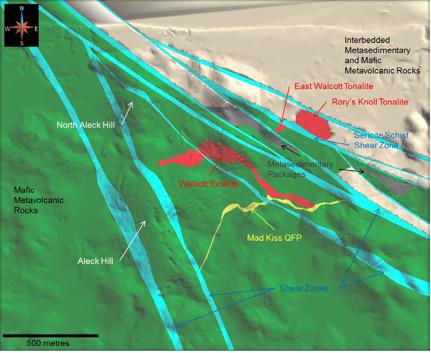 The Aurora gold project area is divided into four major gold mineralization zones, which are from northeast to southwest: Rory's Knoll (includes Walcott Hill East), Walcott Hill and Mad Kiss (includes Mad Kiss West) and Aleck Hill (includes Aleck Hill North).
The shear zones situated between the Rory's Knoll and Mad Kiss area in the northeast of the area strike northwest (between 290° and 305°) and dip steeply to the northeast (between 70° and 85°). In the Aleck Hill area, more to the southwest, the two main shear zones strike to the southeast (approximately 155°) and dip steeply to the southwest (80°).
The deformation in the shear zones is of an intensity that has obliterated the characteristics of original rock, which now appear as a type of schist. Where there have been competency (imagine this as the degree of stiffness) contrasts in the rock, more brittle-like deformation took place, thereby creating voids that caused preferential pathways for the mineralizing fluids. These mineralizing fluids are thought to have introduced the gold together with silica and carbonate. The gold is therefore chiefly associated with quartz-ankerite (= ankerite is an iron carbonate mineral) veins that form weak to moderate stockworks, located preferentially in competent lithologies outside the most intensely deformed and altered segments of the shear zones. The geometry of the auriferous stockworks is therefore controlled by the geometry of the competent lithologies, the geometry of shear zones or a combination of both.
Except for Rory's Knoll, the individual deposits are generally small to very small with much better vertical continuity than horizontal continuity (see Figure 5).
Figure 5
Isometric View of the Deposits at the Aurora Project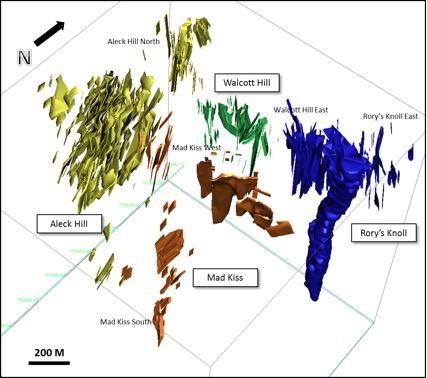 The gold mineralization at Rory's Knoll, and to some extent in East Rory's Knoll and East Walcott, form carrot-shaped outlines containing a weak to moderate stockwork of quartz-carbonate veins. The gold mineralization at Aleck Hill and Mad Kiss areas are interpreted to contain distinct tabular zones of quartz-carbonate veins.
The illustration shows that Rory's Knoll is the main deposit with a very large vertical extent, having been drilled to a depth of more than 2.0 km. Along strike it is only 250 m long and it is 100 m thick at its widest point. The reason for this is an intrusion, referred to as the Tonalite stock (see Figure 4), wedged between two shear zones that reacted to the regional distortion in a more brittle way creating voids for the mineralizing fluids to flow through. The majority of the Tonalite stock has been mineralized in this manner, accounting for the shape of the deposit.
The Walcott Hill East Zone is adjacent to and located approximately 60 m southwest of the Rory's Knoll Zone. Walcott Hill East is a much smaller zone, approximately 50 m in length with a thickness of approximately 15 m. The gold zone consists of weak quartz-ankerite stockwork with intense "grey" silica alteration at the contact between a felsic rock and a mafic rock.
The Mad Kiss Zone is located approximately 750 m south-southwest of the Rory's Knoll Zone and is present as a stockwork system which is trending about 150° and dipping steeply north and south. It is also associated with the hanging wall and footwall contacts of an intrusive dike. The individual gold veins are 2 cm to 5 cm thick and occur as parallel sets. Boreholes have intersected the zone to a depth of 700 m.
Aleck Hill is located approximately 1 km southwest of the Rory's Knoll Zone and gold occurs in two zones: Aleck Hill and Aleck Hill North. The gold zones strike at 150° and dip sub vertically and can be up to 20 m wide. Aleck Hill extends for about 1,175 m along strike with higher-grade material and old underground workings extending about 400 m. The Aleck Hill Zone has been intersected by drilling to a depth of approximately 700 m below surface. Aleck Hill North is located approximately 500 m north northwest of Aleck Hill. The Aleck Hill North Zone extends for approximately 250 m along strike, is steeply dipping, and has a maximum thickness of approximately 35 m. The zone is truncated at its northern and southern end, but remains open to depth. The gold mineralization at Aleck Hill is present in a stockwork of quartz-carbonate veins developed inside the discrete shear zone.
Resource Estimation
Given the nature of the deposits, much drilling at a relatively dense spacing is required for mineral resource estimation. Figure 6 shows the location of the 1,482 boreholes totaling 379,853 m completed between 202 and May 2011 by Guyana Goldfields with a nominal spacing of 50 m.
Figure 6
Map Showing Location and Traces of Holes Drilled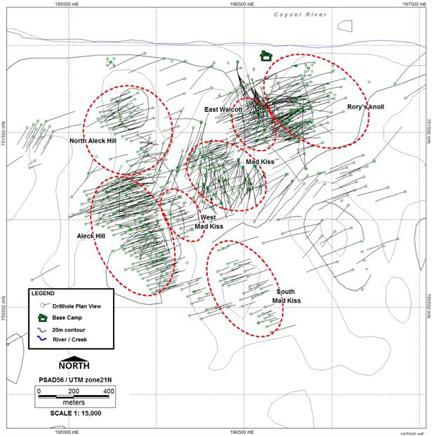 SRK relied on gold mineralization wireframes generated by Guyana Goldfields for all zones with the exception of Rory's Knoll, which was modeled by SRK itself. The Guyana Goldfields wireframes were accepted after validation by checking for crossovers, duplicate triangles, gaps in the wireframes and edge boundary joining.
The number of wireframes for each area is very large considering the number of boreholes used to define these. For example:
Rory's Knoll 37 wireframes from 266 boreholes
Walcott Hill 47 wireframes from 41 boreholes
Mad Kiss 52 wireframes from 224 boreholes
Aleck Hill 210 wireframes from 408 boreholes
For Rory Knoll modeling SRK considered the rock and gold grade distribution patterns. In this process, several previously modeled internal waste zones were removed by SRK, except where these were demonstrated continuous based on geological data. The Rory's Knoll domain was then subdivided into a high-grade subdomain by constructing wireframes inside the main wireframe around areas of higher-grade mineralization. The limits of the higher-grade subdomain were initially modeled using a threshold of 5.0 g/t gold. Subsequently, the defined volumes were manually smoothed to define more consistent zones of higher-grade gold mineralization. The resulting Rory's Knoll high-grade subdomains are entirely contained within the main Rory's Knoll domain.
Of concern is that, from the discussion in the report, it appears that a similar approach was followed under supervision of the same Principal SRK Consultant as for the 2013 Mineral Resource estimation of the Phoenix deposit of Rubicon that needed to be revised down by almost 90%. For the Phoenix exercise high-grade zones within a favorable rock type were assumed to form continuous bodies instead. See my previous Seeking Alpha article.
The various SRK reports do not include sample cross sections with drill intercepts and interpreted wireframes, allowing the reader to make up his/her mind about the validity of the interpreted continuity. A review of the historical press releases could also not locate illustrations cross-sections showing drill intercepts and interpreted outlines.
Whereas the Rory Knoll deposits have a shape and dimensions that are less likely to spring unpleasant surprises, there is some concern about the true continuity of the interpreted high-grade tabular deposits at Aleck Hill and Mad Kiss. When mining by open pit methods there is much more tolerance to such deposits being discontinuous, but for underground mining the validity of the interpretations is essential.
The concern is reinforced by a statement in the SRK report that "Infill drilling completed on the other auriferous zones (Aleck Hill, Mad Kiss, and East Walcott Hill, the "Satellite deposits") prompted revision to the geological interpretation. The boundaries of the gold mineralization were revised by Guyana Goldfields to take into account the new drilling information." The fact that reinterpretations were still required at an advanced stage makes me place a question mark behind the concluding statement that this "infill drilling also improves the confidence in the continuity of the gold mineralization". Further infill drilling at closer spacing may well prove that further reinterpretations are required, or worse, that the individual deposits are far more discontinuous than modeled.
Figure 7 reproduces four lognormal grade distribution graphs used by SRK to decide on capping grades. Immediately noticeable from the graphs is that none show a clear straight line defining one clear lognormal distribution, but point to two lognormal distributions: a low-grade population accounting for approximately 20% of the samples and a higher-grade distribution. SRK does not comment on this and approaches its estimation exercise based on one distribution.
Figure 7
Grade Distribution Curves for Rory's Knoll and Aleck Hill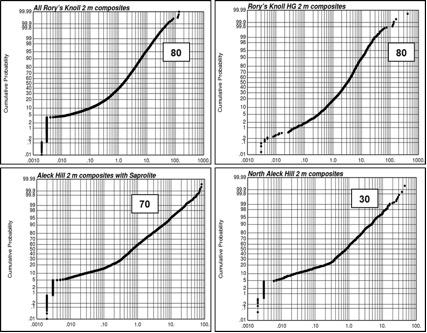 SRK does not present the results of its semi-variogram analysis in the main body of text, referring to these in Appendix C of the report, which is not part of the published report. There are indications, however, that it was not straightforward with the use of traditional correlogram and normal scores semi-variogram and normal score correlograms. In the words of SRK, these facilitate the identification of spatial structure in the composite data "particularly when the traditional variogram shows little continuity." SRK then proceeded to use the search ellipses of the fitted semi-variograms for the grade estimation by ordinary kriging in a block model using blocks with dimensions of 5 m x 5 m x 5 m.
To adhere to the requirements of the Canadian Institute of Mining and Metallurgy ("CIM") that resources have a reasonable prospect of economic extraction, SRK used a conceptual pit to determine open pit resources using a cut-off grade of 0.30 g/t Au and 0.40 g/t Au for gold mineralization in respectively saprolite and hard rock material. Underground resources were defined for material outside the conceptual open pit and using a cut-off grade of 1.8 g/t Au.
As Figure 8 illustrates, the saprolite resources straddle the various pits and have not been subdivided by resource area.
Figure 8
Saprolite Mineralisation in Relation to the Conceptual Pit Shell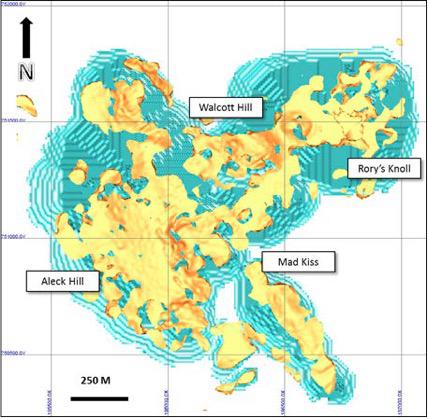 Table 1 gives the results of the mineral resources estimation by SRK with effective date 30 September 2015.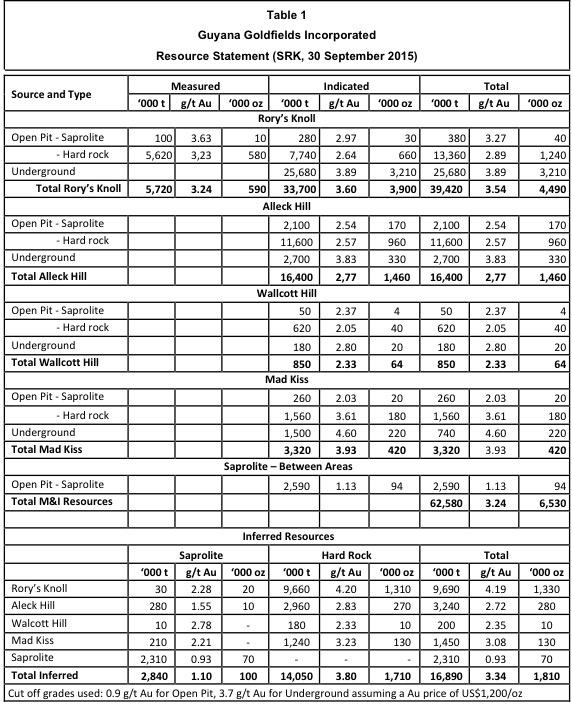 The table indicates that Rory's Knoll constitutes by far the largest resource, accounting for almost 69% of the Measured and Indicated resources, with Aleck Hill contributing more than 22%. Walcott Hill and Mad Kiss are very minor deposits in comparison.
As the intersections at Rory's Knoll appear to be wide, there is much less concern about possible lack of continuity than at Aleck Hill, Walcott Hill and Mad Kiss and the overall risk associated with the resources, observed earlier in this article, much diminished. Moreover, almost 80% of the Aleck Hill resources are categorized open pit resource, which further diminishes the risk.
Mining Methods and Mineral Reserves
Open Pit Mining
The shallower portions of the deposits are planned to be mined by conventional open pit methods. Open pit mining is relatively low risk and has generally better operational flexibility than underground mining. The first step when planning open pit mining is to determine to what depth the deposit can economically be mined. An algorithm is used that determines the change in net present value as the pit is deepened. Given the cone shaped nature of pits, deepening will exponentially increase the amount of waste that needs to be moved for an additional unit of ore. When the NPV increments become nil or very small, further pit deepening ceases to make sense.
Table 2 shows the input parameters used for the pit optimization.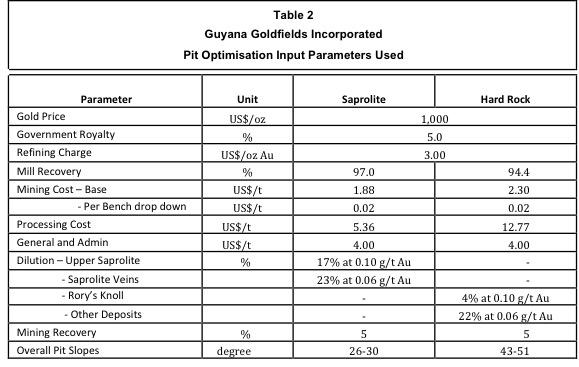 The table shows that the gold price used for the pit optimization compares low to currently prevailing prices introducing a conservative bias for the pit size used.
The open pit designs were developed for of five pits: Rory's Knoll, Aleck Hill, North Aleck Hill, Mad Kiss and Walcott Hill. Rory's Knoll is the largest pit, accounting for approximately 60% of the ore tonnes mined. Aleck Hill is the second largest, accounting for approximately 30% of the ore tonnes mined.
Typical cross sections through Rory's Knoll and Aleck Hill are illustrated in Figure 9 showing the pit phases, ore grade blocks and the boundary between saprolite and fresh rock.
Figure 9
Cross Section Through the Rory's Knoll Pit Looking North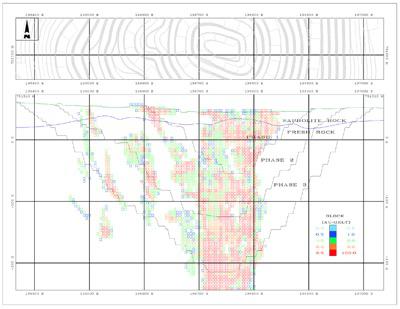 Cross Section Through the Aleck Hill Pit Looking North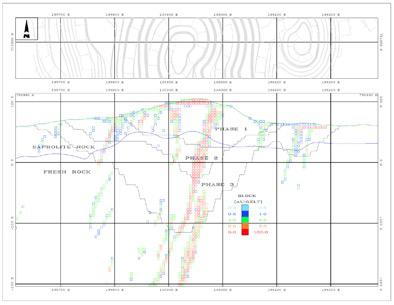 Table 3 reproduces the Open Pit Reserves statement of SRK, but rearranged to show the details per deposit.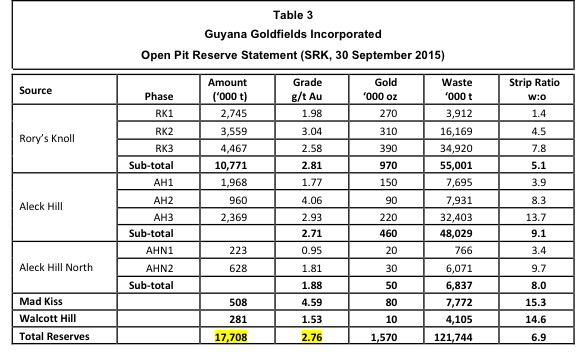 The total waste (dry, in-situ) within the pits is 121.7 million tonnes. This is made up of 36.8 million tonnes of saprolite (30% of total waste) and 84.9 million tonnes of hard rock. The saprolite waste is estimated to have a moisture content of 25%, which will increase the true tonnage of material loaded and hauled. Similarly, hard rock was assumed to have a moisture content of 10%.
Drilling and blasting are based on 5 m benches and a drill spacing of only 2.7 m. This allows theoretically for good selectivity and minimizes dilution. It reduces, however, productivity and will have a negative impact on mining cost. Procedures will be put in place for grade control, including assaying of blast holes. This will further add to operating cost.
Table 4 gives the production schedule for open pit mining illustrating that total material moved changes considerably over the years both in terms of ore and waste, requiring stockpiling and highly variable equipment requirement, further adding to operational inefficiencies.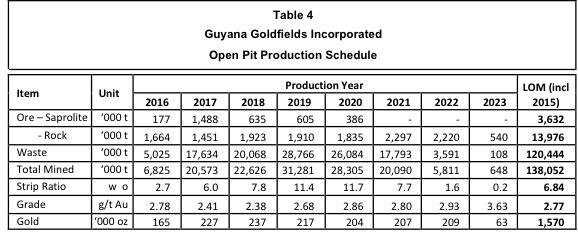 Table 4 shows that the early years will be the best for Guyana Goldfields: much saprolite material being mined that does not requiring blasting, giving good metallurgical recovery and with a relatively low strip ratio. The must be an error somewhere with total amount mined in the schedule 0.1 million tonnes lower than shown in Table 3, but the contained gold is the same.
Underground Mining
In its choice of underground mining methods, Guyana Goldfields was guided by its wish for a low-cost operating cost given the relatively low grade of the deposits in the context of typical underground mines, and to minimize upfront capital expenditure. This meant that a bulk mining method with mining from top down is preferred with a repeatable mining sequence to reduce implementation risk.
Below the open pit, the orebody geometry approximates a sub-vertical elliptical pipe of approximately 100 m thick at its widest point and approximately 1,600 m in vertical extent. Rory's Knoll dimensions combined with a steep dip and generally competent rock allows for unsupported mining methods, which would further reduce operating cost. A small number of barren zones have been identified within the Rory's Knoll deposit. These barren zones had to be included in the mine design in order to preserve continuity.
For underground mining, two mining methods have been decided upon: Open Benching below pit bottom starting at 170 m below average mean sea level ("amsl") and 395 m below amsl. Between -395 m amsl and -770 m amsl Sublevel Retreat ("SLR") mining is planned.
Open Benching can be similar in geometry to SLR and can use the exact same sublevel spacing and ring shapes as SLR. The primary difference between the two methods is that Open Benching blasts are completely mucked out leaving the stopes open to surface and SLR blasts are confined, blasting against diluted material that was left behind from the previously blasted and mucked rings (see Figure 10 for schematic comparisons).
Figure 10
Schematic Presentation of Open Benching With On Left Cross Section Showing Stope Pattern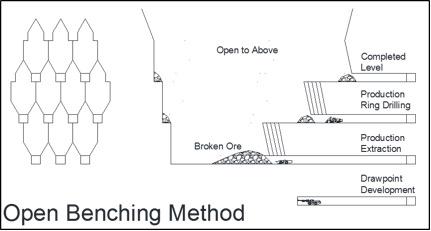 Sublevel Retreat Method With On Left Cross Section Showing Same Stope Pattern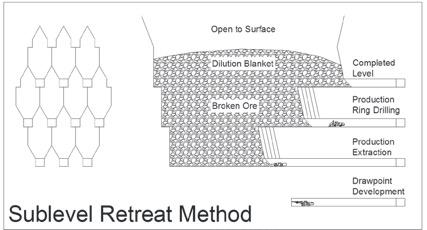 SLR mining leaves a blanket or layer of blasted material over top of the drawpoints to protect personnel and equipment and also to provide support for the stope walls.
A consistent 25 m sublevel and 15 m drawpoint spacing used by both mining methods allowed for a single stope cross sectional shape to be used throughout the entire deposit. Figure 11 shows the typical geometry of the mining shapes.
Figure 11
Geometry of Stope Shapes Looking Northeast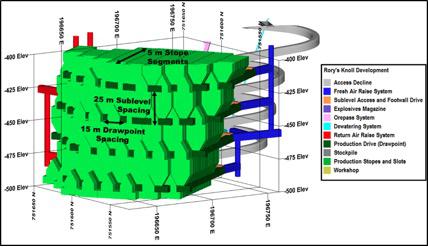 The disadvantage of the SLR mining method is the lack of selectivity on what is blasted and extracted and lack of control over dilution. Against the low operating cost and upfront capital expenditure stands a lower mill feed grade than from using other, more selective mining methods. The dilution sources recognized by SRK are:
Internal dilution emanating from material below the cut-off grade of 1.64 g/t Au within the planned stope shapes. It should be noted that SRK assumed that only 40% of the low grade and barren material within the stope shapes will be extracted.
External dilution from material outside the ore development and stop shapes, being:
o Mineralizes material from areas not included in the original stope design. This material actually exceeds the cut-off grade, but its grade did not warrant the additional development cost to be formally included in the stope design.
o Material from the disturbance zone, which is the area around the area of stoping that is affected by stress relaxation by mining, causing scaling of the walls.
o Material from the open pit wall that subsides into the underground cave.
Figure 12 illustrates the first two mentioned sources on the -520 level plan with the blocks in green being mineralized dilution and the modeled zone of disturbance indicated by the hashed purple line.
Figure 12
Sources of Mineralized Dilution and Zone of Disturbance Modeled at Sub-level -502 m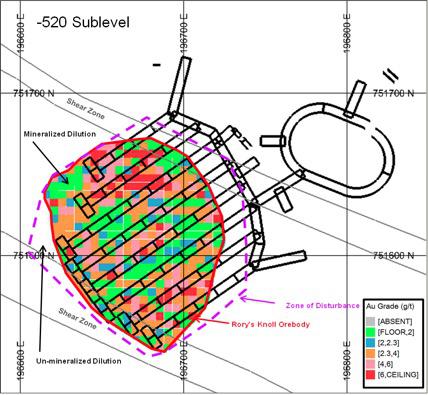 The discussion by SRK on how exactly dilution was incorporated is incomprehensible. Table 5 is reproduced from the text and gives the assumption on the sources of dilution.

However, the table may well present the potential dilution, as the actually incorporated dilution is much lower. Figure 13 shows the results of SRK modeling of dilution per level, with perimeter dilution presumably meaning mineralized dilution, which indicates that overall dilution is approximately 20% in terms of material.
Figure 13
Estimated External Dilution Extracted Per Level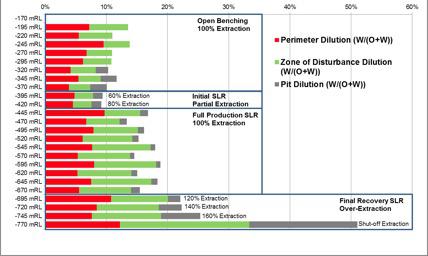 For the Rory's Knoll underground reserves, SRK estimates that ore recovery is 88% of the contained metal in the in-situ stope design and that internal and external dilution tonnes contribute 21% of total ore with an average grade of 1.43 g/t Au as summarized in Table 6.

Table 6 is not reconcilable with the other provided information, which points to some unexplained logical jumps. Furthermore, the amount of total recovered gold differs from the contained gold in underground reserves of the Mineral Reserve statement of SRK, reproduced in Table 7.

The quoted overall open pit reserve of 17.6 million differs by 0.1 million tonnes from the amount derived in Table 3. The amount over the life of mine ("LOM") in the production schedule however totals that of Table 7.
Also noticeable from the table is more contained gold in underground reserves than the number quoted in Table 6. As we see later in Table 8, this can substantially be explained by Table 6 not incorporating ore from development and Table 7 containing all material send to the mill.
Figure 14 shows the overall shape of the planned underground mine at Rory's Knoll.
Figure 14
Rory's Knoll Mine Design Looking Southeast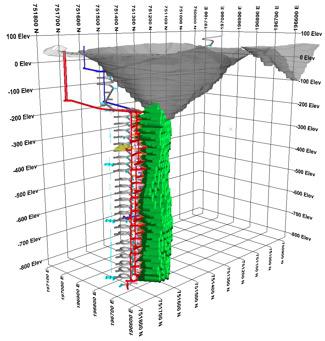 By changing its development strategy from developing a very deep shaft that would service longhole open stoping mining methods to the currently planned mine, the pre-production period was cut from 3½ years to approximately two years, life of mine capital expenditure cut by two-thirds and dropping unit operating cost by approximately 25%, at the expense of dropping total underground production by 45%. This is one of the main contributory factors to the dramatic improvement in economics from the 2012 feasibility study.
The change in strategy to Open Benching and SLR mining comes however with a number of risks. Should during mining it become apparent that some of the assumptions was very wrong, it will be very difficult to accommodate a change in method.
Possible risks are:
Ground conditions are such that underground mine infrastructure integrity is affected.
Ground conditions are such that the dilution is much higher than planned.
The influx of water into the workings from surface during rain storms or along aquifers is much worse than expected.
Mudrushes are more likely than mining without the workings open to an influx of meteoric water.
From the documentation, it is apparent that much attention has been given to rock mechanics and geohydrology, indicating these risks have not gone unnoticed.
Table 8 contains the Underground Mining Schedule by SRK.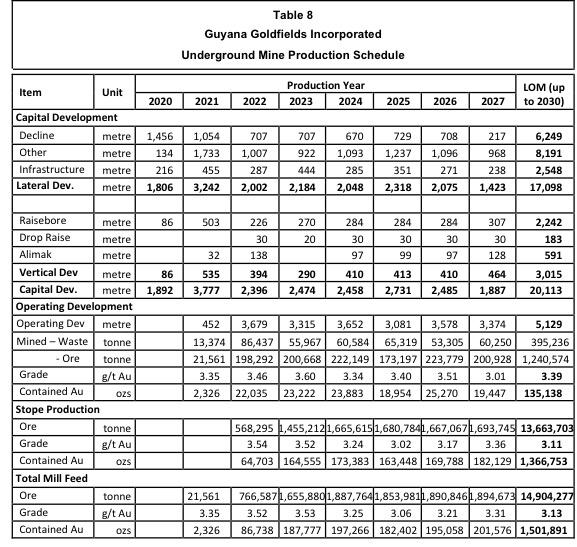 After a development period of two years and a ramp up of one year, gold production is fairly constant at 180,000-200,000 ounces per annum.
Metallurgy and Processing
Given that production has started at Aurora and the company reported an average recovery of 90.4% from material that was more than 50% composed of hard rock, this aspect of the project has been significantly de-risked. It should be noted that the achieved recovery is still well below planned recovery of 94.4% for the period.
It is normal for plant performance to require time (sometimes years!) to be stabilized and optimized and an improvement over the next few quarters can be expected.
Over the LOM, average metallurgical recovery of 93.2% has been included in the production forecast.
The mill throughput strategy from 2015 to 2019 is based on a saprolite/fresh rock blend. The construction of certain plant facilities have been postponed until more hard rock finds its way to the plant. Initial plant capacity (Phase 1) is at 5,000 tonnes per day ("tpd"), which increases to 8,000 tpd with the additional facilities (Phase 2) and a ratio of 50/50 for saprolite and hard rock in the plant feed, but drops off gradually to 5,000 tpd when only hard rock will be treated. Table 9 shows the process production schedule over the LOM.

When comparing total mine production with total material treated, it is apparent that an ore stockpile of almost one million tonnes containing 91,000 oz. will have accumulated by the end of 2023, which is depleted in the subsequent three years.
Economic Evaluation
Metal Prices Assumed
For the Base Case of this valuation, the spot price on 18 February 2016 of US$1,235/oz Au was used to determine how the Enterprise Value placed by the stock market compares to the valuation of the discounted cash flow.
To verify the accuracy of the model against the feasibility study model, a price case at US$1,000 used in the feasibility study was also used. This showed that the net free cash flow arrived at was within 0.4% of the feasibility study model.
Operating Expenditure
Table 10 lists the provisions for cash operating costs included in the SRK feasibility study.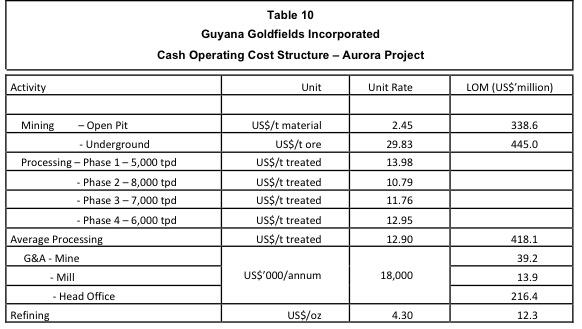 The open pit rate of US$2.45 is the average for both saprolite and hard rock material and includes the escalation for bench drop downs over the LOM. What is noticeable is the inclusion of mining supervision cost in the open pit rate, but this has been excluded from the underground overall rate. Either this has been overlooked, or included in the rates of the various sub-activities. The open pit rate seems reasonable and we have to trust SRK, which is an expert on sublevel caving and SLR mining, to have a good database for the estimation of the underground mining cost.
Whereas SRK has simplified the reporting of mining cost it goes into much detail on processing cost for the various phases, with relatively small differences between the rates. With electrical power generated on site using fuel oil, electrical power is the main component of processing cost accounting for more than 40% of total processing cost.
It is not obvious whether SRK has provided for the cost of rehandling stockpiled material. If the maximum stockpile level of less than 1.0 million tonnes reflects all the rehandling, the cost involved is not substantial compared to total operating cost.
The mine has been too short in operation to compare actual operating cost with the provisions.
Capital Expenditure
With the mine having reached commercial production, initial development capital expenditure has been fully incurred substantially reducing the risk associated with capital outlays. Future capital expenditure will be mainly on underground development and acquisition of additional mining equipment to be able to mine and move larger rock volumes.
Table 11 gives the provisions of sustaining capital expenditure.

The capital outlay for underground development is equivalent to US$151/oz contained gold derived from this source, which compares very favorable to other mining methods, in particular as the pre-production portion of this is approximately only half the total amount.
Royalties and Taxes
The applicable royalties and taxes are governed by the Mineral Agreement signed between the government and Guyana Goldfields in November 2011, which provides for:
Mining royalty of 5% on gold sales at a price of gold of US $1,000/oz or less, jumping to 8% on gold sales at a price of gold over US $1,000/oz
Corporate income tax rate of 30% and no withholding tax on interest payments to lenders; and
Duty and value added tax exemptions on all imports of equipment and materials for all continuing operations at the Aurora gold project, including the construction and operation of a planned port facility, road and power improvements and the construction and operation of the mine.
The depreciation rate allowed for taxes has been assumed to be 20% on a straight-line basis.
Unfortunately, the company does not provide for the full text of the agreement and certain details mentioned in the SRK report are unclear.
For example, it is mentioned that "on the direction of Guyana Goldfields and in order to utilize the accumulated tax losses the net operating cash flow is split between Guyana Goldfields and AGM on 25% and 75%, respectively. It is estimated that Guyana Goldfields Inc. has an opening balance of tax loss carried forward totaling US$5.6 Million and a total amount of US$60.4 million deductible through depreciation. They are tax losses legally applicable in Guyana and are deducted from EBIT each year until they are exhausted."
Furthermore it is stated that "It is estimated that AGM Inc. (author's comment: the local subsidiary of Guyana Goldfields) has an opening balance of tax loss carry forward totaling US$73.0 million and a total amount of US$256.0 million deductible through depreciation. Carried forward tax losses are deducted from EBIT. They are tax losses legally applicable in Guyana and are deducted from EBIT each year until they are exhausted."
Without understanding the underlying principles behind the above statements, the allowances have been lumped together in the cash flow model and applied to 100% of the operating cash flow.
Financing Cost
To partially finance the mine construction, Guyana Goldfields raised on 2 September 2014 loan financing amounting to U$185 million, comprising a Tranche 1 facility of US$160 million and a Tranche 2 Facility (overrun facility) of US$25 million. Whereas the Tranche 1 facility was fully drawn on 30 September 2015, the Tranche 2 facility was never required.
The Tranche 1 facility attracts and interest rate of 3-month LIBOR plus 5.11%. According to the financial statements for the quarter ending 30 September 2015, the scheduled principal repayments are as per Table 12.

Principal repayments are expected to commence 31 December 2015 and continue quarterly thereafter over the term of the facility. There is also a provision for a partial cash sweep mechanism for the benefit of the lenders and the acceleration of principal repayment in the event of a change in control.
In a press release dated 18 January 2016, Guyana Goldfields announced that it expects to pay down approximately US$35 million of the total US$160 million debt facility during 2016 and to have funded the debt reserve and reclamation accounts to a combined total of approximately US$30 million. Furthermore, management estimates that debt and principal payments can be retired as early as 2019 utilizing a gold price of US$1,000 per ounce.
Given the stated intention to pay off the loan as fast as possible, this valuation has modeled such accordingly. The interest payable has been calculated by applying the rate to the loan balance at the beginning of the year, which introduces a conservative bias to the results.
At the current prevailing gold price, this shows that the loan will have been repaid during 2017.
Other Items
Based on recent history, annual exploration expenditure of US$1.5 million has been included.
No provision for working capital has been included, because such investments have been assumed to be fully incurred in 2015.
Results
Table 13 gives the financial performance for the two LOM cases. The comparison with the feasibility study cash flow model is including 2015 numbers and within 0.4% from the net free cash flow calculated by SRK. The valuation has, however, included only forecast cash flow as of 1 January 2016.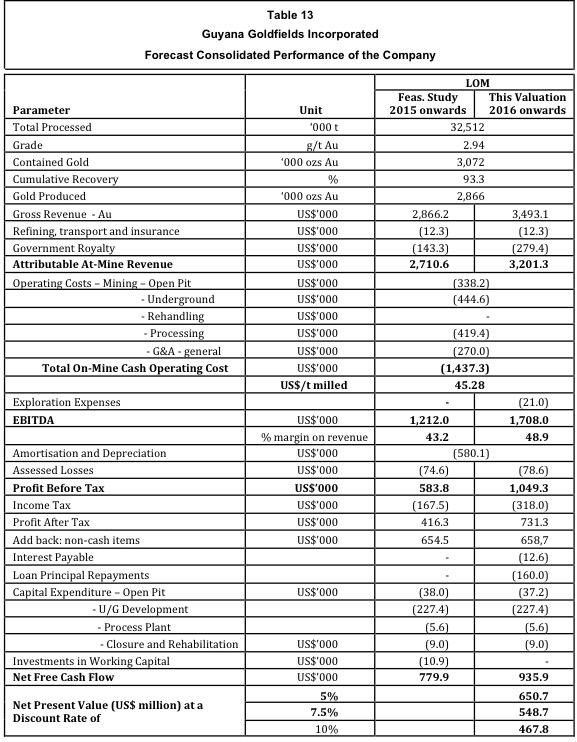 The table shows that operating margin is at almost 49% of gross revenue robust, which, combined with a relatively modest tax take of 17.1% of gross revenue and 8% of gross revenue allocated to ongoing investments, leaves much free cash flow for debt financing and rewarding the shareholders.
Table 14 expresses the sensitivity of the project value as the change in Net Present Value per percentage point change in the economic main parameters.

As examples of how the table should be read, for every percentage point increase in gold price (i.e. US$12.4/oz) the NPV7.5 increases by US$13.5 million, and for every percentage point increase in the cash operating cost (i.e. US$0.45/t treated), the NPV5 drops by US$7.2 million. With the low base, changes in capital expenditure have a very minor impact.
Implication To Overall Value of Guyana Goldfields
At the share price of C$4.62 on 18 February 2016, the company has with 152.466 million shares outstanding a market capitalization of C$704.4 million, or US$513.2 million.
At 30 September 2015, all 9.5 million stock options were clearly in the money. At an average exercise price of C$2.37, these would generate C$22.4 million cash, US$16.3 million.
The loan balance has already been accounted for in the cash flow model.
Net current assets, ignoring the current portion of the loan, amounted to US$15.8 million on 30 September 2015 .
Table 15 derives the Enterprise value of Guyana Goldfields based on the above discussion.

The enterprise value, assuming full dilution, is at US$510 million well blow the value of the discounted net free cash flow using a discount rate of 5%. It is even below the NPV7.5 of almost US$550 million.
The NPV5 would be double current valuation at a gold price of US$1,520.
I have not come across many precious metal companies for which the market did not need to discount much higher than prevailing metal prices to warrant the valuation given. Guyana Goldfields must therefore rate as an excellent investment opportunity.
There are some risks attached to the Aurora project, but these will only be tested a few years down the line. Meanwhile, there is much upside from additional discoveries in the area and operational improvements.
Disclosure: I/we have no positions in any stocks mentioned, and no plans to initiate any positions within the next 72 hours.
I wrote this article myself, and it expresses my own opinions. I am not receiving compensation for it (other than from Seeking Alpha). I have no business relationship with any company whose stock is mentioned in this article.
Editor's Note: This article discusses one or more securities that do not trade on a major U.S. exchange. Please be aware of the risks associated with these stocks.