To the dismay of anti-Keynesian critics and bond investors worldwide, negative interest rate policy ("NIRP") is here to stay and may be coming to the United States sooner than we think. With the BoJ and ECB taking their target rates sub-zero along with individual countries like Denmark, Sweden, and Switzerland following suit, NIRP is no longer a theoretical concept but a practical application, one that is on the table even for the U.S. if domestic economic conditions deteriorate. The important thing to remember is that some of these countries have had real negative interest rates for some time; in fact, there is even significant historical precedent for real negative interest rates in the United States and other advanced economies. It is not a cause for doom-and-gloom among investors; if anything, it is the very opposite: it shows that central banks are taking positive and smart measures to control government indebtedness and decrease financial leverage.
After the Great Depression and World War II, low nominal interest rates became the norm as the international capital market system was becoming established under the Bretton Woods systems. Debt was liquidated slowly through financial repression, inflation, and economic growth.
"...real interest rates - whether on treasury bills, central bank discount rates, deposits, or loans - were markedly negative during 1945-1946. For the next 35 years or so, real interest rates in both advanced and emerging economies would remain consistently lower than the eras of freer capital mobility before and after the financial repression era. In effect, real interest rates were, on average negative." --Reinhert, Sbrancia
During this time (1945-1975), gross national product grew at a rate that exceeded the interest rate on government debt and U.S. public debt dropped dramatically.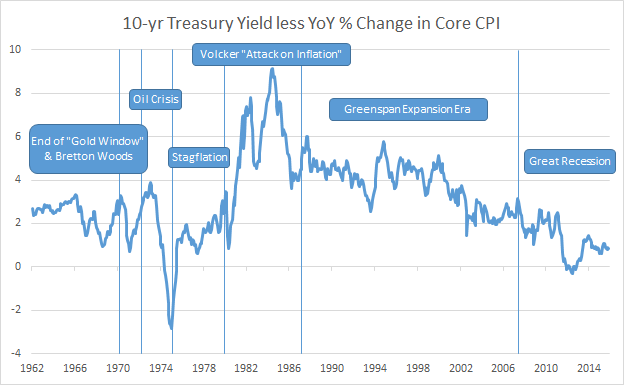 (Source: Federal Reserve)
Repressing or capping interest rates, along with other measures, such as high reserve requirements, transaction taxes, etc. is critical in producing a stable and slow reduction in public debt. Again, to use historical precedent, as a warning to those that would bemoan NIRP and stimulatory monetary policy in general, remember that after World War I and the Great Depression, high indebtedness in the advanced economies of the world (U.S., U.K., Germany, Hungary, etc.) was resolved through violent liquidation of debts, hyperinflation, and massive political and economic strife - not exactly a model for optimal debt resolution.
"All the Allied governments, with the exception of Finland, defaulted on (and remained in default through 1939 and never repaid) their World War I debts to the United States as economic conditions deteriorated worldwide during the 1930s." --Reinhert, Sbrancia
Similar to these periods of high indebtedness after the world wars, since the financial crisis in 2007-2008, the advanced economies are still sitting on hefty public-debt-to-GDP ratios, with Japan being the worst example of the bunch at ~230%. It seems the leaders of the global economy are once again hitting "peak indebtedness" as leverage has started to plateau signaling a possible reversal incoming.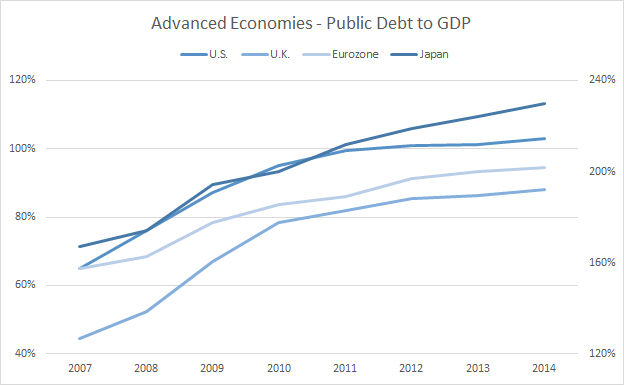 (Source: TradingEconomics)
Even with the historically low yields of T-bills and ZLB policy pursued by the advanced economy central banks of the last decade, leverage and indebtedness has continued to grow. It seems that even the market may find these levels to be unsustainable as even minor equity market shocks and corrections are triggering more violent and volatile reactions in government and high-yield corporate bond markets, for example. This is why pursuing more aggressive financial repression tactics at this stage is a necessity.
Capital buffers, increased regulation, interest rate caps, higher reserve requirements - these are all on the table for the future of fiscal and monetary policy. Unfortunately, it is critical to remember, this is not so positive for financial institutions' "bottom line" and profitability. There is significant historical evidence for a proportional relationship between the banking sector's profitability and interest rates and an inverse relationship with bond prices. Real estate and utilities are also highly rate-sensitive. In a previous article, I described how monetary policy is connected to these bonds and equities and how investment strategy should be aligned accordingly. Steer clear of applying too much investment in financial institutions in the U.S., Japan, and EU, such as Bank of America (NYSE:BAC), JPMorgan (NYSE:JPM), Goldman Sachs (NYSE:GS), Mitsubishi UFJ (MTU), Mizuho (MFG), or Sumitomo Mitsui (SMFG), as well as bonds, such as the iShares 1-3 Year Treasury Bond ETF (SHY) or the iShares Core Total U.S. Bond Market ETF (AGG).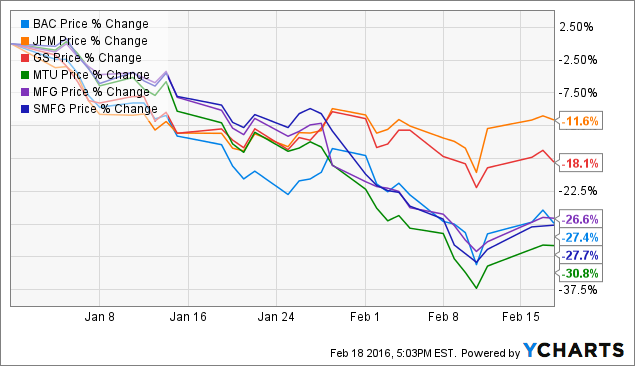 Disclosure: I/we have no positions in any stocks mentioned, and no plans to initiate any positions within the next 72 hours.
I wrote this article myself, and it expresses my own opinions. I am not receiving compensation for it (other than from Seeking Alpha). I have no business relationship with any company whose stock is mentioned in this article.