With a recent report that the SEC is investigating accounting practices at Boeing (NYSE:BA), the whole sector took some damage. This includes suppliers like Hexcel (NYSE:HXL), which saw its stock drop in sympathy. Short of an Enron type case of fraud - which I believe is extremely unlikely - I can't envision anyway that Hexcel will be impacted.
I guess the argument could be made that Boeing's access to the capital markets will be impaired, which will then disrupt the company's liquidity and impact supplier payments; but the company did deliver $9.4 billion in operating cash flow during FY 2015, which mitigates this concern to a certain extent. Never-the-less, investors looking to capitalize on the robust demand for new commercial aircraft should consider Hexcel instead of Boeing - with or without accounting issues.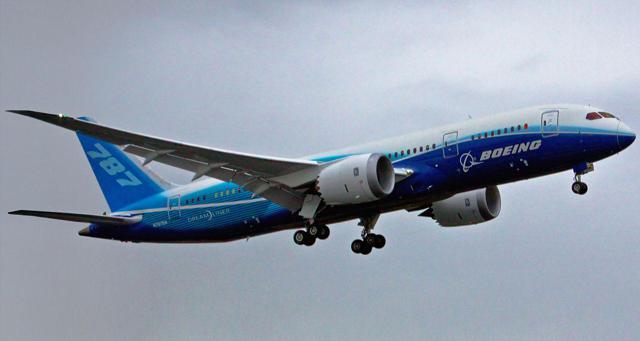 Source: Wikipedia
Composite Content Increasing
With its FY 2015 results, Hexcel reported commercial aerospace sales for Boeing and Airbus (OTCPK:EADSY) grew 6% yoy, with new aircraft programs (A350, B787, A320neo and B737 MAX) growing 40%. Given that the A350 and B787 are still not at maximum production rates, Hexcel's sales are set to accelerate as supply chain demand for composites increases. In addition, composite materials continue to capture a greater proportion of material with each new generation of aircraft. Per Hexcel's 10-k (page 27):
Hexcel has been awarded a contract to supply carbon fiber composite materials for the major primary structures for the A350 and has total content of about $5 million per plane. The A350 has about 53% composite content by weight… The 787 has more than 50% composite content by weight, including composite wings and fuselage, compared to the 11% composite content used in the construction of its B777 aircraft and 6% for B767 the aircraft it is primarily replacing…. Hexcel averages about $1.5 million of content per plane (B787).
As of December 31, 2015, Airbus had 762 orders in backlog for the A350, while Boeing had a backlog of 779 orders for the B787. This equates to sales for Hexcel's composites of almost $5 billion for just these two planes alone (obviously spread out over the better part of a decade). And in case you are concerned that a potential bubble in widebody planes will be a headwind for the company, Hexcel also had this to say in its 10-k:
Both Airbus and Boeing have announced new versions of their narrowbody planes that will have new engines. Airbus's A320neo had its first customer delivery in January 2016, while the Boeing's B737 MAX had its first flight on January 29, 2016 and is expected to enter service in 2017. Both of these aircraft are expected to provide opportunities for Hexcel to increase its content on these new programs up to 50% higher than on the current models of the A320 and B737.
And as the carbon fiber composite craze continues to propagate to other commercial aircraft (per the 10-k);
In 2014, Airbus announced a new version of its A330, the A330 neo, which will have new engines, and Boeing announced the B777X, a new version of the B777 with composite wings and new engines. Our sales on these four new programs plus those that will develop from the A330neo and the B777X will represent an increasing percent of our Commercial Aerospace sales in the future.
With commercial aerospace sales already representing 69% of Hexcel's sales in 2015, the company appears primed to see meaningful growth as it catches the tailwinds from the commercial aircraft boom.
Reiterated Year 2020 View
On its Q4 and FY 2015 earnings conference call, Hexcel management stated that it is still on track to deliver $3 billion in sales and $4.50 in EPS in 2020, along with $1 billion in FCF during the 5 year period. This represents pretty explosive growth over the 2017-2020 timeframe, considering that the midpoint of 2016 guidance for sales is $2.02 billion and $2.50 for EPS.
Stated another way, in 2020, the company expects to grow sales by 61% compared to FY 2015, and grow EPS by 94%. This equates to an EPS CAGR of 14% from 2015 levels; not too shabby for a stock with the P/E currently sitting around 17.
Going back to why I think investors would better suited to buy Hexcel than Boeing, consider the following points:
Boeing faces intense competition from Airbus, whereas Hexcel benefits from both companies.
Boeing is currently trading at a forward P/E around 14 (using the midpoint of Boeing's 2016 Core EPS outlook), compared to a forward P/E around 16 for Hexcel. This means Hexcel is given a very small premium over Boeing, despite a much easier path to almost double EPS over the next 5 years.
Hexcel will continue to benefit from the adoption of carbon fiber in the space & defense segment and industrial markets, whereas Boeing is primarily limited to the secular growth in commercial airplanes.
Conclusion
Investors looking to capitalize on the secular growth of commercial airplanes should look further down the supply chain, rather than just at the big ticket item. Even if the potential accounting issues at Boeing end up being nothing more than distracting noise, the relative valuations and growth potential favors Hexcel.
Disclosure: I am/we are long HXL.
I wrote this article myself, and it expresses my own opinions. I am not receiving compensation for it (other than from Seeking Alpha). I have no business relationship with any company whose stock is mentioned in this article.
Editor's Note: This article discusses one or more securities that do not trade on a major U.S. exchange. Please be aware of the risks associated with these stocks.