Elevator Pitch
Integral Technologies (OTCQB:ITKG) needs to be looked at as a start-up as it has yet to generate revenues in any meaningful way. It needs to put some numbers on the board and translate opportunity into a viable business. Near term it may get some traction in consumer products but investors are buying the stock for big opportunities in batteries and wires where it may or may not have success due to stiff competition.
Company Description
The company sell conductive polymers used to replace metal parts in a number of applications. It is headquartered in Indiana, co-located with a plastics manufacturer, and has three R&D people outside of Detroit. Its main product, ElectriPlast®, is a family of non-corrosive, electrically-conductive resin-based materials whose properties allow it to be molded into any shape and, but which is as electrically conductive as metal. By replacing traditional metals with its product weight may be reduced by 40 to 60%. While it pursues big opportunities, it has funded the company through the sale of equities.
Thesis & Catalyst For Integral Technologies, Inc.
At a $40 million enterprise value, the stock is trading on the possibility of large joint marketing arrangements that have yet to bear fruit. Near term a large consumer order could offer encouragement or a joint venture with a battery company, but more importantly the company needs to sell some product in meaningful amounts.
It received and order to make samples for a consumer product from Chang Rim in Korea. If this consumer product is well received by Chang Rim's customers, we believe the company could receive an order over $100,000 in Q4 2016 or Q1 2017. In our earnings model we have put the revenue into FY 2017. We estimate an order of 100,000 units could result in revenue of $200,000. As it is a consumer product, we anticipate that Chang Rim would build to meet Christmas. We believe this could be the beginning of a recurring revenue stream going forward with a highly seasonal nature.
Integral reported Q2 FY16 revenues of $30,000 versus $62,000 a year ago. The revenue booked was from the ratable recognition of a 10-year license to Hanwa ($12,500) that is booked every quarter and fulfillment of an order to Chang Rim to build 3000 units of a mobile consumer product. Non-GAAP losses in the quarter were $0.9 million versus a loss of $1.1 million last year, a reduction of 12%. This resulted in a non-GAAP EPS loss of $0.01 versus a loss of $0.01 in the 2014 quarter, a decline of 27% due to the 12% increase in shares outstanding.
While its Delphi and BASF affiliations have not yet produced revenue, management remains optimistic about their prospects. Integral continues to work with Delphi, jointly developing a new wire technology. The company also continues to work with BASF as its conductive polymer solution.
The company has been talking to a number of battery manufacturers that make both bipolar batteries (such as those used in cars) and flow batteries (that are larger and typical in solar and wind facilities) where weight and cost to manufacture are considerations. We believe the company will create a separate wholly-owned subsidiary to pursue battery opportunities separate from the rest of the business.
The company believes its competitive advantage against other conductive resin suppliers is its ability to turn its polymer into an electronic product that works due to its expertise in electrical engineering as well as its IP protection.
At an enterprise value of $40 million, investors clearly have high long-term expectations for the company that may or may not come to fruition and may require patience and cash to reach that state. Near term the stock could react to a sizable order from Chang Rim, or an announcement of a battery partner.
LONG TERM PROSPECTS
Joint Development With Delphi
Integral continues to work with Delphi on jointly developing a new wire technology. Integral noted that the relationship has been active but has not generated any revenue. The companies continue to test product with no timeline as to if or when the new wire technology would come to market commercially.
Letter of Intent with BASF
Since 2013 the company has had a relationship with BASF Corporation to jointly explore the North American market for ElectriPlast's patented line of conductive thermoplastics. Along with BASF, the company will approach key OEMs and Tier 1 manufacturers with opportunities for conductive thermoplastics as a lightweight material alternative to metals. As the world's leading chemical company, BASF's portfolio ranges from chemicals, plastics, performance products and crop protection products to oil and gas. Although there has been no revenue generated yet from the BASF relationship, Integral noted that it continues to work with BASF.
Battery Technology
Another application of the company's product is for use in batteries, both bipolar and flow batteries. The company is in talks with three distinct bipolar battery companies as well as three flow battery companies. We believe the company plans to put the battery business in its own wholly owned subsidiary where it can partner in joint ventures with battery manufacturers with out affecting the rest of the business.
Bipolar technology eliminates the use of top lead to connect the plates, thereby reducing weight by over 50%. As a plastic it also avoid corrosion associated with metal. Flow batteries are the large batteries used to store energy in solar and wind installations. Given this use the company is also pursuing government grants for research in flow battery technology. Integral believes these applications might also drive revenue from engineering services. Management believes that many companies will require Integral's engineering expertise on conductive plastic applications in order to use ElectriPlast, which is such a new product that others have not developed engineering expertise around it.
12V Bipolar Lead Acid Battery With ElectriPlast Conductive Plastic Plates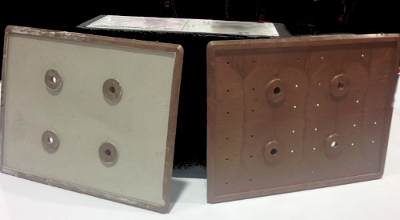 THE BATTERY POTENTIAL
The company has four patents pending using it technology for batteries that represents a significant improvement over traditional technology and is a sizable opportunity. The lead-acid battery market was estimated at $44.7 billion globally in 2014. It is projected to reach $58.5 billion by 2020, according to Future Market Insights, which represents 4.6% CAGR.
Integral has been showing its patent pending ElectriPlast plates to the industry including a functional, 12V bipolar battery containing ElectriPlast bipolar plates as well as several prototypes designed especially for use in electric and hybrid vehicles.
The advantages of plastic plates are:
Lightweight and easy to assemble into the bipolar battery package, reducing battery weight by more than 50%, enabling it to be applied in motorcycles, ebikes, golf carts and forklifts, as well as many applications outside of the transportation sector, which currently accounts for the largest use of lead-acid batteries. There are many other industries that have battery-operated products and require less weight such as portable appliances, power tools and even toys.
Highly cost effective, since parts are molded rather than machined and as such can eliminate multiple components that are required to assemble plates made from other materials.
Avoids corrosion associated with metal.
OWNERSHIP
Management, directors and insiders own 12%.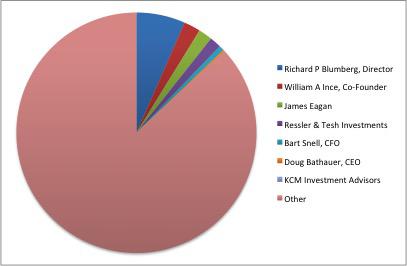 RISKS
Despite being in business since 1996, the company still primarily in the R&D stage for its product. It has very small revenues generated from customers and losses that burn approximately $700,000 per quarter in cash. The company has funded this cash need through equity and stockholders should expect dilution of their equity investments until the company can emerge from its R&D state. We believe this could take years.
The commercialization strategy for ElectriPlast with existing partners might not materialize in a meaningful way, spurring Integral to seek new affiliations and delaying revenue growth.
In addition to tough competition from traditional products, other companies could gain traction with a competing technology. Integral competes with a number of very large, well-funded companies.
Market penetration and adoption for ElectriPlast could be slower than the company anticipates or could never materialize. In particular the automotive market requires a number of years before products that are ordered are even shipped.
The cost of retrofitting manufacturing plants in order to use ElectriPlast as a substitute material could also constrain its adoption.
Integral might not find a partner for its battery business, which could delay further development on the technology.
INCOME STATEMENT

BALANCE SHEET
The company had $282,000 of cash on its balance sheet at December 31 2015. It continues to fund losses through the exercise of warrants. The company estimates that it would raise about $6.1 million of cash from the warrants that are already issued and outstanding at the current level of ITKG shares. During Q2 FY16, proceeds from the exercise of warrants were $813,000 and $100,000 from convertible debt.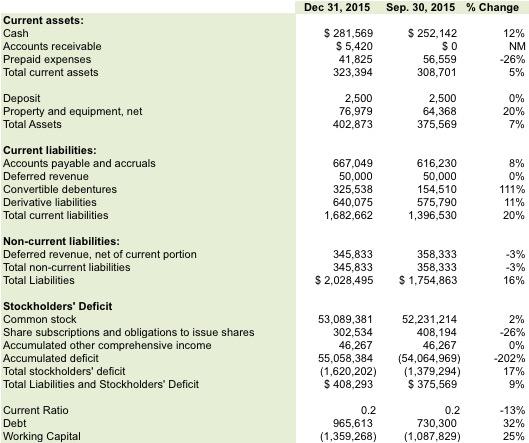 CASH FLOWS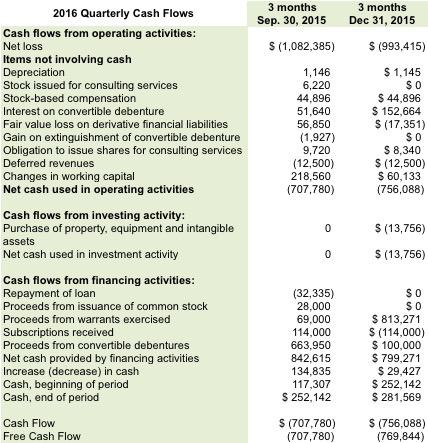 Supporting Documents
Disclosure: I/we have no positions in any stocks mentioned, and no plans to initiate any positions within the next 72 hours.
Business relationship disclosure: I work as a Consultant Analyst for Zacks Investment Research. The article is written by me and is 100% my opinion. I receive compensation from Zacks for writing equity research reports and providing valuation analysis on this company's stock and expect to do so in the future. Zacks receives compensation from the company. Please see the Zacks Disclaimer for further information: http://scr.zacks.com/Disclaimer/default.aspx
Editor's Note: This article covers one or more stocks trading at less than $1 per share and/or with less than a $100 million market cap. Please be aware of the risks associated with these stocks.