Be careful of your commitments. Sometimes you can over-obligate yourself.
Rob Knight, chief financial officer for Union Pacific (NYSE:UNP), said the company is buying 230 locomotives this year as part of a long-term contract for the purchase of locomotives through 2017.
"We are buying 230 new locomotives this year," Knight said Thursday at the Barclays Industrial Select Conference at Loews Miami Beach Hotel. "In a perfect world, if we knew maybe two years ago what we know today, arguably we wouldn't have done the 230 locomotives acquisition this year."
Union Pacific has 1,500 locomotives in storage, according to a recent conference presentation. The company reduced its headcount by 4,100 employees due to falling volumes of freight as of Feb. 5, 2016.
Union Pacific plans to spend $3.75 billion on capital improvements in 2016, about $500 million less than it spent in 2015. The capital plan includes $965 million for locomotives and equipment; $1.82 billion for infrastructure replacement; $375 million for positive train control; $395 million for capacity/commercial facilities, and $190 million for technology/other projects.
Knight said about $2 billion is for replacement capital, to maintain safe and reliable transportation of freight.
Last year capital spending was 21% of revenue at UNP. Knight said he expects capital spending to be 16% to 17% of revenue this year.
UNP's chief rival, BNSF Railway owned by Berkshire Hathaway (NYSE:BRK.B) (NYSE:BRK.A), will spend $4.3 billion on capital improvements in 2016. BNSF's capital plan is $1.5 billion less than was spent in 2015. The plan includes more than $300 million for positive train control and more than $600 million for locomotives, freight cars and other equipment. About $500 million is for expansion, including a continuation of projects that were started in 2015, such as installing a new bridge and second track to cross the Pecos River and double track near Fort Sumner, N.M. This year's projects also reflect various other double track work and additional centralized traffic control signaling that will add capacity and improve efficiency in constrained parts of the network.
In the first six weeks of 2016, Union Pacific saw an -8% decline in business volumes. UNP's coal volume was down -35%. Crushed stone, gravel and sand category was down -25%. Petroleum shipments were down -7%.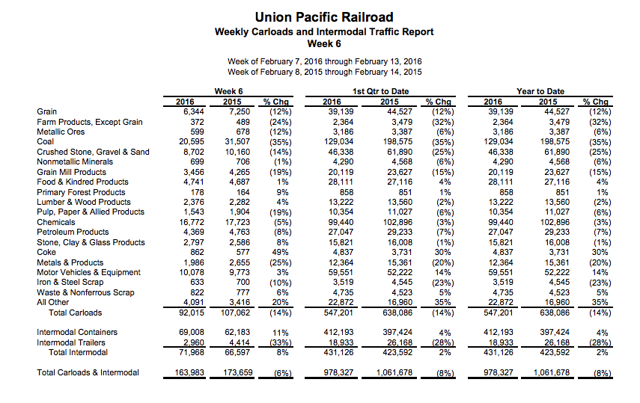 Source: Union Pacific
Coal used to be 18% of business volumes at Union Pacific, but so far this year, the 129,034 carloads shipped through Week 6 represent just 13.2% of total volumes of 978,327 carloads/intermodal units.
BNSF's volumes were down 3.12% YTD through Week 6. Coal was down -29.74% through Week 6. The 197,164 coal carloads through Week 6 represented 17.8% of carloads/intermodal volumes at BNSF.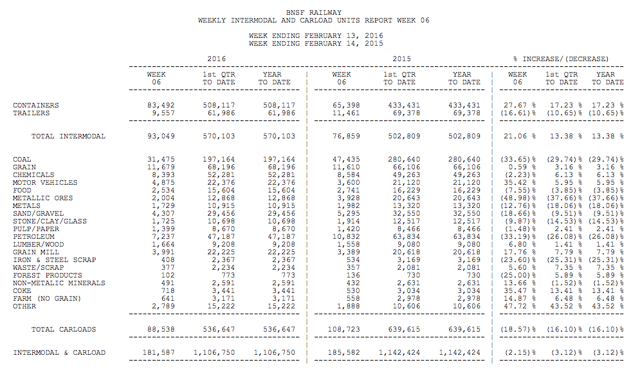 Source: BNSF Railway
One of the main reasons coal demand is down is because of cheap natural gas at around $2.00 per mcf, plus high inventory levels of coal at utilities. Knight said utilities have 105 days of inventory of coal, 40 days higher than the five-year average.
Mild weather has contributed to declining usage of coal as well.
Petroleum volumes at BNSF were down 26% YTD. That is a significant decline and means volumes from the Bakken Play are declining due to the poor price of oil. We may see an exodus of oil and gas workers from North Dakota this year.
The sad commentary is the UNP train whistle blows less and less. I only live 1.5 miles from the tracks going east and west through Topeka.
As I learned from an old-timer in Ansley, Neb., when the hammers aren't hammering, and the trains are not moving, there is no growth. And when you're not growing, you're dying. I don't think the railroads are dying, but they are having to adapt to a changing economic environment.
One positive is auto traffic remains strong for Class I railroads. There were record auto sales in 2015. Trade with Mexico is strong and this bodes well for Union Pacific and Kansas City Southern (NYSE:KSU), which serve Mexico.
"Two new auto plants in Mexico will open in the second half of 2016, while at the same time, we will also begin to see the benefits from the plant expansions at the three of the auto facilities we serve in Mexico," Dave Starling, CEO of Kansas City Southern, said during the Q4 conference call with investors.
Conclusion
Railroads are entering their second year of sluggish demand for movement of freight. Stocks for these railroads declined substantially in 2015. I had sold most of Union Pacific stock last spring. I recently picked up a few shares of UNP at $74 per share. I expect volumes to decline further in 2016, unless there is a revival in the industrial and energy sectors. But I really don't see that happening. Oil and coal inventories are at record levels. Utilities are burning cheap natural gas while wind generation continues to grow. BNSF is the largest hauler of crude by rail and has lost a fourth of that business so far this year. I commend Union Pacific for honoring its commitments, but the railroad does not need the 230 locomotives that it is purchasing this year. Perhaps some day, when volumes increase, the locomotives will come in handy. I believe the railroads are solid dividend paying stocks, but I don't anticipate much growth in them in 2016.
Disclosure: I am/we are long UNP, BRK.B.
I wrote this article myself, and it expresses my own opinions. I am not receiving compensation for it (other than from Seeking Alpha). I have no business relationship with any company whose stock is mentioned in this article.