Friday's stock market is signaling something fantastic for stocks. WTI Crude Futures were down about 4% around 1 PM ET, but the S&P 500 Index was about unchanged. That marks an important break from this year's prevailing trend of stocks following oil. Stocks have stronger fundamentals now, thanks to altered expectations for the economy and for the Fed. As a result of this fundamental change in favor of stocks, I can confidently say it's time to buy.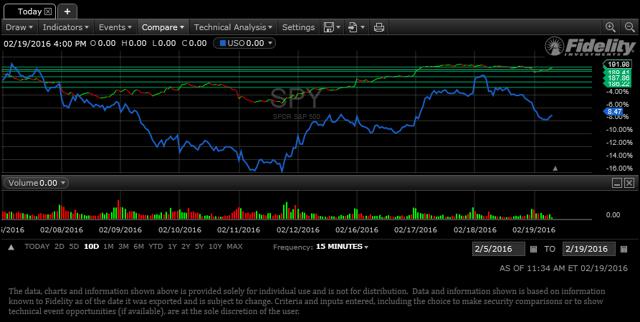 10-Day Chart of SPY vs. USO at Fidelity.com
The 10-day chart here showing the SPDR S&P 500 (NYSE: SPY) and the United States Oil (NYSE: USO) illustrates how stocks have tracked oil in the recent past. But take note of the right end of this chart, because it shows oil dipping several times (including Friday), but equities holding their own through it.
On Friday oil dipped at the open for good reason. As I noted in my report, The Oil Run is Done..., oil prices had run up on a weak driver. Saudi Arabia's meeting with Russia resulted in a promise to freeze oil production, but at January's record level. Oil prices would benefit from a meaningful action to lessen the supply glut via a significant production cut from OPEC and Russia, but the conditional promise of a production freeze should have been a letdown to energy investors. Optimism instead was born from more rhetoric out of the mouths of the boys who cry wolf, as I refer to OPEC and Russia because of their regular rhetoric that spurs oil price rallies. The "freeze" announcement came with a promise from the parties to act to stabilize the oil market, which investors took as a signal that OPEC will act on production. I agree that OPEC will act on production, but only when pressed to by sharply declining prices that breach the $25 mark for WTI Crude.
Hopes were also pinned on Iran's cooperation, but Iran is in the process of ramping up production after only just being freed from western sanctions. Iran said it was illogical to expect it to halt or cut production now, but the market noted Iran's superficial statement of support to the cooperation OPEC and Russia seek. Let's see action, I say, and I believe investors will increasingly require just that for oil prices to truly stabilize.
Given the already heavy weight on this camel's back, a straw broke it on Thursday when the Energy Information Administration (EIA) reported another build in crude oil, gasoline and distillate fuel inventories. The build in inventory was especially meaningful because the American Petroleum Institute (API) data from the evening before raised expectations for a draw from inventory. So at 11 AM ET, when the EIA published the bad news, oil prices made an abrupt turn lower. And they're moving even lower today, with WTI Crude Futures down 4% or so at roughly 1 PM ET.
| | |
| --- | --- |
| Security Sector | 02-19-16 2:30 PM |
| SPDR S&P 500 | -0.1% |
| SPDR Dow Jones (NYSE: DIA) | -0.2% |
| PowerShares QQQ (NASDAQ: QQQ) | +0.2% |
| iShares Russell 2000 (NYSE: IWM) | +0.4% |
| Vanguard Total Stock Market (NYSE: VTI) | -0.1% |
| Financial Select Sector SPDR (NYSE: XLF) | +0.1% |
| Technology Select Sector SPDR (NASDAQ: XLK) | +0.1% |
| Energy Select Sector SPDR (NYSE: XLE) | -1.1% |
| Health Care Select Sector SPDR (NYSE: XLV) | -0.0% |
| Consumer Discretionary Select Sector SPDR (NYSE: XLY) | -0.0% |
| Consumer Staples Select Sector SPDR (NYSE: XLP) | +0.1% |
| Utilities Select Sector SPDR (NYSE: XLU) | -0.6% |
| Materials Select Sector SPDR (NYSE: XLB) | -1.2% |
| Industrial Select Sector SPDR (NYSE: XLI) | -0.3% |
| iPath S&P 500 VIX ST Futures (NYSE: VXX) | -1.4% |
| SPDR Gold Trust (NYSE: GLD) | -0.4% |
| United States Oil | -2.5% |
But stocks are hardly changed, and that is what has changed. This is the latest evidence of something I pointed out in my report, Buy Stocks - This Rally has Moxie. Equities were breaking trend again, something they have done more of lately. I believe there is good reason for that.
Last week, through all the Negative Interest Rate Policy (NIRP) discussion during Fed Chair Yellen's testimony before both financial panels of Congress, not to mention the media uproar about the issue, something positive came into view. Don't get me wrong; the prospect of NIRP terrified the investment community, because it would represent an abrupt change in the Fed's expectations for the economy. After all, at last check, the Fed prepared us all for four rate hikes this year via its dot-plot projections in December. To suddenly seriously discuss NIRP must mean something terrible is afoot.
This was exactly the Fed Chair's mistake last week, giving the issue inappropriate attention. I believe she should have been less diplomatic and stronger about NIRP's inappropriateness for our economic situation. It took New York Fed President Dudley's appearance last week for that reality to take hold, as he agreed with my view and stated NIRP was not even worthy of discussion. It is out of the realm of possibility for many reasons, first of which is the fact that our economy is not expected to fall into recession. CNBC's Rapid Update GDP forecast tracker shows the economists' consensus expectation for Q1 GDP is for greater than 2% growth.
Once we effectively dispelled NIRP, investors realized that Chair Yellen's testimony was rather dovish. Between her testimony and the release of the FOMC meeting minutes, it seems clear to me and likely to most that the Fed is unlikely to raise interest rates in March. That marks a downshift from our December guided expectations, and it is positive for stocks. It is especially positive for stocks because economic data of late has not been so sour. So, we have two wonderful developments then, a better economic outlook than we had two weeks ago, and also a more dovish outlook for Fed monetary policy this year. I've discussed why Fed rate hikes matter for stocks in detail in the past, and refer readers to this article for that information.
Your takeaway is that these two developments for the economic and Fed outlook weigh positively for stocks. They have shown their importance, given the latest resilience of equities to downturns in oil prices. Therefore, this theory of mine appears to be proving out. That is why I can confidently recommend investors buy stocks now. Of course, risks remain, but these key fundamental factors are really most important for equities; enough so for me to go out on a limb and make this bold call. Now, while I see stocks stabilized and rising from today's depressed levels, I'm not calling for economic boom times or windfall profits in stocks. However, I believe the S&P 500 can recover 6.6% toward where it started 2016. I cover the market regularly and invite relative interests to follow my financial column here at Seeking Alpha.
Disclosure: I am/we are short USO.
I wrote this article myself, and it expresses my own opinions. I am not receiving compensation for it (other than from Seeking Alpha). I have no business relationship with any company whose stock is mentioned in this article.