Back in October 2015, with oil trading around $50, I wrote an article asking if it still made economic sense for Energy Transfer Partners (NYSE:ETP) to continue on their quest to build the Bakken Pipeline (officially the Dakota Access Pipeline). At the time, there wasn't yet a clear answer to the question in my mind, since oil at $50/barrel wasn't yet causing any large producers to shut off the taps, and Bakken production had only seen a few months of declines. ETP itself was also trading around $45/share and yielding about 9%. Thus, I was trying to measure the value of the pipeline using a discount rate of 10%.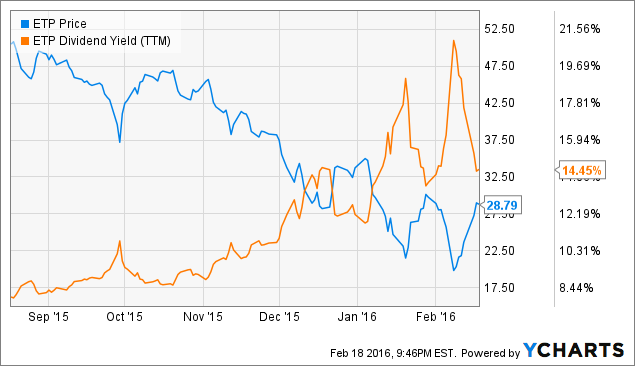 Today, I came across an article on the current state of affairs in the Bakken. Production is down 2.5% month-over-month to 1.115Million barrels/day. Lynn Helms, Director of North Dakota DMR, noted that production will likely fall below 1Million barrels/day by the end of 2016, as there are currently only 40 rigs drilling new wells. If oil prices remain low for an extended period of time, as is now expected, production could drop to 900k barrels/day be the end of 2017.
These statistics should be extremely concerning to any ETP investor, as the company is still planning to start construction of the new $3.78Bil Bakken Pipeline once it receives final approval from the Iowa Utilities Board. Both Dakotas and Illinois have already given their approval.
As I noted in my previous article, total pipeline capacity out of North Dakota is expected to reach 1.5M barrels/day in 2017, or 1M not including the 450k capacity of the Bakken Pipeline. While ETP most certainly has solid 5-10 year take or pay contracts with large Bakken producers, the company will likely have to drop rates substantially at the end of these contracts.
In the meantime, the stock price has also cratered from the mid-$40s down to as low as $18.60 due to concerns about the Williams merger and potential Chesapeake Energy (NYSE:CHK) bankruptcy, which could have serious negative effects on ETPs cash-flows. While the price has rebounded by 50% back to $30, the stock is still yielding 15% at current levels.
At these yields, I believe that ETP shareholders would be much better off if the company used the $3.78Bil on share buybacks instead of the new pipeline. The value add would be immediate, whereas the return on the pipeline, if any, would take a decade.
Disclosure: I/we have no positions in any stocks mentioned, and no plans to initiate any positions within the next 72 hours.
I wrote this article myself, and it expresses my own opinions. I am not receiving compensation for it (other than from Seeking Alpha). I have no business relationship with any company whose stock is mentioned in this article.