As a temporary citizen of London and travel enthusiast, easyJet (OTCQX:ESYJY) is an airline, which you simply can't avoid if you want to travel by airplane out of the UK. Especially in London, whether you go to any of the airports such as Southend, Gatwick, Stansted or Luton, easyJet is the place to be.
It has been one of the first stocks I've picked up when I arrived in London years ago and with great success as the firm soared nearly 200% in 5 years. Unfortunately, times have changed. Something I've noticed since my first article on easyJet back in 2014 and the 4 follow-up articles over the last 1.5 years.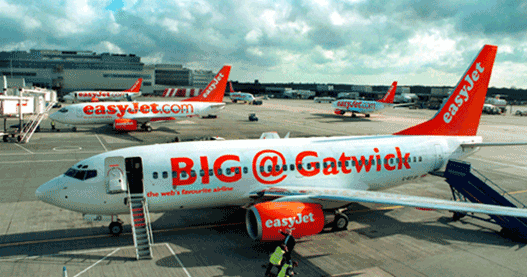 easyJet: looking back at the last few months of 2015
So far, business is looking steady as the discount airline announced an update in January of 2016. Doing the number crunching on revenue, profit and passengers, all figures were on par with expectations.
The overall amount of passengers surged, which means more when considering an offset against capacity increase. Even better, the airline suffered significantly under the Egypt & Paris attacks but was able to keep numbers up. Fortunately, low oil price kept costs down, but I realize this was a beneficial factor for almost every airline.
easyJet: The investor looking forward into 2016 and beyond
Regrettably, easyJet shareholders have not seen any progress as easyJet is nearly down 20% year to date. A painful loss. Especially as competitor Ryanair (NASDAQ:RYAAY) has performed significantly better with only a 5% loss year to date.
As I've discussed in my numerous easyJet VS Ryanair articles, both are strong competitors. In the last 2 weeks, Ryanair has provided better returns to shareholders than easyJet.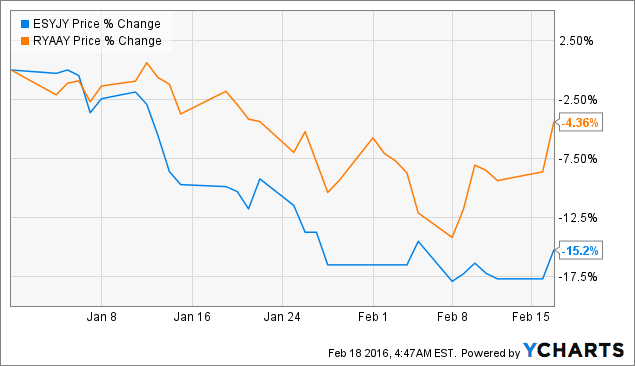 Overall, Ryanair has been shown more stability, while easyJet has shown more volatile rides over the years.
This article will act as an update of easyJet's performance and extension on my earlier articles covering easyJet. With a specific emphasis on easyGroup, the main shareholder of easyJet. For someone living in Europe, "easy" awareness is high, hence the reputation of some "easy brands" might tarnish the reputation of this standalone discount fighter. That and more will be discussed in this article.
easyFoodstore: The new toy coming out of easyGroup.
There is more 'Easy' than easyjet as the 'Easy' brand goes much further with brands such as easyPizza, easyBus and one of the latest in a long row of names, easyFoodstore. A discount supermarket tailored for the less fortunate of society, an idea which originally sparked the initial founding of easyJet.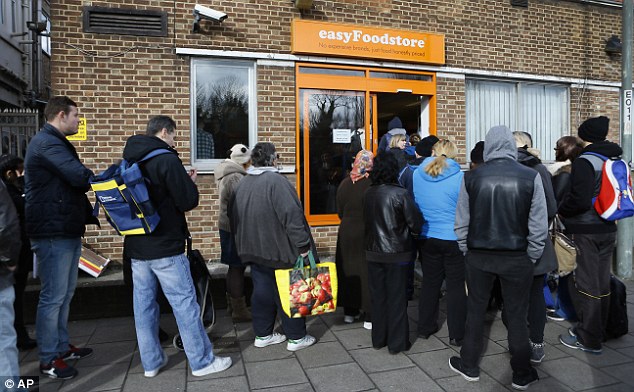 Source: DailyMail
EasyFoodstore recently started with a pilot supermarket in London, with all products priced at 25 pence. That is roughly for $0.36 for every product in store. London was so enthusiastic; the easyFoodstore had to close early as everyone bought whatever they could get their hands on.
This pilot store already proves itself to be a potential competitor to low-price retailers in the UK such as ASDA, Lidl and Tesco (OTCPK:TSCDF). All retailers which are currently struggling.
EasyGroup: A business needs to start somewhere...
The easyGroup is a private investment holding founded by Stelios Haji-Ioannou, the founder of easyJet. easyJet Airline Company Limited is a separate company which licenses the "easyJet" name from easyGroup.
An overview of the brands: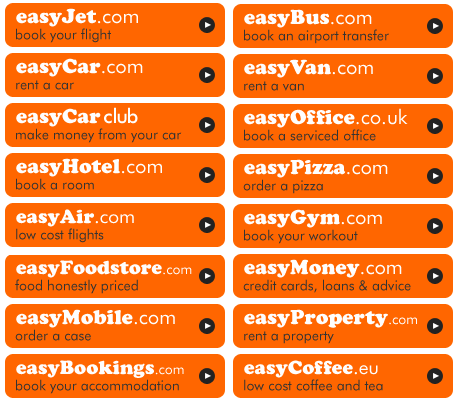 Unfortunately, not every brand in the easyGroup is (or has been) a large success. The firm lost money on easyInternetCafe and easyCinema was also a complete failure. One of the more profitable names, easyBus might be bringing in money, its overall reviews are horrendous:

Source: Google
In my view, these sort of "reviews," tarnish the brand name of everything related to "easy." Especially easyJet as easyBus is an airport transfer bringing airline customers from easyBus into the airport to fly with easyJet. easyJet, as an airline, can't afford to lose customers this way, especially as most of these airports are either run by Ryanair or easyJet. Competition is lost easily. Furthermore, easyBus has significant competition from National Express and Terravision.
easyJet - Shareholders can't be happy.
I've always considered airlines (specifically price fighters easyJet and Ryanair) misunderstood investments, not necessarily as long-term holdings, but as short-term holdings as Ryanair and easyJet's debt and profit metrics are substantially better than most other airlines in the industry.
Both European discount airlines have performed as top contenders when it comes to shareholder return in the airline industry as shown below: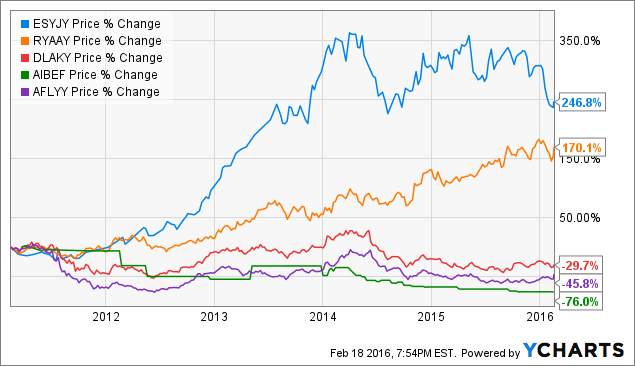 Other European airlines such as Air Berlin (OTCPK:AIBEF) and KLM (OTCPK:AFLYY) have failed astronomically over the last 5 years while Ryanair and easyJet both returned nearly 200% to their shareholders.
EasyGroup and easyJet, one will not live without the other
EasyGroup is still the largest shareholder with over 30% in easyJet, and from time to time still vocal about the direction the firm is headed. Recently, the former founder of easyJet announced his concerns about the poor performance of easyJet's stock, something everyone would easily agree with:
"It is not easyGroup's intention to remove John Barton, whose performance to date has been highly satisfactory. However, directors will need vigilance against a background of a 23% share price deterioration in the last 52 weeks."
Stelios is not unknown to meddle with easyJet's affair, as he has done that before with mixed success.
Results of the last few months in 2015
The latest results announced by the firm are nothing extraordinary, yet indicatively should not result in a 20% year to date loss for investors. As this loss might be fueled by the overall slump in the stock market, one might think of a potential price/discrepancy with the share price. Yet, I'm not so sure about that as the overall P/E has not significantly decreased when we look at it over an extended period of time: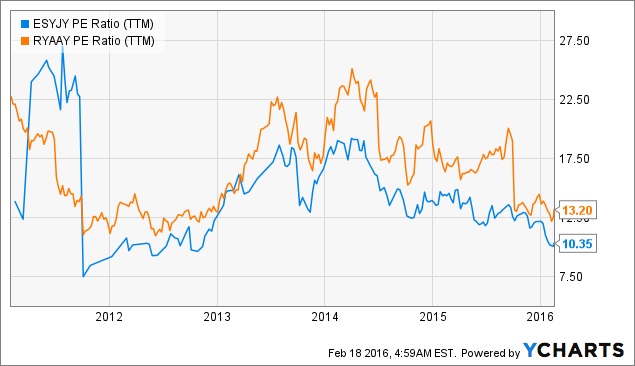 In January, the budget carrier announced that passenger numbers jumped an impressive 8.1% between October and December to 16.1 million. The firm's hub and route expansion programme should provide upwards resistance to traveler numbers.
Analysts expect the airline to post a significant earnings bump in the year to September 2016 and revenue and net income to increase continuously.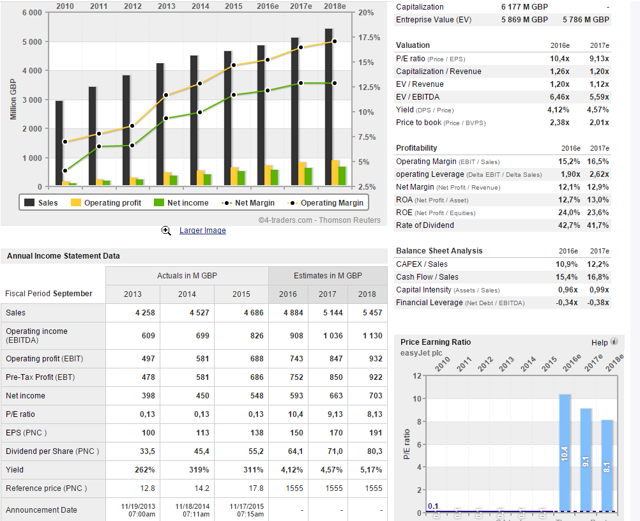 Margins (as shown above) should remain free from pressure if oil remains low as that is the biggest cost for both discount fighters. My problem with current analysts expectations is that it doesn't leave much room for error. This leaves a tricky situation, considering the markets have tumbled since January 2016 and therefore investors might react weary on worse than anticipated results (from either Ryanair or easyJet).
Taking everything into consideration, the outlook is expected to keep dividends at easyJet at a respectable level. But I believe this will not act as resistance to keep the share from further dropping down.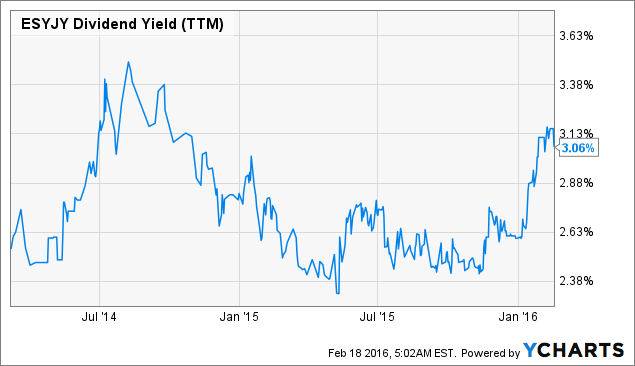 Summary
It's interesting to follow the new business ventures by Mr. Stelios, yet from an investor perspective, I would currently not touch easyJet. I believe the other ventures chased by easyGroup are not always a positive boost for easyJet as is easily explained by the poor reviews from easyBus. Especially as it takes years to build a reputation, yet it takes only a few negative reviews to tear it all down.
Though the classic fundamental metrics are far from bad, the potential is simply not out there and with a dividend yield varying between 2%-4% the firm offers nothing substantial. As I currently don't see any reason why this firm would over-deliver in results from a finance or passenger related aspect in the short term, I see no reason to currently invest in easyJet.
Only an external impact, for example a volcano eruption might have me pulling back into easyJet, as airlines as a whole will drop on this news. Yet I believe easyJet, due to its solid fundamental metrics, will be the first to increase shareholder value in this case, together with Ryanair which is the next airline I'll discuss on Seeking Alpha.
I do consider this one of the best airlines out there, but after delivering good results, year after year, it becomes difficult to maintain these high expectations. If the classic fundamental metrics would drop to, for example 5-year lows, while the business remains stagnant at best a pricing discrepancy might occur. That will also have my interest. For now, it's waiting to see if easyJet will continue to drop in the coming months.
Disclaimer: This article provides opinions and information, but does not contain recommendations or personal investment advice to any specific person for any particular purpose. Do your own research or obtain suitable personal advice. You are responsible for your own investment decisions. This information is not a recommendation or solicitation to buy or sell securities, nor am I a registered investment advisor.
Disclosure: I/we have no positions in any stocks mentioned, and no plans to initiate any positions within the next 72 hours.
I wrote this article myself, and it expresses my own opinions. I am not receiving compensation for it (other than from Seeking Alpha). I have no business relationship with any company whose stock is mentioned in this article.
Editor's Note: This article discusses one or more securities that do not trade on a major U.S. exchange. Please be aware of the risks associated with these stocks.