As I forecasted back in November, Calumet Specialty Products Partners (NASDAQ:CLMT) had a very rough 2015 fourth quarter. The basic problems with Calumet's business model hit the company's results in force during the quarter. The new CEO, Tim Go, acknowledged some of the problems I have been highlighting for the last couple of years. He is striking a new direction for the company that should generate more level and predictable results.
Fuels Sector Falls Flat
Calumet Specialty Products is a refining company which operates in two types of product sectors. The specialty products division refines, packages and sells high margin products derived from crude oil. These products include lubricating oils, solvents, waxes, synthetic and packaged products. This is a highly profitable business. In the fourth quarter, Calumet generated an average gross profit of $41.86 per barrel of crude that was refined into specialty products. The other part of Calumet's business is fuels sales. Calumet produces and sells gasoline, diesel, jet fuel and asphalt. Profits in the fuels sector are mostly dependent on commodity pricing for both crude oil input and fuels outputs. To complicate the situation, Calumet is not an efficient fuels producer compared to those companies that are focused on mainstream refining. After averaging a gross profit of $7.91 per barrel, $218 million in total, for the first three quarters of 2015, in Q4 the refining margin dropped to $0.54 per barrel, $5 million in total of gross profits and a $22.2 million adjusted EBITDA loss. Q4 was the first time I remember noticing that Calumet has broken out EBITDA by sector. It's quite helpful.
The current $0.685 per unit quarterly distribution requires just over $55 million of cash each quarter. Distributable cash flow for the fourth quarter was just $4.4 million, a $50 million shortfall. After proportionally -based on sector gross profits- dividing G&A expenses, interest expense, and the other EBITDA to DCF adjustments between the two sectors, the specialty products group generates about $40 million per quarter in distributable cash flow. Or put another way, the specialty products sector generates about 70% of the cash need to maintain the distributions. The fuels sector must come up gross profits to cover its share of company overhead and chip in the other 30% of needed distributable cash flow. The variability of the fuels refining business results in periods when this division cannot generate its share of the needed cash flow.
The first three quarters of last year were a very profitable period for the refining industry. The drop in the price of crude in late 2014and early 2015 was not quickly followed down by fuel prices and refiners were able to generate well above average profits in quarters one through three. Then in the fourth quarter, refining margins collapsed with the rapid decline in fuels prices. As noted above, the Calumet fuels division generate a $22.2 million EBITDA loss for the quarter. The refining margins shrinkage can also be seen in the Q4 distributions recently declared by the variable rate refining MLPs. Alon USA Partners (NYSE:ALDW) declared $0.08 per share quarterly distribution, down 92% from the Q3 payout and CVR Refining LP (NYSE:CVRR) is not paying a distribution for the fourth quarter compared to $1.01 per unit paid for Q3.
Profits for fuel refining will not turn around in the 2016 first quarter. Crack spreads through the first half of the quarter are tighter than the Q4 average. With Calumet's less than competitive fuel refining margins, the sector will probably show additional losses when Q1 results are announced. During the earnings conference call new CEO Tim Go acknowledged the conflict between operating the company as a fixed distribution MLP and the variability of fuels refining results.
Turning the Company to a New Direction
To start the earnings call, CEO Go noted that he has occupied the boss's chair for just 50 days. He had spent five months talking to management, employees and the Board of Directors before assuming the company's top management position. Go was quite candid with his comments about the past direction of the company and his plans to move in a different direction. Here are a few quotes from the earnings call that caught my attention:
"From a capital spending perspective, we are hitting the reset button as we commit ourselves to doing more with less."

"In recent years, Calumet's business has become increasingly diversified, away from its core specialty products business. This investment philosophy has yielded some home runs such as the acquisition of the Superior in Montana refineries. It has also resulted in several less successful investments." (emphasis added)

"Our return on invested capital has been well below expectations in recent years,"
That last one nails what has happened with the Calumet growth projects over the last several years. About $750 million has been spent on "growth" projects and the result is a marginal ability to cover the distribution rate that has been in effect for the last two-and-a-half years. This chart shows the DCF coverage for 2013 through 2015: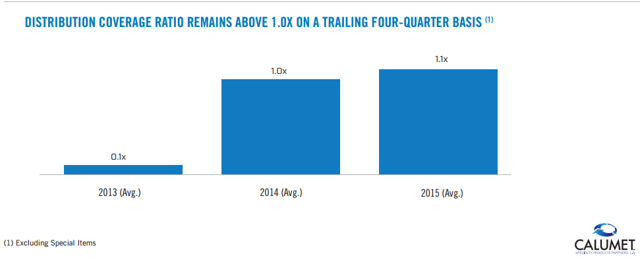 CEO Go has launched his "Roadmap for Growth" to become a premium petroleum specialty products company and to grow revenues and cash flows. There are three parts to the roadmap. The first is to optimize and improve the efficiency of the current assets. Another Go quote:
"I believe Calumet has a unique opportunity to build a more efficient, more profitable version of its current self, beginning with the assets we own today."
Second, the company will no longer be spending capital on expensive, long lead time growth projects. The company will now pace spending on a few conservative projects at a time that can be quickly completed and will generate capex paybacks in one to two years. Third, Acquisitions will be refocused on the niche, specialty product sector.
Finally, Go expressed a pretty strong willingness to sell assets when those assets have a higher value for a potential buyer compared to how they fit into the Calumet business model. This is a big change to the previous administration focus on adding a range of assets that did not fit with the core Calumet business
Investment Potential
I liked what I heard from the new CEO, but his plans will take several years to show significant EBITDA and cash flow results. The company is facing the near term challenge of cash flow that will again fall well short of the current distribution rate. With the current market crack spreads, it seems likely that DCF for the first quarter will again be somewhere near zero, with a distinct probability of negative free cash flow. To continue paying the distribution rate means that Calumet would need to borrow the money. As of the end of 2015 the company had $240 million of liquidity (cash plus revolver availability). That number is down from $320 million at the end of 2014. Calumet just recently borrowed $75 million in an unsecured loan from its general partner. This is not a company with the resources to pay out $50 million in distributions when it doesn't generate that level of free cash flow.
I think Calumet should reduce the distribution rate to a level that would be supported almost entirely from the cash flow generated by the specialty products division. This would be a payout somewhere in the $0.50 per quarter range. Cash flow generated by the fuels divisions -when that happens- should be used for other corporate purposes, such as paying down debt or funding growth capex. This move would give Calumet much stronger visibility to cover the distribution and show that the company can generate internal growth. The cash interest expense is $24 million per quarter, so just lowering the debt would grow distributable cash flow.
The 2016 first quarter will be a tough one for Calumet. It may be the push the Board needs to lower the distribution rate and do a reset on how the company generates DCF to cover the distribution. I would be a buyer if that happened.
Disclosure: I/we have no positions in any stocks mentioned, and no plans to initiate any positions within the next 72 hours.
I wrote this article myself, and it expresses my own opinions. I am not receiving compensation for it (other than from Seeking Alpha). I have no business relationship with any company whose stock is mentioned in this article.