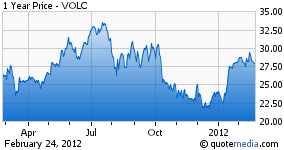 It's not often that you find a medical technology story where almost everybody agrees that product/technology in question improves outcomes and reduces costs over the long term, but few people want to use it anyway. That is, and has always been, the story with Volcano (NASDAQ:VOLC) as this mid-cap imaging story tries to drive broader adoption of intravascular ultrasound (IVUS) and fractional flow reserve (FFR) products in the U.S. and Europe.
Q4 Results Show Ongoing Share Growth
The immediate takeaway from the Volcano fourth quarter is that it was a disappointment; management previously announced that sales were going to come in short of expectations and I believe this marked the first such disappointment in its public history. Looking closer, though, there were actually a lot of positives to take from the quarter.
Sales were up 14% as reported, or 12% on a constant currency basis. Revenue from medical products rose 20%, offset by the 70% drop in the Axsun business. Console sales fell 12% overall, but did rise 1% in the U.S., while disposables revenue rose 24% on a 37% increase in FFR sales.
Volcano was surprisingly strong on its profit lines despite the revenue shortfall. Gross margin rose about three points, while adjusted operating income more than doubled from the year-ago level.
Good Disposables Growth In A Stagnant Stent Market
Demand for Volcano's products is closely tied to demand and volume in PCI (percutaneous coronary intervention) and stent procedures. To that end, global PCI volume was likely up about 6-7% in the fourth quarter, with stent volume up in 7-9% range.
With U.S. PCI volume likely down in the low single-digits for the fourth quarter, Volcano's 37% growth in FFR disposables (total sales, not just volume) and 4% growth in IVUS isn't a bad result at all. Unfortunately, neither of Volcano's biggest rivals [Boston Scientific (NYSE:BSX)] in IVUS, St. Jude (NYSE:STJ) in FFR] give detailed information on comparable sales, so share shifts are difficult to monitor. From what tea leaves are available, though, it looks as though Volcano continues to gain share both in the U.S. and abroad.
Can Volcano Reach A Point Of No Return?
For some time now, investors have been waiting for IVUS and FFR utilization to really take off in the U.S. and Europe. Both technologies have shown the ability to significantly improve patient outcomes and reduce long-term costs to the healthcare system, but neither has yet been able to become a standard of care.
IVUS basically allows a physician to directly image a disease vessel and determine both the appropriate therapy and whether that therapy has been successfully delivered (i.e. did the stent fully expand?). Unfortunately it adds both cost and time to a procedure and without separate reimbursement a lot of hospitals don't want to do it.
This may be about to change, though, as both Medicare and private insurers are looking to force hospitals to pay penalties for avoidable re-admissions, and there is clinical evidence that IVUS can reduce such readmissions in PCI/stent cases.
The story on FFR is a little different. Unlike IVUS, which helps determine how therapy should be delivered and whether it was delivered correctly, FFR is more useful from a "treat/don't treat" perspective. Adoption is proceeding at a much more rapid rate, due in part to lower costs and faster procedure times.
FFR adoption has also been helped by strong clinical data; St. Jude announced relatively recently that its FAME II study was so successful that it was stopped early so that patients would no longer be randomized to the control arm (no FFR).
The Utilization Question
At present, the question is not about whether Volcano has products that clinicians like. In terms of new equipment placements, Volcano has about 80% share of the IVUS market and 70% share of the FFR market (though St. Jude has 60% of the installed equipment market).
The question for Volcano is whether it can push higher utilization. IVUS is used in about 15% of U.S. cases today, far less often than in Japan where it is used in 80% of cases. Utilization rates have been ticking up, but cardiologists are surprisingly stubborn (particularly when there's little economic incentive to change) and Volcano has largely been carrying the baton by themselves (as Boston Scientific places little emphasis on its IVUS business).
FFR is newer to the scene than IVUS and seems to be on a much stronger utilization trajectory. Unfortunately, FFR disposables are about 30% cheaper than IVUS disposables, so there's a clear cannibalization risk for Volcano. Making matters worse, while Boston Scientific has largely let its IVUS business atrophy, St. Jude is far more serious about its FFR business and is very much a real and valid competitive threat. St. Jude also happens to be suing Volcano over FFR-related IP infringement.
New Products Are A Crapshoot Today
Volcano has a deep pipeline, but the actual dollar value of that pipeline is far from certain. The next major release from Volcano will be optical coherence tomography (OCT) products. OCT is an alternative, light-based imaging technology that produces very high resolution images and will allow physicians to not only visualize stent expansion, but actually characterize the nature of thrombus or intravascular plaques (an increasingly important piece of information when it comes to determining optimal treatment).
Volcano believes that OCT will not be a replacement or substitute to IVUS imagining, but rather a complimentary platform. St. Jude, however, believes it can be a substitute and has been pretty bold in its predictions for gaining share in intravascular imaging with its own platform. Time will tell, but if St. Jude truly does get aggressive with its OCT promotion, it may actually help expand Volcano's IVUS potential as clinicians learn more about the differences, limitations, and overlaps of each technology. Here, too, there is ongoing IP litigation between Volcano and St. Jude.
Other oncoming products include image-guided therapies that combine IVUS imaging with treatment delivery (the first will be a combination IVUS/balloon device) and a forward-looking IVUS catheter.
The Bottom Line
Given the large (and still growing) database of data that shows that the use of IVUS and/or FFR significantly and consistently improve patient outcomes, it should only be a matter of time before this becomes a standard of care in American cath labs. Unfortunately, that's what we all thought a few years ago and adoption has been stubbornly, almost painfully, slow. To that end, maybe the best hope for Volcano investors is that a company like General Electric (NYSE:GE) or Philips (NYSE:PHG) (both major players in the cath lab imaging space) or perhaps even Abbott (NYSE:ABT) would acquire the company and lend its enormous marketing muscle to the technology.
Failing that, Volcano is still an interesting growth stock, albeit a somewhat expensive one. Investors have long bought into the "collect the data and the buyers will come" angle on Volcano and the shares rarely sport low multiples. With fair value likely somewhere in the low $30's, Volcano is a decent enough buy today, but most investors will probably prefer to wait in the hopes of a lower price to build positions.
Disclosure: I have no positions in any stocks mentioned, and no plans to initiate any positions within the next 72 hours.