One doesn't usually associate big gains with the airlines industry. High risk investors typically analyze the health care, social media, and technology markets. Southwest Airlines (NYSE:LUV), contrary to that notion, is a deep value play, despite rallying almost $4 in about one week. The increased capacity growth, new flight opportunities from Cuba to the US, and increased booking numbers by Priceline (NASDAQ:PCLN) all point to signs of short term momentum. There is also fundamental value and financial soundness to back up those good feelings.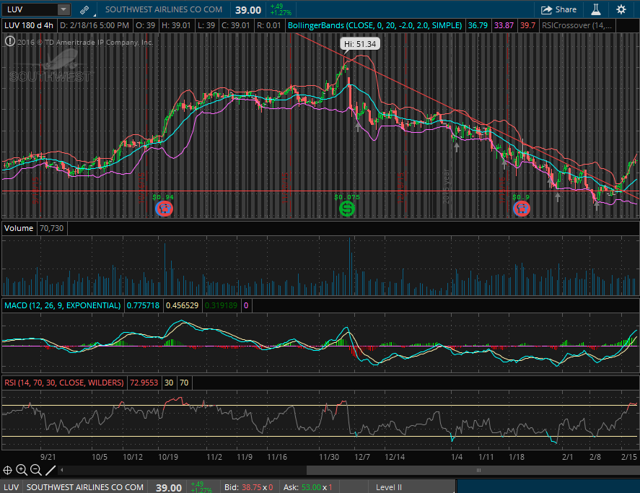 I first initiated a position in LUV when the stock fell to $44. I will be the first to admit, value traps are usually the bulk of my losses. I bought at that major dip when the MACD and RSI fell sharply lower, respectively. When the stock continued to fall amid mixed markets, and then a global selloff, I decided to buy more shares at $36/share. One should only hedge when you are sure of what you believe in so that compounded losses don't occur. LUV is and was a conviction buy, and so far those extra shares have saved my position.
News Blitz Brings Positives
LUV has been in the news quite a bit over the last 30 days. Aside from the new potential markets in Cuba and Long Beach, the airline came to terms with a new deal with its flight instructors and CEO Gary Kelly affirmed that futures contracts with oil would probably be reduced due to the extremely low fuel prices that are bringing both earnings and EBIT up for all airlines. The margins will continue to expand and enjoy breathing room as cheaper contracts come into play in the favor of the airlines.
Also, the seasonality that comes with the winter (canceled, delayed flights) seems to have seen the worst now that we're in February. There's typically a dip at the beginning of any year for LUV due to January and December storms lagging on the travel. Also, spring break is coming along and the new outlets to Florida and other coastal destinations will be popular among college students. Of course, there are cheaper alternatives to flying for college students, who are always looking at the cheapest prices, but this seasonality coming up in March is still a marginal advantage.
These factors have to be the reason why Southwest has decided to ramp up on capacity, adding ultimately around 35 to 45 planes and an additional 100+ flights per day when all is said and done. Management is actively influencing its future, as seeing this potential demand could stress their already high load factors.
Valuation
Both present and future demand is rising for LUV, which is why in my fundamental evaluation for the stock, I assign a growth factor of 10.0 to the stock based on the past five years of sales and EPS data and guidance for the next year's EPS. Add in the dividend yield to the growth factor, and a basic P/E of 13.27 is determined. Relative to LUV's current P/E of 11.93 as of February 18th, this signals the stock as undervalued.
Continuing to the investors required rate of return, even after adding a two percent premium for extra market risk given the global macro situation, the required rate of return is just 7.81% using the CAPM formula. When compared to a dividend yield based expected rate of return of almost 11%, that alludes to another mis-balanced equation, as in theory the expected should match the required rate.
According to Finviz, the expected EPS for 2016 should be around $4.65/share. Combine that with the P/E of 13.27, and the target price is set at $61.71/share. This implies 58.23% upside as of closing at $39/share. Since we are using expected EPS for the year rather than trailing, this is a target for year-end.
Conclusion
There are many airline stocks that are still undervalued like LUV, such as Delta Air Lines (NYSE:DAL), but Southwest is one of the standard bearers of the industry due to its brand name, famous customer service, and its 18.1% market share, which leads the industry according to Transtats.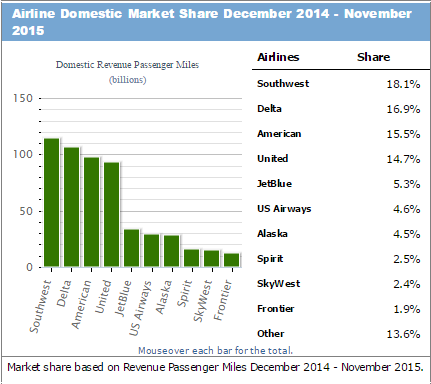 All of this to say that Southwest is harshly undervalued. Since we already use our automobiles and yearly travels to hedge against lower fuel prices, why not also invest in a company that is positively affected in a big way against lower oil prices? When possible, I will continue to accumulate shares until the price sits above $43/share.
Disclosure: I am/we are long LUV.
I wrote this article myself, and it expresses my own opinions. I am not receiving compensation for it (other than from Seeking Alpha). I have no business relationship with any company whose stock is mentioned in this article.