I had to go back to 2005 to find the last year that Callon Petroleum (NYSE:CPE) made enough cash from operating activities to cover capital expenditures. Like all E&P companies, Callon expanded in a world of $90 oil. Between 2012 and 2015, CPE completed nearly $1 billion in capital investments and acquisitions, with the sources of funds roughly split into thirds: $325 million in debt, $350 million in new equity, and cash flow from operations of about $290 million.
In spite of $30 oil, Callon seems to have positioned itself for survival. When survival is your best option, mediocrity is your best result and a mediocre common stock with the possibility of future dilutions has little appeal. But if you believe Callon will survive, a life raft awaits in the form of Callon Preferred Series A. Trading at roughly $40 per share and paying $1.25 per quarter, the dividend yield is a hearty 12.5% and it trades at a discount of 20% to par value.
CPE positives:
Permian Basin focus has allowed CPE to maintain margins of 70%
The company has about $250 m remaining on their operating line
CPE forecasts 2016 capital expenditures at $80 million, in line with operating cash flow - enough to break even.
60% of 2016 production is hedged
CPE negatives:
Limiting capital expenditures will require supreme discipline and may have the long-term unintended consequence of diminishing future revenues
Question mark about the auditor
The interest rate on the debt is priced like junk
The Natchez, Miss.-based operation has scrambled to stay afloat. With a market cap below $500 million, the stock has been remarkably resilient - it began 2015 at $5.38 per share and sits north of $6 today. Investor optimism has been a result of CPE's aggressive pivot to lower-cost Permian Basin operations. The company's moves have resulted in forecasts of operating margins at 70%.
CPE proposes a reduction in capital expenditures to $80 million that will result in break-even cash flow for 2016. There is a large element of risk that the savings may not materialize: The company has consistently burned through $100 M annually since 2012 once capital expenditures are factored in. Through September of 2015, cap ex stood at $178 million. A reduction to $80 million will be a Herculean feat for a company that has not spent less than $100 million since 2010.
Here is a red flag: On Jan. 11, 2016 the company dismissed Ernst & Young as its auditor and replaced them with Grant Thornton. I don't have any insights into the reason why, but I have a guess that Callon may not like the asset write-down recommendations being made by E & Y. Callon took a charge of about $90 million in 2015 through September. Surely, more impairment charges loom on the horizon.
Historical Results Below (note - 2015 is author's estimate):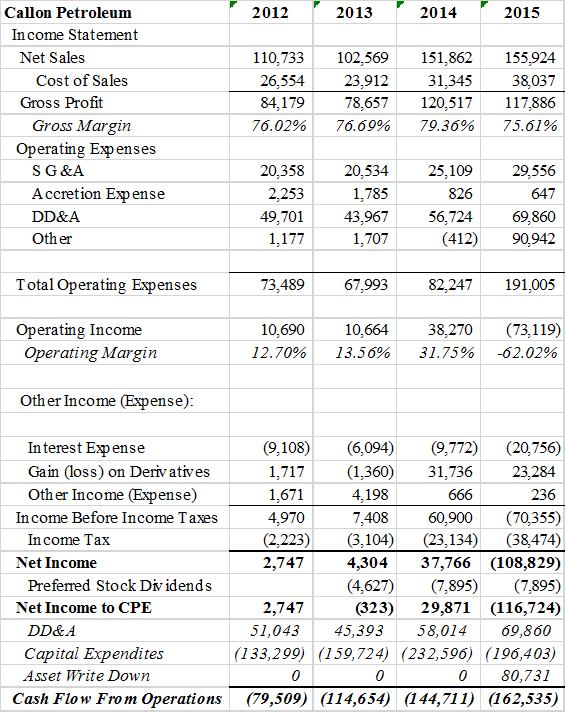 A buyer of common shares faces downside exposure. Shareholders have been diluted by 70% from equity raised during 2015. The company has a second-lien debt position of $300 million that bears interest at 8.5% interest. It seems likely that if future funds are required, CPE will return to the equity market due to the dearth of credit available in the energy sector. Future dilutions beckon.
The preferred stock provides a much more attractive way to play the survival game at CPE. It trades at $40 and presents investors with a 12.5% dividend yield. Trading at a discount to par value of 20%, a redemption would prove very rewarding.
2016 Projections Based on CPE Investor Presentation, 2/1/16 Press Release and Author's Analysis:
11,750 BOE/day per CPE Projection
80% Oil Production, 20% Gas
My Estimate: Weighted average price of $41.32 (including hedges)
$13 per BOE operating expenses per CPE Projection
$80 million capital expenditures per CPE Projection
I project CPE will run a deficit of $11 million in 2016, easily serviced by lines of credit
CPE projects break-even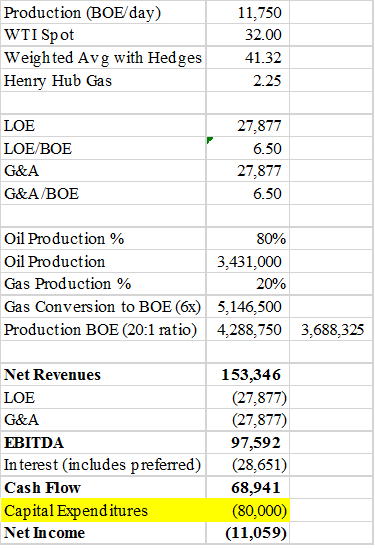 If Callon can execute its plan, CPE Preferred is a good bet.
Thank you to Raw Energy for an excellent analysis of the barrels of oil equivalent analysis. I highly recommend the article to anyone considering an investment in the E&P space.
Note: This article contains information from publicly available sources, including the 2016 Investor Presentation available at the Callon.com website as a PDF, available press releases, and SEC filings.
Disclaimer: Any interpretations and projections have been made by the author and may contain inaccuracies and opinions that are not consistent with typical industry metrics.
Disclosure: I am/we are short CPE.
I wrote this article myself, and it expresses my own opinions. I am not receiving compensation for it (other than from Seeking Alpha). I have no business relationship with any company whose stock is mentioned in this article.
Additional disclosure: I have a short position in CPE common stock, but I have a long position in CPE Series A Preferred.