The stock market can be brutal sometimes, but there is always a place for humor. The Seeking Alpha news team recently reported that Barclays cut its price target for Peabody Energy (NYSE: BTU) from $7 to $1. To anyone who has been following Peabody Energy for some time the news is just ridiculous, as the stock went through a 1:15 reverse split and, on a pre-split basis, Barclays downgraded Peabody from 46.7 cents to 6.7 cents.
In the downgrade, the analyst assigned a $18 million value to the company. I can't think of the level of accuracy needed to give such kind of a prediction. However, this is a fact -- sometimes analysts downgrade beaten stocks and assign penny values for companies that fight for survival. In Peabody's case, it is obvious that either the company goes bankrupt and its shares are worth zero or it somehow manages to survive and its shares will shoot up to double digits.
Analysts love to downgrade beaten stocks
The Peabody's downgrade caught my attention, so I decided to check for other events to see whether the case of analysts delivering a coup de grace to stocks that trade for pennies is systemic.
On Febr. 4, Linn Energy (NYSE: LINE) announced that it initiated a process to explore strategic alternatives to strengthen its balance sheet and maximize the value of the company. We all know that these words mean serious trouble for ordinary shareholders.
So do the analysts: As per Yahoo Finance, the stock was downgraded by Ladenburg Thalmann, Raymond James and Stifel on Feb. 5. It took more time for Citigroup, which downgraded Linn Energy on Feb. 12, and Wells Fargo, which waited until Feb. 18 to issue a downgrade.
By the way, Wells Fargo also issued a downgrade on Breitburn Energy Partners (NYSE: BBEP), whose stock tanked back at the beginning of December 2015 when the company cut the distribution. Wells Fargo was on a downgrade streak, and also downgraded Mid-Con Energy Partners (NYSE: MCEP), whose capitalization already dropped to just $24 million.
The list can go on, but I won't waste your time. The takeaway is simple -- it's not unusual for analysts to downgrade the stock when it already makes little practical sense, although the Peabody's case with a pre-split price target of seven cents deserves its place in history.
Do these downgrades influence trading?
Here's a quick look at analyst opinion on Peabody Energy and recent upgrades/downgrades.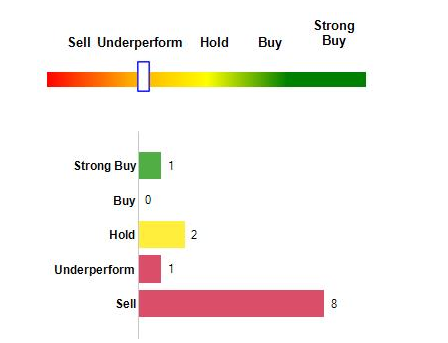 Source: Nasdaq.com

Source: Yahoo Finance
When I was a daytrader at a prop trading firm, I routinely checked upgrade/downgrade lists when I ran out of my own ideas. The premise is simple -- an upgrade or a downgrade typically leads to the movement of the stock, and that's all that a daytrader needs. The army of short-term players often helps the stock make impressive gains on the day of the upgrade/downgrade issue, especially if the situation involves an upgrade of a heavily shorted stock.
However, when we are talking about companies whose stocks trade for cents, downgrades cannot influence trading. Obtaining shares to sell short is typically hard or outright impossible, so there is no practical sense to bother and search for entry points in the beaten stocks. Also, current shareholders are typically aware of all the problems of their respective companies, so a downgrade cannot influence their decisions.
How did the Barclays analyst arrive at a $1 price target?
This is the most interesting question, and, unfortunately, we can only guess the rationale behind this conclusion. In the possible Peabody bankruptcy process, there is just too much debt claims standing in front of shareholder claims. As a result, the company's ordinary shares will have no value. Fitch recently downgraded Peabody Energy's Issuer Default Rating to CC, meaning that the default of some kind appeared probably.
On the other hand, if Peabody Energy is able to continue operating as a going concern, it's valuation will significantly exceed the price target assigned by the Barclays analyst. I thought about what circumstances could lead to a $1 price for Peabody's shares without a bankruptcy and the task proved to be impossible for me.
Why Barclays did not state that Peabody is heading for bankruptcy and instead assigned a $1 price target is still a mystery to me. If you have your thoughts about how you can arrive to this price target in the case when the company is still a going concern, please share them in the comments section.
Treating Peabody Energy as a binary event
By reading comments on articles about Peabody Energy, I found that the long trade case appeared tempting for some investors even when it was clear that the company had gargantuan problems. The rationale for this view was that since Peabody's fate is a binary event (bankrupt/going concern) then a small bet made sense as the reward may significantly exceed the risk. The lowest possible price for Peabody Energy's shares is zero, while if the company survives, its shares could be easily worth $50 or more.
The problem here is the probability of the survival event, which is small and getting even smaller day by day. A sounder strategy will be to form a portfolio of Peabody-like stocks and invest an equal amount in each stock. I don't recommend this as this is still very close to gambling, but such a strategy will significantly increase one's chances for success.
P.S. -- Just before I was ready to submit this article for publishing, I read interesting news regarding the biggest Russian coal producer, SUEK. While this news are not directly correlated with the topic of the article, I decided to tell my readers about it here rather than publishing in the comment stream of my previous article, "Peabody Energy: The End Is Near," as it will easily get lost in the 200+ comment stream.
SUEK was just able to secure a credit facility of $1 billion with the option to increase the facility to $1.3 billion. SUEK stated that the funds raised would enable the company to satisfy 2016 refinancing needs and reschedule the main debt repayments to 2018-20.
If you visit SUEK website on the page where it speaks about its strategy, the first words will be that SUEK's strategy is to "increase exports of coal, primarily in the growth markets of the Asia-Pacific region." In short, the competition is not weak and seaborne coal markets will likely remain under pressure.
Disclosure: I/we have no positions in any stocks mentioned, and no plans to initiate any positions within the next 72 hours.
I wrote this article myself, and it expresses my own opinions. I am not receiving compensation for it (other than from Seeking Alpha). I have no business relationship with any company whose stock is mentioned in this article.
Editor's Note: This article covers one or more stocks trading at less than $1 per share and/or with less than a $100 million market cap. Please be aware of the risks associated with these stocks.