Yesterday, after the market closed, we were informed that Buffett's Berkshire Hathaway (BKR.A) (NYSE:BRK.B) has bought 26.5 million shares of Kinder Morgan (NYSE:KMI) in the last quarter. In this article I'll take a look at the things Buffett wants to see from the companies he holds, and whether those conditions are met in this case. Additionally I'll lay out option strategies for those who want to follow Buffett's buy, but who are reluctant due to the share price increase since Buffett's stake got public.
At 26.5 million shares Berkshire Hathaway's stake is not too big, the value of this holding totals about $420 million, slightly more than one percent of the company's market capitalization. The stake is thus not nearly as large as Buffett's holdings in companies like American Express (NYSE:AXP), Wells Fargo (NYSE:WFC) or Coca Cola (NYSE:KO). We have to say though, that Berkshire does not enter a position all at once, the company likes to build a position with several buys over a couple of quarters or years, a good example is one of the company's favorite holdings IBM (NYSE:IBM): Berkshire Hathaway first bought IBM shares in 2011, but has increased its stake in the following years, with additional buys in the following years, including Q1 2015 ($400 million) and Q3 2015 ($200 million). The fact that Berkshire Hathaway only bought shares worth $400 million in Kinder Morgan does thus not mean a lot, the company could increase the stake in the following months (or might even has done so in the current quarter already).
Let's look at what Buffett likes in the companies he buys:
Buffett likes companies which report high returns on equity (or ROE), something he has emphasized in one of his famous shareholder letters. This is true for most of Buffett's core holding, including IBM (which has an ROE of 98 percent) and Coca Cola (which has an ROE of 27 percent). When we look at Kinder Morgan, we see that the company's reported return on equity is not nearly as high, standing at just 0.9 percent. This is, however, partially true due to the business model of Kinder Morgan, which has high non cash costs and thus low reported earnings. When we look at distributable cash flows relative to the company's equity, we get to a cash flow return on equity of 13.4 percent ($4.7 billion in DCF divided by $35.2 billion in book value), which is not especially high, but a lot higher than the GAAP ROE we have seen from Kinder Morgan.
The next metric Buffett wants to see from his holdings is high cash generation. Generating huge operating cash flows allows the company to invest for growth, pay dividends or repurchase shares, which are all beneficial for long term holders. Kinder Morgan managed to generate $4.5 billion in operating cash flows in 2015, the company's adjusted operating cash flow was slightly higher. This is less than for other holdings of Berkshire Hathaway, but we obviously have to account for the price Berkshire Hathaway is paying per dollar of cash flow.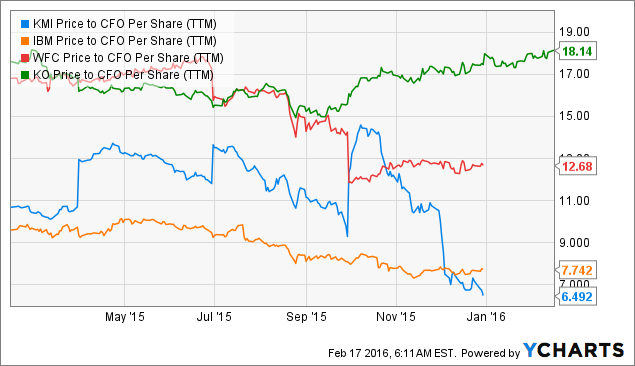 When we look at the price to operating cash flow metric, we see that Kinder Morgan is very inexpensive versus other Berkshire Hathaway holdings. The company trades at just 6.5 times trailing cash flows, which is slightly less than IBM's trailing 7.7 multiple and a lot cheaper than the multiples of Wells Fargo (12.7) and Coca Cola (18.1).
When it comes to cash generation and the price investors have to pay for the company's cash flows, Kinder Morgan perfectly fits Berkshire Hathaway's wish list of high cash generation at a low price.
The majority of these cash flows are used to invest into the future, Kinder Morgan has a huge backlog of close to $20 billion which will allow for higher earnings and cash flows in the future. This means the free cash flows which are available to be paid back to shareholders are not too large, thus Kinder Morgan's shareholder payouts are not that large relative to other Berkshire holdings.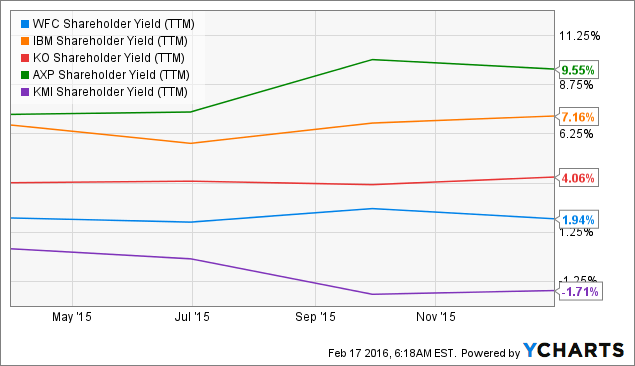 The shareholder yield is the lowest for Kinder Morgan among the companies I looked at. This metric, which sums up the dividends, share repurchases, new share issuance, new debt issuance and debt paybacks is negative for Kinder Morgan, and positive for the other four companies. American Express returned almost ten percent to its owners over the last year (mainly due to high buybacks), IBM returned more than seven percent. Kinder Morgan's shareholder yield is negative due to two points: The company's net debt has increased over the last year, at the same time the company's number of shares outstanding has increased (i.e. net share issuance over the last year). Both (debt issuance & share dilution) are not encouraging, but fortunately Kinder Morgan has stated they would stop acting in this way in the future. The company plans to not issue any new shares in 2016 (which stops share count dilution) and will not need to access debt markets either (thus the company's net debt will not continue to grow).
With its dividend yielding 3.2 percent right now we can thus say that the forward shareholder yield will be around the level of Coca Cola (4.1 percent) and Wells Fargo (1.9 percent), towards the lower end of Berkshire's holdings, but not nearly as low as the shareholder yield has been in 2015. I don't think it is surprising that Berkshire has started accumulating Kinder Morgan's shares right at this point, when the company changed its strategy (away from issuing debt and new shares in order to fund the high dividend, towards funding the new, lower, dividend organically).
Investors may believe that Buffett's buy of Kinder Morgan in the last quarter is a sign that the company is an attractive value pick, but those who did not buy yet are facing a share price which is well above the level seen over the last two months: Over the last month Kinder Morgan is up 40 percent, year to date Kinder Morgan is up 21 percent. Someone who wants to enter a position thus may be reluctant due to the share price being higher now, but there are some option strategies investors can utilize in order to get Kinder Morgan shares at a lower price, thus allowing to follow Buffett's lead at a lower cost than shares trade for right now.
The first strategy to enter a new position at a price below the current trading price is to sell a cash secured put option. The holder of the put option can sell his or her KMI shares to you at an agreed upon price at some point in the future. There is a huge number of options to choose from, but I'll explain the strategy using June 2016 put options with a strike price of $16.0. The last trading price for these options was $1.33 (per share). If an investor wanted to enter a position in Kinder Morgan with 200 shares, he could sell two June 2016 put options (each worth 100 shares) for a price of $266. There are several possibilities for Kinder Morgan's share price over the next four months:
- If Kinder Morgan's share price drops below $16, the holder of the put option would utilize said option and sell 200 shares of Kinder Morgan to you at a price of $3200. When we subtract the $266 you got for selling the options, this means you paid a net amount of $2934, or $14.67 per share. This is a price around the levels from early February, and about 18 percent below the current price.
- If Kinder Morgan's share price doesn't drop below $16, the holder of the option would not utilize said option and not sell any shares to you. In this case you bagged the $266 for four months, whilst holding $3200 in cash in your account. Your return would be 8.3 percent in four months, for an annualized return of 27 percent. In this case you would not be a holder of Kinder Morgan's shares, but the cash on cash return is very attractive nevertheless.
Another strategy is to buy Kinder Morgan's shares directly, and to sell a call option at the same time. Let's say you buy 200 shares right now (this will cost you $3580) and you sell June 2016 call options with a strike price of $20. These call options last traded for $1.25, which means when you sell two contracts (for 100 shares each), you would receive a cash proceed of $250, which effectively lowers the cost of your Kinder Morgan purchase to $3330, or $16.65 per share. There are two possibilities again:
- Kinder Morgan's share price stays below $20 over the next four months: In this case the holder of the option contracts will not exercise them, and you keep your Kinder Morgan shares (which you bought at an effective price of $16.15 each). Your goal of becoming a KMI shareholder at a lower price is met.
- Kinder Morgan's share price rises above $20 over the next four months: In this case the holder of the contracts will exercise them, and you have to sell your 200 shares for a price of $4000. Receiving $4000 for 200 shares which effectively cost you $3330 means a cash on cash return of 20 percent in four months (or an annualized return of more than 70 percent). You wouldn't be a Kinder Morgan shareholder, but you would be able to gain some very attractive returns in a couple of months.
Takeaway
Kinder Morgan is not a typical Berkshire holding (high debt, no share repurchases, etc.) but moving into the right direction (funding capex and dividends organically, stopping share count dilution).
With the company's huge moat, beneficial long term trends and high cash generation the company is attractive for Buffett, who always is looking for businesses with good long term prospects that are trading at a discount due to short term headwinds.
Using option strategies investors can enter a position in Kinder Morgan at a lower price than shares trade for right now, which might be interesting for those who were convinced by Buffett's buying, but who are reluctant since the share price increased forty percent over the last month.
Disclosure: I/we have no positions in any stocks mentioned, and no plans to initiate any positions within the next 72 hours.
I wrote this article myself, and it expresses my own opinions. I am not receiving compensation for it (other than from Seeking Alpha). I have no business relationship with any company whose stock is mentioned in this article.