By Sridharan Raman
Many global oil and gas and metals and mining companies' balance sheets are looking strained. With that in mind, we turned our attention to Australia to see if the same trend exists in that region.
What we found is surprising. The chart below shows all the metal and mining companies in Australia with a market cap of over $1 billion. While there are many such miners and exploration companies in the region and some of them have a lot of leverage, one thing that sets this area apart is that most generate positive free cash flow.
In fact, of all the metals and mining companies in the region, only one is expected to have negative free cash flow in the coming year. That is a good sign for these companies. However, our quest continued for companies in the area whose dividends may be at risk. We scanned for companies which have significant credit risk based on our Combined Credit Risk (CCR) model, still pay dividends and do not have strong earnings quality.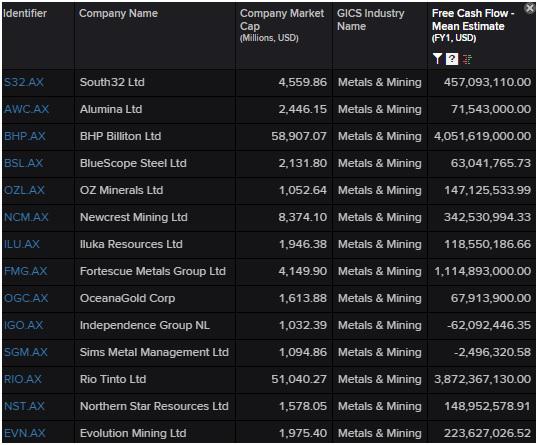 Source: Thomson Reuters Eikon
Cash flow troubles go deep
We screened for companies with more than a $1 billion market cap in the bottom quintile of our CCR model. Of those companies, we screened for companies paying a dividend. We further eliminated companies with strong earnings quality by taking only those that have an Earnings Quality score of less than 50.
By doing this, we ensured that we selected companies that may have their earnings generated from sources that may not be sustainable. Five companies come through our screen, as you can see from the table below. Of these, Santos Ltd. (OTCPK:SSLTY) (STO.AX) is interesting because it actually has negative free cash flow anticipated for next year. The company is in exploration, development and transportation of hydrocarbons. Let's dig deeper.

Source: Thomson Reuters Eikon/StarMine
Sinking estimates
Santos has a CCR model score of 5, the lowest of the five companies and in the bottom decile of all companies in the region. It scores in the bottom decile of all three credit models that are inputs to the CCR model. In fact, the company scores poorly on almost every StarMine model. Analysts continue to be pessimistic. In the last 90 days, they have taken earnings estimates for next year down by 63%.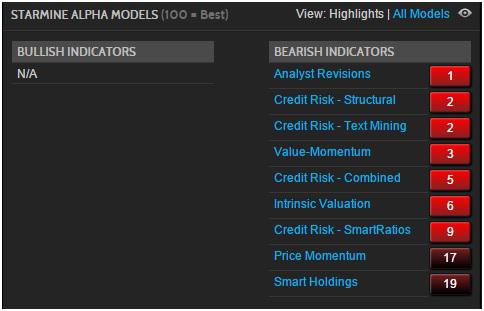 Source: Thomson Reuters Eikon/StarMine
Looking back
In fact, the company has experienced negative free cash flow in each of the semiannual periods in the last five years, in spite of reporting profits in nine out of the 10 periods. Earnings backed by strong cash flow tend to be more sustainable in the long term. Long-term debt has ballooned to more than A$8 billion, and interest expenses account for almost half of the operating income. That high debt level is one reason the company scores so poorly on our credit models. That debt becomes a concern with oil prices at the current levels.
Note:
Thomson Reuters Eikon users can replicate and update our findings by launching the Screener app in a new screen by limiting the universe to companies traded in Australia. From there, additional screens may be built with user-defined data or by a long collection of factors and metrics (here we show dividend per share > 0). Any field can be added to the view by clicking on Add Column on the top, in this example, we show how to add Free Cash Flows (FY1).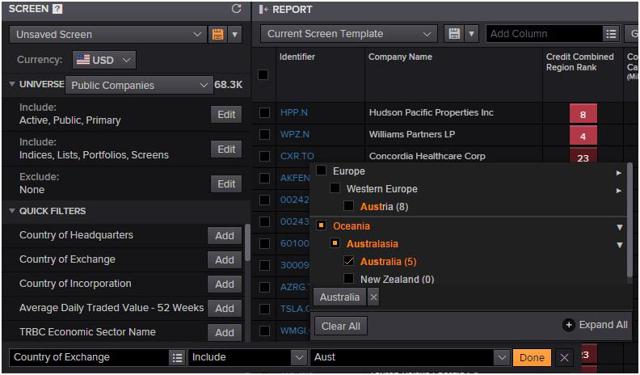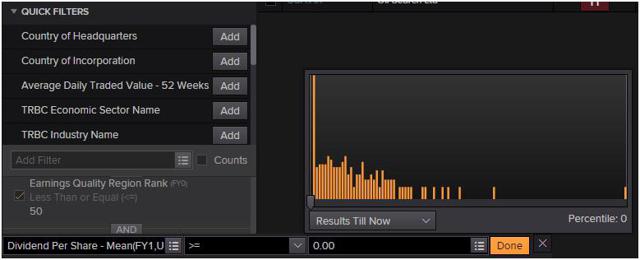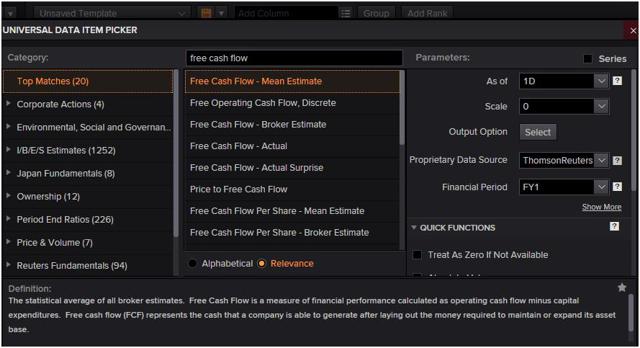 Editor's Note: This article discusses one or more securities that do not trade on a major U.S. exchange. Please be aware of the risks associated with these stocks.