As a technology-based retail company, IT infrastructure could have easily become one of Amazon's (NASDAQ:AMZN) biggest cost items, but Amazon deftly worked around it and converted a cost center to a profit-making business that is growing at such a speed that it is already making its presence felt in the company's bottom line.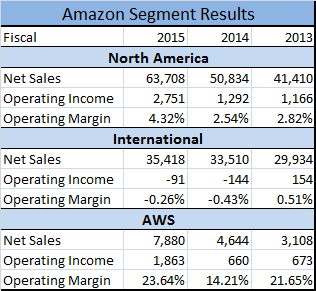 Amazon Web Services is the most profitable segment for the company, having brought in $1.86 billion in operating profits in 2015 at an eye-popping double-digit margin.
To put that in perspective, Amazon's North America segment earned nearly eight times that for an additional operating profit of only $1 billion - a total of $2.75 billion.
Here is where the service stands in terms of growth against key competitors: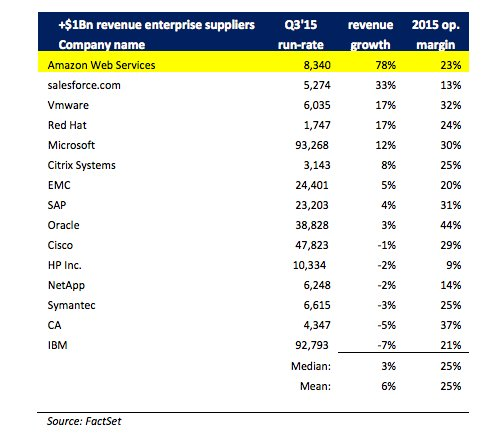 Between 2014 and 2015 net sales for AWS grew by nearly 70%, and operating income grew by more than 280%.
If the division grows in step with industry estimates for the next few years, AWS will soon dislodge Amazon North America as the highest operating income earner for the group. So much for a segment that didn't even report standalone financials until three years ago!
Amazon Web Services' Growth
In order to accurately capture the growth potential for AWS, it is necessary to see the momentum it has built up over the past eight quarters.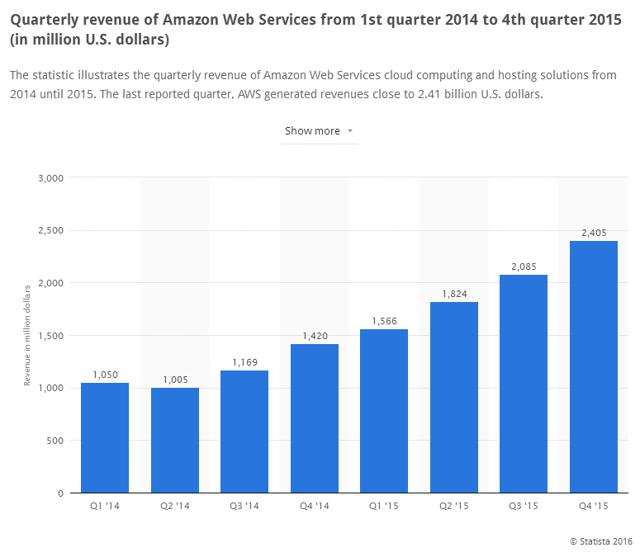 According to the data from Statista, Amazon Web Services grew its quarterly revenues from $1 billion in 2014 to nearly $2.5 billion by the end of 2015. And if the forecasts - which I will be covering in detail in a bit - for the industry hold true, then a similar measure of growth will continue for at least the next two years.
On 5th January 2016, AWS announced that it will be cutting its price for the 51st time since the start of Amazon Web Services - a significant achievement when you consider it has an operating margin of over 23% for this segment. That means the company has further room to cut costs if it thinks any of its high-profile competitors will try and get into a price war.
I believe Amazon Web Services has already achieved the scale and size needed to give it the runway to keep reducing its costs as its keeps expanding - something that will allow it to keep any serious competition at bay for a very long time.
Let's see who that competition is.
The Competition
Aside from technology majors like Microsoft (MSFT), Alphabet (GOOG) (GOOGL), IBM (IBM), Hewlett Packard Enterprise (HPE) and Salesforce (CRM) in the cloud infrastructure market, there are also niche players like Rackspace (RAX) and Dimension Data. Amazon, however, leads the field in market share, closely followed by Microsoft, as we'll see in the next section.
I'd even go as far as to say that it was Amazon that possibly shone the light on a new path for tech companies to follow. Until 2014, for example, Microsoft did not openly prioritize its cloud service over all other offerings, in line with mobile computing. When Satya Nadella took over, that was one of the first directions he set for the company. Even the fact that the former Executive VP of Microsoft's Cloud and Enterprise group was picked for the top job shows how much importance the company places on a future in the cloud.
Market Position
In terms of revenue, it's tough to put a figure on AWS vs. the competition, as most of its competitors hide their cloud revenue behind other services. However, Gartner, one of the leading market research firms, places Amazon and Microsoft far ahead of the rest of the field in the Cloud IaaS market.
Magic Quadrant for Cloud Infrastructure as a Service, Worldwide: Source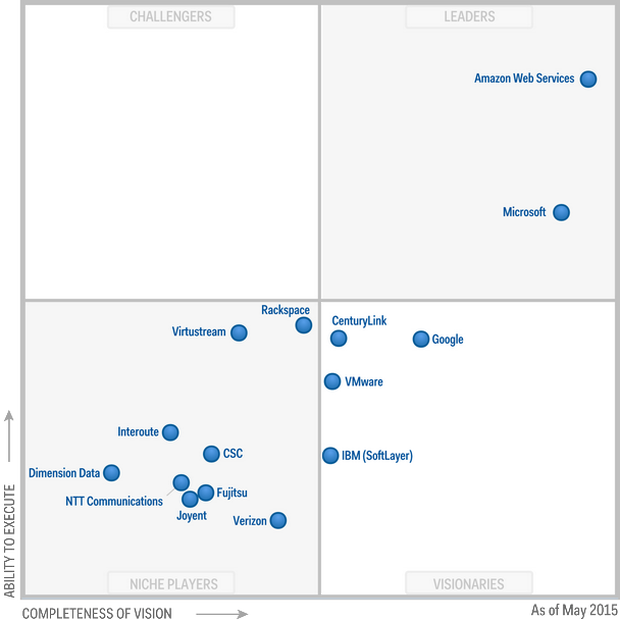 Gartner:
AWS has a diverse customer base and the broadest range of use cases, including enterprise and mission-critical applications. It is the overwhelming market share leader, with over 10 times more cloud IaaS compute capacity in use than the aggregate total of the other 14 providers in this Magic Quadrant. This has enabled it to attract a very large technology partner ecosystem that includes software vendors that have licensed and packaged their software to run on AWS, as well as many vendors that have integrated their software with AWS capabilities. It also has an extensive network of partners that provide application development expertise, managed services, and professional services such as data center migration.
Market Forecast
I believe we have just witnessed the beginning of a "cloud race" in which the world's top tech firms are participants. Three years ago, nobody would have expected Amazon to be the market favorite in this race. In a domain where pure-bred technology companies are expected to dominate the market, this online retailer seems to have left all but Microsoft coughing at the starting gates.
The Infrastructure-as-a-Service market is projected to double its size in the next four years, according to Goldman Sachs, while Gartner says it expects the market to grow at 29.1% CAGR until 2019. No matter who's right, one thing is clear: IaaS is now in a rapid expansion phase that AWS will be taking full advantage of.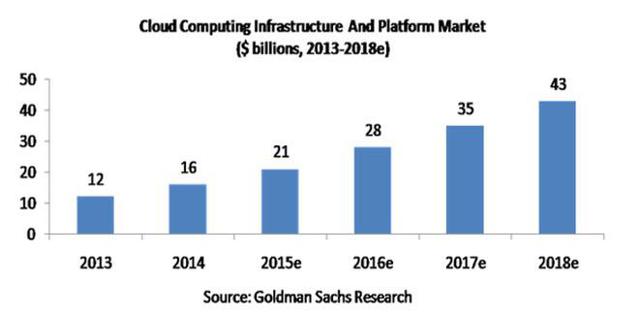 Source: Roundup of Cloud Computing Forecasts (Forbes)
Investor-speak: On the Back of AWS, Amazon will Prevail
As market leaders, Amazon and Microsoft are likely to take home the bulk of the business; what really gives me confidence in AWS, though, is the way it is managing its margins. This is something that will serve it well for several years to come.
I expect AWS to soon become the highest net earner for Amazon. The company's retail segment will still be the highest gross earner for several years to come but, in terms of profitability, it still has nothing to match AWS.
On that note, I believe that Amazon is doing everything it can to improve the profitability of its retail division. In a recent article entitled Amazon's Pursuit of Shipping Excellence, I outlined the various aspects of its entry into the shipping ecosystem. I still believe it can take that segment to profitability, and AWS' performance is giving it the headroom it needs to grow into adulthood after a highly delayed puberty.
AWS, on the other hand, is already a mature business waiting to make a significant mark on Amazon's bottom line, and I think that will happen sooner rather than later.
I'm just glad I can buy a piece of its AWS as well as retail businesses for the price of one share.
If you found value in this article, I invite you to review and comment on my other articles analyzing top performers in the automobile, technology, retail, sportswear and other industries.