Apple (NASDAQ:AAPL) -8.76% YTD
AAPL posted record quarterly revenue of $75.9 billion and record quarterly net income of $18.4 billion, or $3.28 per diluted share. These results compare to revenue of $74.6 billion and net income of $18 billion, or $3.06 per diluted share, in last year's quarter. Gross margin was 40.1 percent compared to 39.9 percent in the year-ago quarter. International sales accounted for 66 percent of the quarter's revenue.
I'm not here to talk about Apple as the "Techno company" or the "iPhone company" as many investors see it. I'm here to talk about Apple's potential as a dividend growth company.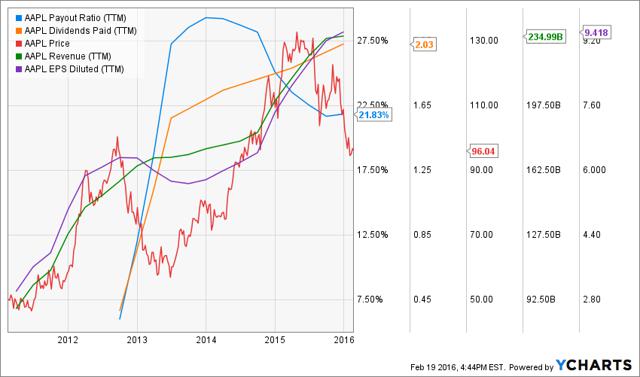 Source: Ycharts
The company started paying dividends in 2012. At this time, it wasn't even worthy of mention since the yield was barely 1%. But now that the market has decided to ignore AAPL's incredible cash flow generation ability, the stock is now paying a 2% yield and more. Current cash dividend payout ratio and payout ratio are both well under 25% while the dividend payments keeps increasing steadily.
During its latest quarter, AAPL declares its largest earnings ever. The company almost topped its record selling quarter in terms of iPhones, yet, the company gets a mediocre multiple of its earnings. Over the past 3 years, the company has increased its dividend by 15% (2013), 8% (2014) and 11% (2015). If you consider AAPL solely for the dividend growth potential, the company is trading at almost a 15% discount:
| | |
| --- | --- |
| Input Descriptions for 15-Cell Matrix | INPUTS |
| Enter Recent Annual Dividend Payment: | $2.08 |
| Enter Expected Dividend Growth Rate Years 1-10: | 11.00% |
| Enter Expected Terminal Dividend Growth Rate: | 6.00% |
| Enter Discount Rate: | 9.00% |
Calculated Intrinsic Value OUTPUT 15-Cell Matrix

Discount Rate (Horizontal)

Margin of Safety

8.00%

9.00%

10.00%

20% Premium

$203.09

$133.40

$98.65

10% Premium

$186.17

$122.28

$90.43

Intrinsic Value

$169.25

$111.17

$82.21

10% Discount

$152.32

$100.05

$73.99

20% Discount

$135.40

$88.93

$65.77
Source: Dividend Monk Toolkit Excel Calculation Spreadsheet
It is true that iPhone sales are slowing down. However, the company hasn't lost market share to its competitors, the smartphone market is just slowing down (notably in China). Therefore, the company will continue to sell iPhones and a lot of them in the upcoming quarters. It is similar to what happened to Microsoft (NASDAQ:MSFT) Windows at one point, there are less people craving for its new version. It is now time for Apple to move forward with new innovations. The company is working on several potential revenue streams such as the iWatch, Apple Pay, Apple Music, Apple TV and the future Apple car. The way its products all communicate with each other will encourage consumers to buy even more products in the future.
3M Co (NYSE:MMM) +3.85%
MMM declared net income of $1.04B, or $1.66 per share, vs. $1.18B, or $1.81 per share, a year ago. Excluding restructuring charges, the company earned $1.80 per share. Revenue by segment: Industrial -6.3%; Electronics and Energy -11.7%; Safety and Graphics -5.3%; Health Care -0.8%; Consumer -2.4%. "The fourth quarter capped off a year of disciplined execution from our global team with solid margin and cash flow performance," CEO Inge Thulin declared. "We are building an even stronger and more competitive company for 2016 and beyond."
3M Company is definitely more diversified than a balanced mutual fund. It is present in various consumable product areas and the bulk of its sales come from business-to-business transactions. Roughly 50% of its products are consumable, which implies a very high rate of repeat business year after year. It is not by fluke that MMM is one of my favorite 10 dividend growth stocks. The company also allocates between $1 and $2 billion per year for acquisitions providing external growth on top of what is coming out of its own R&D department. MMM also benefits from top-of-the-line technology enabling it to control costs like no other company.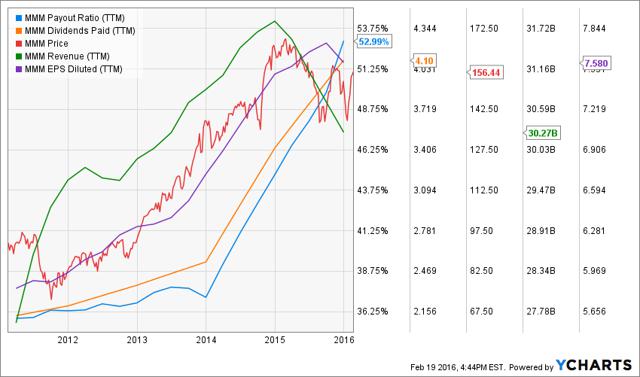 Source: Ycharts
While revenues were affected by both a challenging economy and currency headwinds, the company managed to report solid numbers for its latest quarter beating the Street estimates. Now that most of the currency strength had picked up over the past 18 months, MMM's future results will be less affected by currency headwinds. Management expects 1-3% sales growth in 2016 and high single digit (6-7%) EPS increase based on productivity gains and cost reduction. The company will continue to improve its stellar dividend growth track record showing a payout and cash payout ratio around 50%. Keep in mind that MMM's past 5 year dividend growth rate is 14.32% CAGR. The company stock price may stagnate throughout 2016, but the dividend will increase. This is a good year to add more MMM to your portfolio.
BlackRock (NYSE:BLK) -7.74% YTD
BLK reports full year 2015 Diluted EPS of $19.79, or $19.60 as adjusted Fourth Quarter 2015 Diluted EPS of $5.11, or $4.75 as adjusted. Management approved a dividend increase of 5% to $2.29 per share. The company shows 3% revenue growth and 4% operating income growth (3% as adjusted) for 2015.
BLK is THE asset manager in the US with the largest market share (Assets Under Management) with its iShares division. With over $1 trillion invested in its ETFs, BLK shows more than double the AUM of second place State Street Corp. Considering investors' growing appetite for ETFs; this is definitely an interesting economic moat to develop.
Since I believe in a bullish US stock market, funds invested into all kinds of of investment vehicles should increase in 2016. BLK will automatically benefit from a bull market by A) selling more investment products and B) making more money based on a growing AUM. Recent development in the Department of Labor's (NYSEARCA:DOL) new law project putting clients' interest upfront will benefit from BLK large ETF product offering. The law puts more pressure on advisors to select products for their clients' benefit instead of their own pockets. Adios high MERs funds, hello iShares!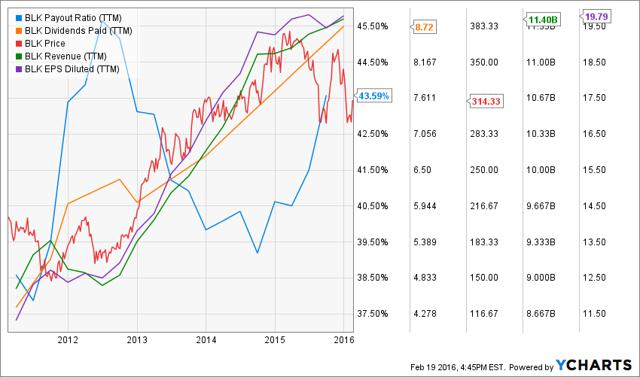 Source: Ycharts
The company was able to continue its revenue and EPS growth as shown in the above published graph. This is understandable as BLK's product mix protects it from investors shifting their investment from equity to fixed income investment products as BlackRock covers both universes. The need for effective investment products will continue to increase in the years to come and this is why BLK recent stock price dip makes it a great entry price.
Johnson & Johnson (NYSE:JNJ) +1.37% YTD
JNJ posted total revenues: 17.8B (-2.4%); Consumer: 3.3B (-7.9%); Pharmaceutical: 8.0B (+0.8%); Medical Devices & Diagnostics: 6.4B (-3.3%). JNJ beat analysts' EPS estimates by $0.02 with a net income of $3.2B (+27.5%) and EPS of $1.15 (+29.2%).
JNJ is a never ending money generator. In the next 5 years, the company doesn't have any major patents expiring. Therefore, the money will continue to come in and their drug pipeline is strong enough to bring new products to the shelf. The fact they sell several speciality drugs also increases their margins while exploiting their patents. The company not only meets my 7 investing rules requirements but it exceeds them in all points.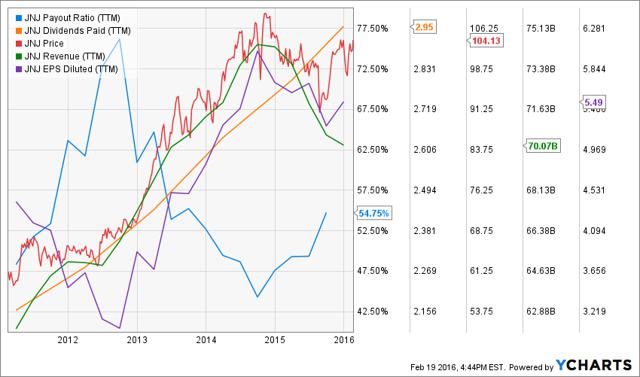 Unfortunately, JNJ's strong quarter denies investors a great buying opportunity. As you can see, the stock didn't budge during the first month of the year. The company invested massively in R&D during 2015 which should help solidify the company's drug pipeline. The company has been paying an increasing dividend for the past 50 years and its current payout ratio around 55% proves the company will continue to be one of the strongest dividend payers ever.
Final Thoughts
I know some investors will tell me that a company like MMM and JNJ doesn't trade at a discount right now. However, as a dividend growth investor, I consider first the ability of a company to increase its payouts in the next decade and more after. These four companies meet my dividend growth investing requirements and will increase their payout each year. I honestly think you can't go wrong with these picks.
Disclaimer: I hold AAPL, MMM, BLK, JNJ, in my DividendStocksRock portfolios.
Disclaimer: The opinions and the strategies of the author are not intended to be a recommendation to buy or sell a security. The strategy the author uses has worked for him and it is for you to decide if it could benefit your financial future. Please remember to do your own research and know your risk tolerance.
Disclosure: I am/we are long JNJ, AAPL, MMM, BLK.
I wrote this article myself, and it expresses my own opinions. I am not receiving compensation for it (other than from Seeking Alpha). I have no business relationship with any company whose stock is mentioned in this article.