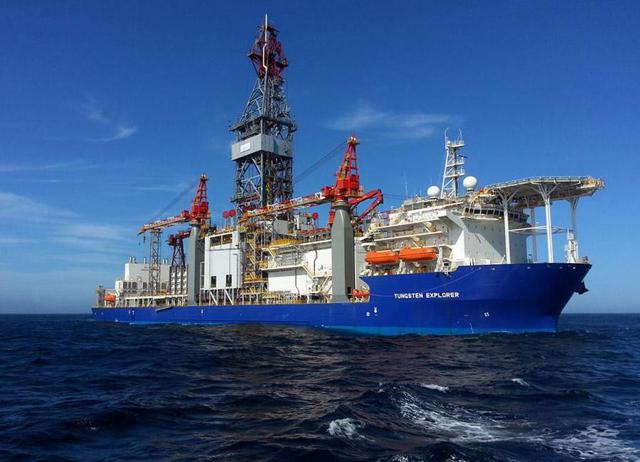 Picture: Tungsten Explorer
This article is a follow-up to my preceding article on Vantage Drilling (OTCPK:VTGDF), published on January 14, 2016.
Today, February 19, 2016, Vantage Drilling announced the following:
Vantage Drilling International signed an agreement for a two-year extension of the Tungsten Explorer contract; the ultra-deepwater drillship will now work until October 2018, the company said Feb. 19.
Quick look of the fleet status:
#
Name
Year Delivered
Type
Contract End

Day Rate

$K

1. Jack-Ups
1
Emerald Driller
12/2008

Jack-up

BMC375

3/16

(option 8 wells)

80

Thailand

2
Sapphire Driller
7/2009

Jack-up

BMC375

Ready Stacked

Gabon

3
Aquamarine Driller
9/2009

Jack-up

BMC375

Ready stacked
Malaysia
4
Topaz Driller
12/2009

Jack-up

BMC375

11/16

Indonesia

99

Letter of award subject to condition

2. Ultra-Deepwater
1
Platinum Explorer
11/2010
DSME-UDW

En route

590

[ONGC]

India

2
Titanium Explorer
3/2012
DSME-UDW

1/20

Terminated

Stacked

585

[Petrobras]

GoM

3
Tungsten Explorer
7/2013
DSME-UDW

10/18

641 To be indicated

[TOTAL]

Congo

4
Cobalt Explorer
Contract Canceled
DSME-UDW Dual Derrick 7th generation
-
-
Commentary
Vantage Drilling released a very surprising news, showing that a bankrupt company can still take a part of the offshore drilling business even if the shareholders have been totally wiped out.
I was very surprised to learn that the UDW Tungsten Explorer was awarded a 2-year extension with Total (NYSE:TOT) in Congo. I commented on February 16, 2016, about Total which terminated for convenience the OR Apollo (7G) in Congo from Ocean Rig UDW (NASDAQ:ORIG).
The company announced that Total terminated for convenience the Ocean Rig Apollo:

TOTAL E&P Congo on February 11, 2016 has given notification to terminate for convenience the long-term contract of the 7th generation ultra-deepwater drillship Ocean Rig Apollo. As per the contract Ocean Rig is entitled to a termination fee that varies from 50% to 95% of the operating daily rate that will be payable over the balance of the contract. The Ocean Rig Apollo will demobilize from Congo in due course and is available for alternative employment. In connection with the termination of the drilling contract of the Ocean Rig Apollo, the Company has notified the agent under the respective loan agreement and is currently in discussions with its lenders about the consequences of such termination.
Assumptions
Vantage Drilling was willing to accept a deal that Ocean Rig UDW probably could not accept, thereby keeping its last drillship working until October 2018.
All we know is that the Tungsten Explorer has been extended for 2 years until Q3 2018; however, we do not know the terms and day rate, which will be extremely low. This is a "blend & extend" that will probably start retroactively from January 2016 (my opinion) at a day rate that I am afraid will be very low and in the range of $280k-$320k/d, in my opinion.
Assuming the deal may start from January 2016, the loss in backlog will be about 11 months at a rate difference of $641k/d-~$300k/d, or basically about $113 million. On the other hand, Vantage Drilling will get an additional backlog of about $216 million, assuming $300k/d, which is a gain of $103 million in contract backlog, with a day rate below the breakeven level.
It is hard to speculate, of course, especially when it comes to Ocean Rig UDW and M. George Economo, CEO, but Vantage Drilling may have accepted something that ORIG could not or did not agree to, and it cost ORIG its contract.
Another assumption would be that the relationship between ORIG and Total has not been very good for quite a while. Total earlier terminated another ORIG UDW in 2014, and both companies are still disputing the case for compensation.
As always, the devil is in the details and we do not know much of the details right now. I believe ORIG's shareholders are wondering what happened?
Disclosure: I am/we are long ORIG.
I wrote this article myself, and it expresses my own opinions. I am not receiving compensation for it (other than from Seeking Alpha). I have no business relationship with any company whose stock is mentioned in this article.
Additional disclosure: I have a small long position and trade actively the PPS.
Editor's Note: This article covers one or more stocks trading at less than $1 per share and/or with less than a $100 million market cap. Please be aware of the risks associated with these stocks.