Following on from my previous article outlining a bullish case for copper, in order to provide balance, I have written an article outlining the bears' point of view.
The main drivers.
Supply
Demand
Dollar index
Macro sentiment
Manipulation
Carry Trade
Supply
Some large mine operators have cash costs at around $1.00, which begs the question 'Why doesn't the price tank 'a la' Iron Ore?' After all, both RIO (NYSE:RIO) and BHP (NYSE:BHP) have admitted they wanted the price of Iron to drop as low as possible in order to force out competition. This proves that if they have the mind to do it - it could be done! In fact recently, BHP has said it will increase overall copper production to 1.7 million tonnes per annum at an average cash cost of $1.08. If we also take into account other large mines with low cash costs, then we could in theory see a copper price at $1.50 with some companies still making profits.
In an article published by mining.com, they point out that the top ten largest mines have costs at around $1.00/lb.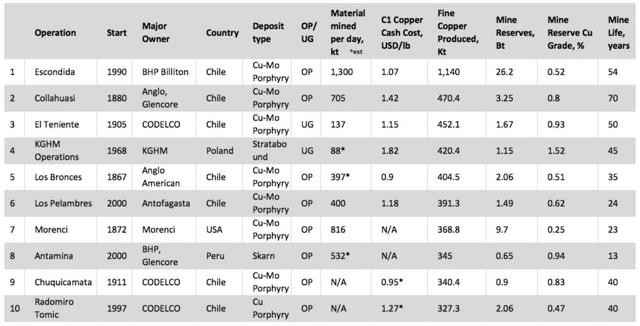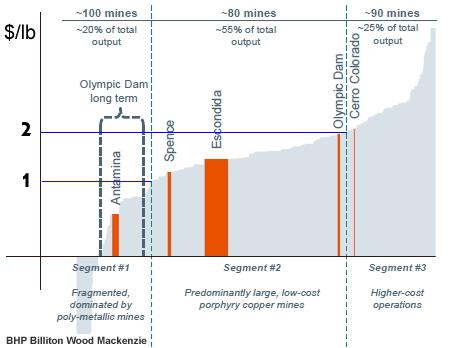 As can be seen from this chart, 25% of the world's copper will cost more than $2.00/lb to produce. That is 90 mines, out of a total of 250. It is a possibility that these loss making mines could close, but even if this did happen, they could be replaced by a stream of new lower cost mines.
Chile recently announced they will support their smaller Copper producers by purchasing their copper at a higher price compared to the prevailing. The subsidy is considered a loan, and will have to be paid back when higher prices return. This will keep operators in business who would otherwise fold. Another reason to support lower prices.
Of the mining developments which are in progress, the Las Bambas mine in Peru is one of the largest. This Chinese owned mine will produce 400 ktpa and have cash costs at $1.07 per pound. One other major project is RIO's $7 billion Oyu Tolgoi which is still attracting interest from leading banks and investors. This extra capacity which is being brought to fruition is in anticipation of greater demand for Copper over the coming years.
As you can see in the two charts, copper demand is in deficit at the moment, but in a market of 22 million tonnes, a few thousand kilo tonnes can be taken as an analytical error. Perhaps we should not get too carried away with a slight surplus. The information shows there is a predicted over supply in the next year or so followed by a shortfall thereafter. If demand does not grow as anticipated, then we could indeed be faced with a glut of copper.

Demand
As China consumes nearly half of all Copper produced at the moment, we have to be concerned about their prospective demand. It's widely known now that the massive infrastructure projects that caused the huge spikes in commodities has stalled. There are also signs around the world where house building could be slowing. Rising interest rates, especially in the US might accelerate a downturn.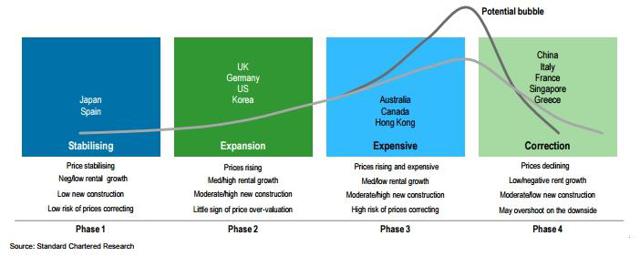 However, there is still much to look at. For example; China's rising domestic demand means there are rising sales for all sorts of domestic appliances and gadgets. With low paid workers now replaced by higher earners, they need things to spend money on, and what better than electrical appliances for the home, and cars to get them about. There is also a boom in electric car ownership. China is also expanding it's electricity grid network, which will consume 1.3 million tonnes over the next few years. I would expect the purchase program to be careful and steady so as not to cause the price to spike.
Obviously, domestic demand is only going to serve so much during a housing slump.
Dollar Index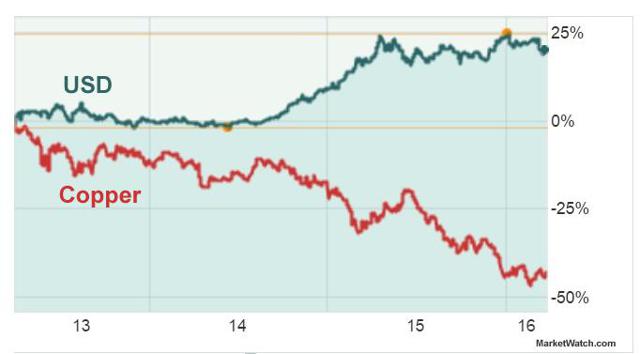 For one reason or another, commodity values are inversely linked to the dollar index. The US economy is strong, compared to most of the world, so the Dollar strength is justified at the moment. The realization of rising interest rates could strengthen the Dollar. If interest rates continue to rise there would be a negative effect put on the Copper price.
Macro Sentiment
This could be argued as the most influential factor. The most overwhelming macro factor at the moment is China's economy. As I've discussed previously, the Chinese economy does appear to be prevailing. There has been weakness, but there are definite signs of hope for growth. As shown in this graph, the China manufacturing PMI looks to be on a downtrend, and is firmly stuck below the critical 50 point marker. The Euro zone PMI is just over 52, but has dropped from 53.2. The Japanese PMI had also dropped to just over 52 this last month.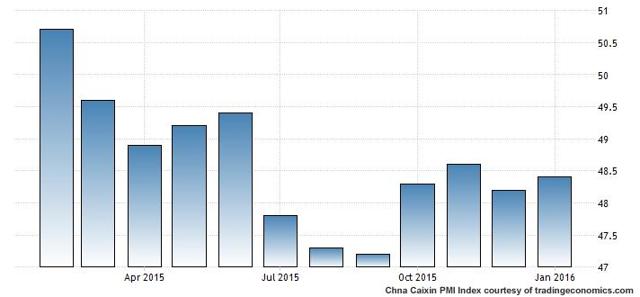 Manipulation
It has been shown that a determined trader who has the wherewithal can influence the price for substantial periods of time. However, these days I would be very surprised if any person could have much of an affect. There has been regulation preventing traders and stock holders acting as market abusers. Plus, with the market becoming ever more fragmented, buyers and sellers meet in a variety of ways. However, there may be a motivated trader attempting to get around the regulations, if only for a short period of time, as Bloomberg has claimed.
Carry Trade
Having read reports recently regarding the Chinese Copper Carry Trade, I decided to include this in my report. A Copper Carry Trade is when a trader secures a loan on a physical copper holding at a country demanding a low interest rate (e.g. approx 2%) using a letter of credit. The trader stores the copper at a warehouse in China. With the funds from the loan, the trader can then use this money to gain higher interest or invest into something else. This is not anything new as there are variations on this theme that have been ongoing for decades.
The concern of this particular carry trade is that it involves a hard to examine sector called 'shadow banking'. The perceived problem is; we do not know how much copper is held in this system. It could be as little as a few hundred thousand tonnes, or as much as millions. If this unknown Copper suddenly came on to the market due to loans being called in, there could be a price crash. What we do know is the BoC are reducing interest rates and letting their currency free float, so there could in theory be a problem. This issue may have already materialized, if, as reported by the FT in August last year, 'shadow banks' are indeed suffering. Now, as these banks are in financial difficulties, and with the Copper price having dropped so much, they would likely be dumping it right now.
My opinion is, I do not believe the hidden Copper stocks are anywhere near as big as we have been led to believe.
Conclusion
To cause the Copper price (JJC (NYSEARCA:JJC), CPER (NYSEARCA:CPER), CUPM (NYSEARCA:CUPM)) to drop to $1.00, we would need a severe economic shock. As no-one can predict exactly what could happen in the financial markets; there is a remote possibility. I doubt the price will drop to that extent from it's own fundamentals, as I can see mines being closed quite quickly if the price were to stay below $2.00 for an extended period. It would take a drop in overall output of less than 0.3% (697kt) for the balance to correct itself. Comparing the supply/demand picture with Oil (NYSEARCA:USO), there is an obvious disparity.
Disclosure: I am/we are long RIO.
I wrote this article myself, and it expresses my own opinions. I am not receiving compensation for it (other than from Seeking Alpha). I have no business relationship with any company whose stock is mentioned in this article.