The twenty-fourth edition of:
Resource Sector Digest
(vol.24 - February 22, 2016)
an offering that is brought to you by Itinerant and The Investment Doctor.
As always, this edition of our newsletter will:
set the scene;
highlight actionable ideas;
comment on news releases;
and link to relevant articles.
As always, here is a cordial invitation to join Itinerant Musings for exclusive access to actionable research on mining and energy stocks. Some examples are sprinkled throughout this newsletter for good measure.
And before we forget, you can read the three most recent editions here, here, and here in case you missed them!
Setting The Scene
Gold has been on fire lately, and the gold price seems to be firmly holding its ground above the $1200 level which increases the confidence of the gold bulls. After a weak start to the year, gold (NYSEARCA:GLD) and Silver (NYSEARCA:SLV) are off to a good first quarter: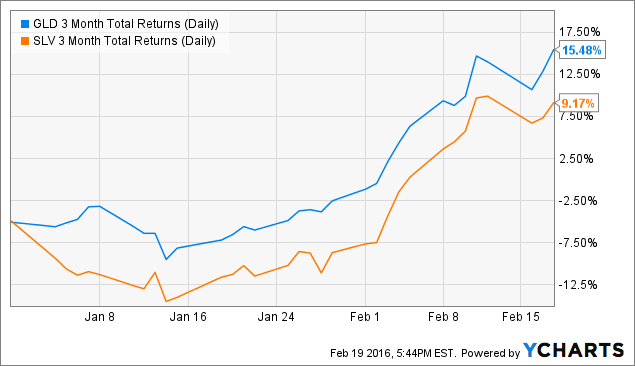 GLD 3 Month Total Returns (Daily) data by YCharts
As this is the 'resource sector' digest, we don't really want to limit ourselves to just the gold and silver prices, but we are also keeping an eye on the oil sector. After all, there is a correlation between how mining companies are doing and the oil price (as the majority of the world's mining operations need quite a lot of fuel either to generate electrical power, or to keep the trucks running). The larger players remained relatively resilient to the oil glut, and there seems to have been a flight from smaller (and riskier) names to the big oil companies like Exxon Mobil (NYSE:XOM), Chevron (NYSE:CVX) and ConocoPhilips (NYSE:COP):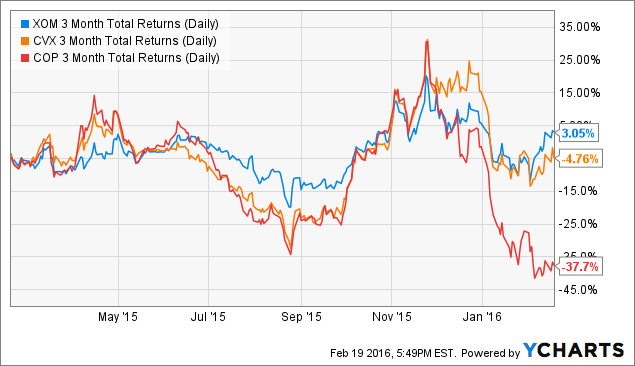 XOM 3 Month Total Returns (Daily) data by YCharts
Compare this to some smaller players where the market is doubting these companies will be able to repay their debt on time. We specifically picked 'mid-tier' producers with a relatively high production rate such as Enerplus (NYSE:ERF), Paramount Resources (OTCPK:PRMRF) and Cenovus Resources (NYSE:CVE).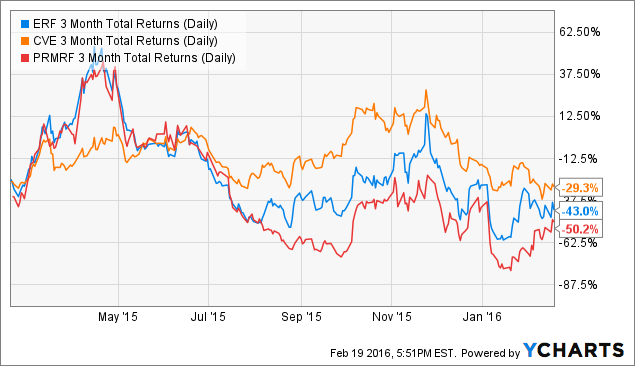 ERF 3 Month Total Returns (Daily) data by YCharts
You clearly see the difference. The big two (Chevron and Exxon) saw their share prices remain relatively stable, whilst the smaller companies have been slaughtered. But, the small-cap energy space isn't the sector that has been hit the worst, as the services providers have been killed. Transocean (NYSE:RIG), Atwood Oceanics (NYSE:ATW) and Seadrill (NYSE:SDRL) have been bleeding and are scrambling to keep their rigs working.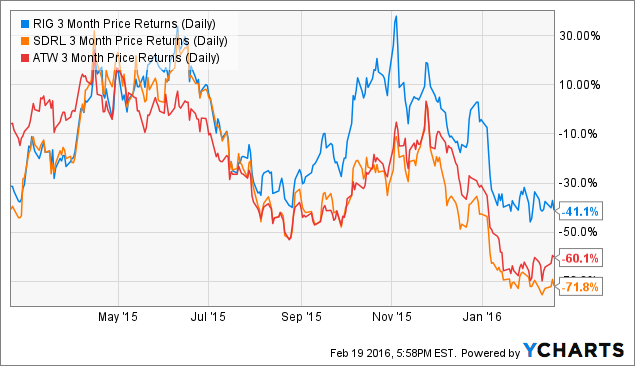 RIG 3 Month Price Returns (Daily) data by YCharts
Is this selling overdone? Who knows. It's a fact that some of these companies will have to have another very close look at their balance sheets. As you can see, the net debt of these three companies has reached alarming levels (or, at least, a level that's considered to be close to 'alarming').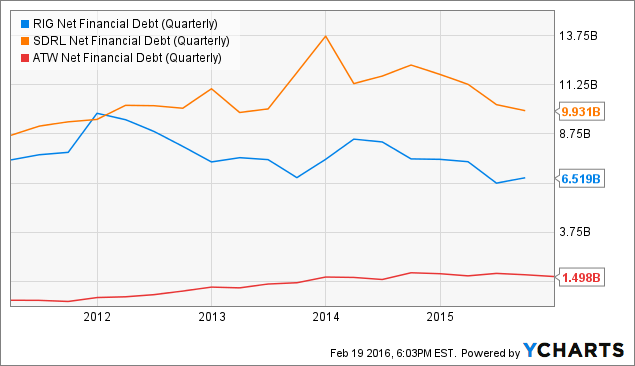 RIG Net Financial Debt (Quarterly) data by YCharts
Unfortunately, these service providers don't have the same flexibility oil companies have. Any oilco could try to reduce the capital expenditures to zero. This will reduce the output, but there will very likely be a net positive effect as the surplus cash flow could be added to the balance sheet. That's exactly what for instance Pengrowth Energy (NYSE:PGH) has been doing, as it decided it will spend just US$50M on capex this year.
Actionable Ideas
Quite a few eyes were on the oil space last week, and we'd like to highlight two potential actionable ideas in this sector.
The biggest news of the week probably was the announcement Berkshire Hathaway (NYSE:BRK.B) (NYSE:BRK.A) took a substantial stake in Kinder Morgan (NYSE:KMI). This is a very important deal for the latter as it had been plagued by negative updates and a dividend cut. An initial $400M stake isn't a very big deal, but it most definitely is an interesting vote of confidence. And of course, several SA-authors chimed in with their opinions!
Citigroup (NYSE:C) has cut Transocean's target price to just $2 but Profit Propositions expects Transocean might be able to surprise the market…
News Releases
The gold and silver price were on fire in the past few weeks, but on Monday, when the US markets were closed, the gold price was knocked down again.
Freeport-McMoRan (NYSE:FCX) is still looking at alternative ways to raise cash, and the company has now sold a 13% stake in its Morenci mine to Sumitomo, for $1B in cash. The transaction, which will be closed sometime this summer, will result in a $550M gain for Freeport, but more importantly, it will reduce the net debt by $1B.
Great Panther Silver (NYSEMKT:GPL) reported a fatality at its Guanajuato complex in Mexico. The investigation is ongoing.
Acacia Mining (OTC:ABGLF) has released its financial results of 2015, where an excellent Q4 compensated for a weak third quarter of this year. For 2016, the company expects to increase its output and to reduce its all-in cost per produced ounce of gold. This should confirm Acacia Mining to be free cash flow positive this year, even at a lower gold price.
Banro (NYSEMKT:BAA) has now closed its $67.5M streaming deal on its Twangiza gold mine in the DRC. This capital infusion was needed, and it does look like Banro was able to get a nice deal. The remaining debt and equity financing is expected to close before the end of this month.
Kootenay Silver (OTC:KOOYF) has announced it has signed a joint venture agreement with silver senior Pan American Silver (NASDAQ:PAAS) whereby PAAS can earn a 75% stake in the Promontorio silver belt by making US$8.05M in cash payments and committing to spend $8M on exploration. Additionally, Pan American will pump C$2M in Kootenay in a private placement. This isn't really a great deal for Kootenay, as it's giving up a majority stake in the project for just US$17.5M in payments. The Investment Doctor can imagine quite a few shareholders will be disappointed, but it's a sign of the times!
More drilling has confirmed three of the four known zones at Fission Uranium's (OTCQX:FCUUF) Triple R project have been expanded. Who else but the Chief Geologist could be the best person to explain the importance of this news? 'With the recent discovery of high-grade mineralization in PLS16-445 on the R840W zone (see NR February 01, 2016) and now the discovery of high-grade mineralization 2.34km to the east on the R1620E zone (PLS16-460) drilling this winter at PLS has shown the upside blue-sky potential that exists.
Kennady Diamonds (OTC:KDIAF) has dug out a sample of 6.4 tonnes of Kimberlite from the Faraday 1 zone, and the results are quite encouraging. The average grade of the sample was 3.04 carats per tonne (and a later press release revealed an average grade of in excess of 4 carats per tonne), which is pretty good considering the exploration target at the project anticipated an average grade of just 2-2.5 carats per tonne. Kennady's CEO is also leading Mountain Province Diamonds (NASDAQ:MDM) which aims to open a diamond mine (located within hiking distance) in the very near future.
Anglo American (OTCPK:AAUKF), (OTCPK:AAUKY) and (OTCPK:NGLOY) has provided more details about the planned overhaul of its business. It thinks it can achieve a positive free cash flow in 2016 (even at the current commodity prices) and aims to divest $3-4B in assets to reduce the net debt to $10B by the end of this year. The company wants to reduce its net debt to a ND/EBITDA ratio of 2.5 in the 'medium term'. All major mining conglomerates have now announced substantial cost-cutting measures and asset disposals as Rio Tinto (NYSE:RIO), BHP Billiton (NYSE:BHP) and of course, Glencore (OTCPK:GLCNF) are feeling the pressure on their balance sheets and cash flow statements.
Ozzie gold miner Newcrest Mining (OTCPK:NCMGF) has released its financial results and to The Investment Doctor's relief, the company remained profitable and free cash flow positive. The net debt was reduced, but remains relatively high.
Newmont Mining (NYSE:NEM) also released its financial results and the adjusted free cash flow remained positive in the fourth quarter. That being said, the net loss was a bit disappointing, but the company blames a late shipment of 39,000 ounces gold and 27 million pounds of copper for a lower-than-expected revenue.
Barrick Gold (NYSE:ABX) also had a pretty decent quarter, wherein it was free cash flow positive. The free cash flows should increase this year on the back of lower interest expenses. Barrick has worked really hard to reduce its net debt by repurchasing existing bonds with the proceeds of asset sales.
Rio Tinto seems to be committed to its Lithium-Borate project in Serbia as the company plans to invest an additional $20M in the project within the next 22 months. That's a 'thumbs up' for the project as Rio Tinto has already invested $70M in the Jadar project. Jadar allegedly is one of the largest lithium deposits in the world.
First Quantum Minerals (OTCPK:FQVLF) has released a longer-term production guidance for all of its projects. The anticipated copper production is expected to remain stable at 400,000 tonnes (excluding Sentinel). Any growth in the copper production rate by 2018 will have to come from the Sentinel project which could see its production rate double by that year. The C1 cost for 2016 (including Sentinel) is expected to be $1.35/lbs, which should decrease to $1.30/lbs in 2017 and 2018.
Western Copper and Gold (NYSEMKT:WRN) has confirmed the Executive Committee of the YESAB has referred the plans of the Casino project to a panel for further review. The panel will have to decide on the company's plans relating to the tailings and waste management.
OceanaGold (OTCPK:OCANF) ended 2015 with another good performance, as the company posted a full-year net profit and a positive free cash flow. 2016 will be a bit boring, argues The Investment Doctor, but 2017 could be exciting as the newly acquired Haile mine will start producing gold from next year on.
Primero Mining (NYSE:PPP) was another gold (and silver) mining company releasing results. Nothing special to mention here, except for an interesting guidance for 2016. The gold production rate will increase whilst the AISC per produced ounce will be lower, thanks to a capex bill that is expected to come in 20% lower versus 2015.
Gold Fields (NYSE:GFI) produced in excess of half a million ounces of gold in the fourth quarter of 2015 at an AISC of $929/oz. This sounds pretty good, but the company also had to record a $300M impairment charge on the value of its assets. Gold Fields plans to produce 2.05-2.1 million ounces of gold in 2016, at an expected AISC of roughly $1000/oz.
Aureus Mining (OTC:ARSMF) says the gold recoveries at its New Liberty gold mine in Liberia are improving. The production rate is increasing as the company has now produced 11,000 ounces of gold in the first 7 weeks of this year. The recovery rate has now improved from 73% in January to approximately 87% right now, and this allows for much more gold to be recovered, boosting the production results.
IAMgold (NYSE:IAG) claims its operating results in 2015 were 'solid' but with a total production of 806,000 ounces gold at an AISC of $1100/oz, the company will very likely continue to try to slash more costs. 'Uninspiring' might be the best word to describe IAMgold's 2015 performance.
Nevsun Resources (NYSEMKT:NSU) has released an interesting resource update. It's very nice to see the Harena zone now contains in excess of 400 million pounds of copper, 1.2 billion pounds of zinc as well as 360,000 ounces of gold and 17.5 million ounces of silver. Nevsun is now sitting on an entire VMS district which currently contains a total of 1.4 billion pounds copper, almost 5 billion pounds of zinc, 1.4 million ounces gold and 64 million ounces of silver. As Nevsun has a humongous cash position on its bank accounts, this company might be your best and safest call option on the prices of base metals.
Pretium Resources (NYSE:PVG) had released an updated capex and working capital estimate for its Brucejack project. The initial capex is now estimated at $641M (of which $66M has already been spent) whilst the company estimates it will need an additional $56M in working capital to cover the first three months after the construction of the project has been completed.
Sandstorm Gold (NYSEMKT:SAND) has provided an update on its royalties and streaming deals. Hard Asset Investments was focusing on the positive news, whilst Itinerant highlighted the negative news as Sandstorm expects the revenue from its royalties on the Yamana Gold (NYSE:AUY) assets to be lower than originally expected.
CF Industries (NYSE:CF) released its financial results of the fourth quarter of 2015, and The Investment Doctor was looking forward to see the guidance for 2016. As expected, the capex should start to fall from an elevated level of $2.5B to $1.7B, and probably just $600M from 2017 on as the expansion plans will have been completed by then.
Pan American Silver finally decided to cut its dividend to $0.0125 per quarter after remaining cash flow negative in 2015. The Investment Doctor will be pleased as he lashed out at Pan American's dividend policy in an article published in November.
New Gold (NYSEMKT:NGD) also released its financial results. The company produced a record amount of gold in Q4 (132,000 ounces) and FY 2015 (in excess of 435,000 ounces). This production rate will be lower in 2016 as New Gold is now aiming to produce 360,000-400,000 ounces of gold at an AISC of $825-865/oz in 2016.
Capstone Mining (OTCPK:CSFFF) reported a net loss of $203M (on an attributable basis) as the low copper price has had a huge impact on its performance. Itinerant penned a substantial piece about Capstone Mining, and it's only a matter of time before he will probably publish an updated opinion!
Dynacor Gold (OTC:DNGDF) reported its Metalex plant produced in excess of 67,000 ounces of gold in 2015 which is very close to the upper end of its official guidance (which was 68,000 ounces). Dynacor hasn't provided a production guidance for 2016 just yet, as it's awaiting the completion of the construction of its Veta Dorada plant in Chala, Peru.
Lundin Mining (OTCPK:LUNMF) reported its financial results of 2015, and it's really nice to see how the company has been able to slash its net debt by almost 50% in just one year time. The net debt has been reduced to just $441M thanks to a very robust operating cash flow in FY 2015. For 2016, Lundin expects to spend just $220M on capital expenditures, which basically means the company has a chance to be free cash flow positive, even at $2.10 copper.
The results season is in full swing, but plenty of other resource companies still have to report their financial results. It will be very interesting to see how oil(-related) companies will implement 'damage control' programs.
Disclosure: I am/we are long BRK.B, CF, NSU.
I wrote this article myself, and it expresses my own opinions. I am not receiving compensation for it (other than from Seeking Alpha). I have no business relationship with any company whose stock is mentioned in this article.
Editor's Note: This article covers one or more stocks trading at less than $1 per share and/or with less than a $100 million market cap. Please be aware of the risks associated with these stocks.