Newmont Mining Corp (NYSE:NEM) is gaining momentum. The company's stock price has been rising over the last thirty days due to the growth in gold prices. After declining by 70% over the last five years, to only $15.70 per share, NEM's share price has now surged 40% in the last thirty days alone due to the growth in the price of gold. Newmont's business model is directly dependent upon movement in the gold and copper prices.
Here the question is, what's next? Should investors sell this stock to capitalize on the recent gains in Newmont's share price, or will holding on to this stock yield even greater price appreciation in the future?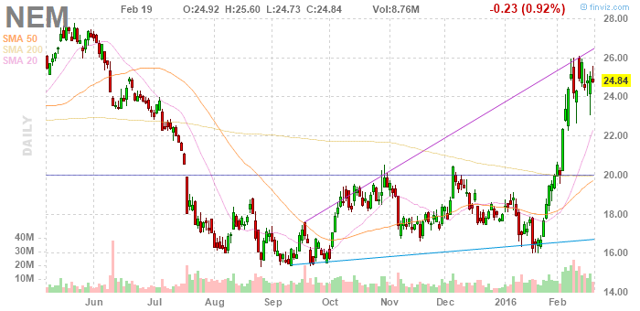 Following the recent rally in gold prices, Newmont's share price has gained a lot of value over the past thirty days. I believe this growth in share price is currently presenting a tasty selling opportunity for those value investors who bought this stock on its recent lows. However, Newmont is still a hold for investors who bought stock above its current price, back in 2014 or the beginning of 2015. Despite its short-term volatility, Newmont is likely to perform well in the coming quarter due to its strategies and thanks to the continued improvement in gold prices.
The company is working on a smart strategy of enhancing production, lowering debt, cutting costs, and strengthening its balance sheet. It is looking to decrease its all-in sustaining cost by 16%, while increasing its gold production by 16% each quarter. Despite an uncertain environment, Newmont has not been sacrificing its growth projects. This only shows the considerable confidence that management holds in its current strategies.
The company has strengthened its asset portfolio by acquiring Victor and Cripple Creek, and by selling noncore assets that present a higher risk to Newmont. It remains on schedule at the Turf Vent Shaft, at Merian, and at Long Canyon Phase 1. It is also moving forward with the Tanami expansion project.
The company's strategies are working. Over fiscal 2015, it increased its EBITDA by almost one-third, to $2.7 billion. In addition, it doubled its free cash flows to $756 million while reducing its debt by 19%. Newmont has lowered its all-in sustaining cost to $864 per ounce, which represents a decline of 27% since 2012. This clearly shows that the company's strategy of enhancing efficiencies, lowering its debt and improving production is working. In addition, lower oil prices and favorable exchange rates are enhancing the company's performance.
Newmont's performance will improve further throughout the first quarter of 2016, on the back of ongoing improvement in gold prices. In the last 60 days, the price of gold has increased from $1050/oz to nearly $1250/oz. In the final quarter of 2015, the average realized gold price was $1,084 per ounce. The prevailing gold prices are much better than the company has experienced in the past few quarters. Higher gold prices, along with improved production, will result in higher earnings and better cash flows for Newmont.
In Conclusion
Over the past few days, we have been witnessing moderate gains on precious metals which could also enhance Newmont's share price, since its business model is directly dependant on the price of gold. Precious metals always have an inverse relation to the U.S. dollar, the economic environment, and equities. In the coming days, equities are likely to remain under pressure, while the weakness in the U.S. dollar could grow.
This scenario is supportive for gold prices as well as Newmont's share price. In addition, its improving financial performance will have a positive impact on its share price. Therefore, I recommend that investors hold this stock, pending further gains in the coming days.
Disclosure: I/we have no positions in any stocks mentioned, and no plans to initiate any positions within the next 72 hours.
I wrote this article myself, and it expresses my own opinions. I am not receiving compensation for it (other than from Seeking Alpha). I have no business relationship with any company whose stock is mentioned in this article.