With most of the focus on oil coming from the disruption of the industry by U.S. shale firms, adding about 4 million barrels a day in supply, offshore production has been neglected recently, with the latest projections from the EIA showing oil supply from the Gulf of Mexico will reach record levels in 2017.
This is not only bad news on the supply side, but on the demand side it's looking much softer, as U.S. distillate consumption plummeted in January and China's overall consumption of oil dropped in December, pointing to further softness in the market. The U.S. and China are important because they're the leading consumers of oil in the world.
With there being about a zero chance of a deal being struck to reduce production by OPEC or Russia, shale producers will keep the spigots open at their current producing wells, even as they keep their DUC wells sidelined. That means there will be no relief on that front, although U.S. shale production should gradually decrease throughout 2016 as oil in some of the wells shrink in volume.
Now that U.S. Gulf oil will exceed expectations, it will partially offset the decline in U.S. supply over the next couple of years, adding to the challenge of low oil prices and their duration.
All I see left as a possibility for those long oil to have shrinking capex result in production dropping as current wells deliver less oil over time. But with storage having the potential to become a extremely negative catalyst, some may long for the good old days of oil at $30 per barrel. More Gulf supply could hasten that unwanted outcome.
Further out an increase in global demand should rebalance the market, but that will probably take several years to come about. Much of that depends on the depth and length of the weakness of the global economy over the next two years or so.
source: EIA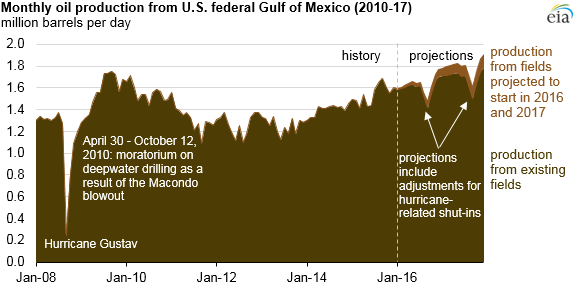 Gulf of Mexico supply
Although we rightly tend to focus much more on U.S. shale oil production, production from the Gulf of Mexico accounts for a decent portion of overall U.S. production, with it expected to account for 18 percent of crude oil production in 2016 and 21 percent of U.S. crude production in 2017, according to the EIA release.
For 2016 the estimate is for Gulf production to climb to about 1.63 million barrels per day, and for 2017 it will jump to 1.79 barrels per day, finishing the year strongly at 1.91 million barrels per day in December 2017. It suggests not long afterward in 2018 it'll reach the 2 million barrel per day mark.
What that means is on average, by the end of 2017 we could have an additional supply of just under 300,000 barrels per day coming from the Gulf of Mexico alone. In today's oversupplied market, that's not an insignificant amount. If pace of demand continues to line up with downward revisions, it could easily make things much worse than they are now on the price side.
U.S. and Chinese demand
It has been obvious to me demand would become a significant issue for some time, even though the market in general doesn't seem to have taken it too seriously because of the focus on excess production and supply. As news gets out of weakness in the U.S. and China, it will start to be factored in more to analysis and outlook, which will become another negative catalyst going forward.
An example of this is U.S. distillate consumption, which has plummeted by 650,000 million barrels per day over the last four weeks against the same period last year, to 3.5 million barrels per day. Consequently, distillate stocks jumped 1.4 million barrels per day, soaring 27 percent year-over-year.
All the while U.S. refineries continue to process at a record level of 15.8 million barrels per day, up by 406,000 last year in the same period.
source: OilVoice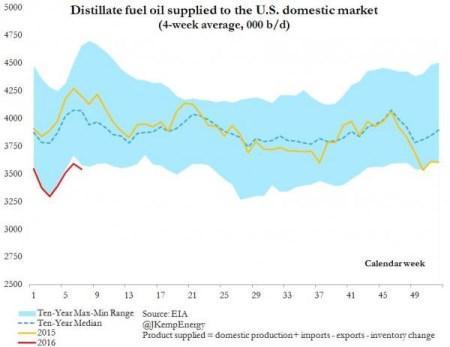 Oil demand in China contracted by 0.8 percent in December 2015, according to Platts China Oil Analytics report. Overall 2015 oil demand growth in China finished the year up 5.8 percent, averaging 11.11 million barrels per day. That was up from the 4.7 pace in oil demand for 2014. Much of the increase was driven by transport fuels. The outlook for 2016 is much weaker, with oil demand estimates falling to a growth rate of 2.4 percent.
At the same time demand is starting to fall, refineries in China recorded record volume of 10.84 barrels per day for December 2015. That was an increase of 1.4 percent sequentially and year-over-year.
U.S. shale production
Where most are looking for some supply relief around the globe is with U.S. shale production. There is a wide disparity of outlooks for 2016, with the general range being a drop of 300,000 per day to 600,000 per day. The most recent numbers showed overall U.S. production dropping only 51,000 per day last week, once again underscoring the resiliency of the shale industry.
Of course if that were to continue on week after week, it would add up to a significant total by the end of the year. I don't count on anything that drastic, as shale oil continues to surprise to the upside as far as production goes. The primary reason being increased efficiencies and the ability to target their best wells for production, along with the ability to target specific heavy desposits on a very localized basis; meaning within individual wells.
If shale production declines remain on the lower end of projections - near the 300,000 per day level - Gulf oil supply would offset a significant amount of that decline, bringing back the issue of what the catalyst will be for a sustainable and predictable increase in the price of oil.
Conclusion
Now that Gulf of Mexico oil will add almost 300,000 more barrels per day by the end of 2017, support for the price of oil looks dismal at best. Some have been hoping the numerous cuts in capex will helps solve the problem, but I think that will take much longer than believed at this time, primarily because the time it takes to bring these various wells into production was already figured into the strategic plans of the oil companies. Eventually it will have a significant impact, but it will be mostly further out rather than in the short term.
Re-balancing from market forces is also much further out because of the slowing global economy. Saudi Arabia had been counting on that as being a positive catalyst in the near term, but that hope is faded as the reality has set in that we are now in a period of a global economic slow down.
Coupled with slowing demand from major oil-consuming nations like the U.S. and China, oversupply will continue to weigh on the price of oil, which will drop further when the market prices in the increase in supply from the Gulf of Mexico.
Since I can't imagine Saudi Arabia agreeing to cut oil production, which would allow competitors to take away market share, there is nothing else I can see that can reverse the direction of the price of oil anytime soon. If storage becomes an issue, which it appears could happen over the next several months, that's the worst-case scenario where some believe the price of oil would drop below $20 per barrel. More oil from the Gulf does nothing to deter that potential outcome.
Disclosure: I/we have no positions in any stocks mentioned, and no plans to initiate any positions within the next 72 hours.
I wrote this article myself, and it expresses my own opinions. I am not receiving compensation for it (other than from Seeking Alpha). I have no business relationship with any company whose stock is mentioned in this article.