Noble Energy Inc (NYSE:NBL) is among the most beaten down stocks in the exploration & production industry. The company has felt the pressure of oil prices on its share price performance. Since the start of the second half of 2014, oil prices have experienced a fall of 70% amid concerns related to oversupplied conditions. In the past twelve months alone, Noble's stock lost 39% of its value, primarily due to falling oil prices.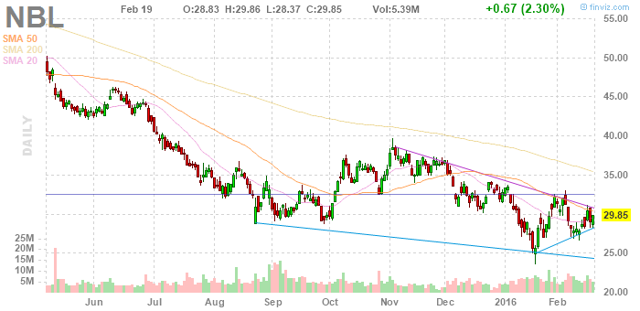 After reaching a 52 week low of $22.77 per share, the company's stock is now rebounding, recovering 15.6% in the last month alone. For investors, I think it's not too late to enjoy this upswing. The company is still presenting a buying opportunity, with strong upside potential in the long-run. Noble has been implementing some pretty smart strategies over the past few years, which now is allowing it to beat a significantly depressed commodity pricing environment.
It has been extensively minimizing its cost structure, while shifting its portfolio toward high growth, high-margin assets. Noble has been increasing its production volumes with strong hedging positions, which are allowing it to offset lower prices. The company has sustained the strength of its balance sheet by supporting its investments with a healthy influx of cash. In addition to reducing its capital investments, Noble has been selling off noncore assets. In 2015, it trimmed its capital investments by 40%. Noble is expected to remain equally disciplined in its investment strategy throughout this year.
Despite declining investments, the company's production has been growing. In the past year, its average sales volume increased by 20%. In the final quarter of 2015, Noble generated sales volume growth of 8% to 422 thousand barrels of oil equivalent per day. At present, it is looking to expand its oil and liquid volumes, which now account for 47% of company's total production.
Noble's strong asset performance in Equatorial Guinea, its project start-ups in the Gulf of Mexico, added growth in Israel, and continued improvements in the DJ Basin are allowing it to generate record production volumes. In addition, the company is expanding its U.S. unconventional portfolio with fresh positions in the Delaware Basin and Eagle Ford Shale. In 2015, the company commenced production on both Big Bend and Dantzler while keeping Gunflint and the Alba compression project on track for a 2016 start up.
Along with its strong production performance, Noble has been decreasing its well and unit operating costs. In the latest quarter, it shrank its total operating costs by 22%, compared with the same quarter of last year. As a result, the company was able to generate an adjusted net income of $191 million, while other companies in the same industry posted big losses.
Moving forward, Noble could post similar results in the first quarter of this year and trends appear positive for the long-run. Oil prices are showing signs of stabilization. Russia, Saudi Arabia, Qatar, Iran and Venezuela are looking to freeze their production levels. In addition, North American producers are significantly decreasing their investments. Based on Baker Hughes, energy companies trimmed 46% of their investments in the past year and are looking to cut an additional 35% in 2016.
In Conclusion
Over the last couple of days, oil prices have gained a lot of momentum, on signs of production cuts. We can expect additional stabilization in oil prices over the coming days, now that the major producers are seriously thinking to stabilize oil prices. On the other hand, Noble has been establishing a strong foothold for future growth with its key positioning of lucrative assets in the Gulf of Mexico, the Delaware Basin, Eagle Ford Shale, and in Israel.
The company's financial position is also strong and its hedging position covers about 35% of its global oil output, along with 25% of its U.S. gas. Therefore, I'm seeing strong growth potential in Noble's share price, as well as enhanced financial performance, accompanying the expected stabilization of oil prices.
Disclosure: I/we have no positions in any stocks mentioned, and no plans to initiate any positions within the next 72 hours.
I wrote this article myself, and it expresses my own opinions. I am not receiving compensation for it (other than from Seeking Alpha). I have no business relationship with any company whose stock is mentioned in this article.