Gold started the year by moving immediately higher. There was a brief pullback during the second week of 2016, but then it shot higher like a rocket. Gold closed on December 31, 2015 at $1060.20 per ounce on the active month COMEX futures contract. In 2016, we have not seen that price again.
Volatility across all asset classes has led to uncertainty and fear in markets. This has stoked gold higher and it continues to bolster the demand for physical coins and bars. Gold continued to move higher throughout January and into the second month of the young year. On February 8, gold took out resistance at $1191.90 -- the October 15, 2015 highs. On February 11, gold took off to the moon, peaking at $1263.90 -- at the highs; gold had rallied 19.2% in six weeks. That was an astonishing feat considering that gold was 10.46% lower in 2015. Markets rarely move in a straight line. Last week, gravity caught up with gold, for now.
What goes up...
Last Monday was the President's Day holiday in the United States, however, markets around the world were doing business. Those markets took the opportunity to provide gold with its first real test of 2016 when they sold the yellow metal down aggressively. Actually, gold moved a bit lower on the previous Friday after reaching highs on February 11, the day before. When we got back to our desks after the long weekend, the price of gold was more than $50 lower and it traded to a low of $1191.50 -- that was over $70 below the price just two trading days before.
We have become accustomed to falling commodity prices and for many, the move higher and trajectory of gold was odd and a bit scary. Gold caught a bid on uncertainty, other commodities were not following suit and many were falling while gold rallied. Therefore, the correction in gold, while massive, came as no surprise it was just another disappointing commodity performance, another failure. However, gold held at exactly the technical level that had been formidable resistance. Gold could have actually declined to the $1155 level, which would have been a 50% retracement of the entire move from the mid-December lows but it did not. On Thursday and Friday of last week, it did not test below the $1200 level again, closing the week at $1226.60 per ounce.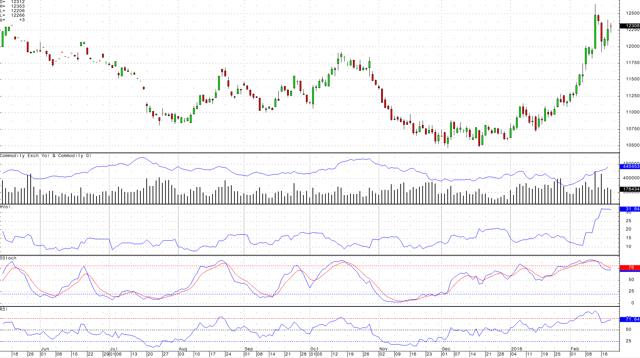 Gold continues to look positive on the daily chart. Open interest, the number of open long and short positions on COMEX gold futures, continues to rise steadily during this bullish phase. That provides a degree of technical validation for the move. While relative strength and slow stochastic readings are in overbought territory, the momentum continues to be positive for the yellow metal.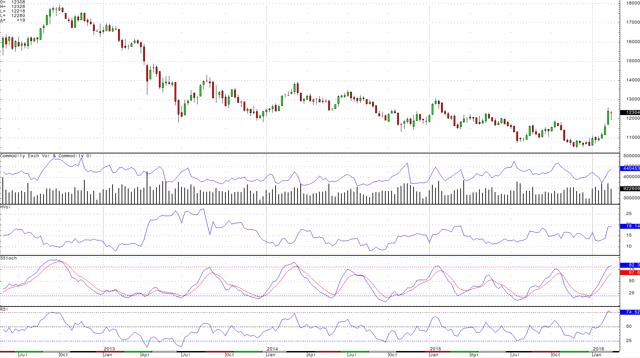 On the weekly chart, these metrics look even better, with momentum and trajectory still pointing higher and volume supportive of the trend.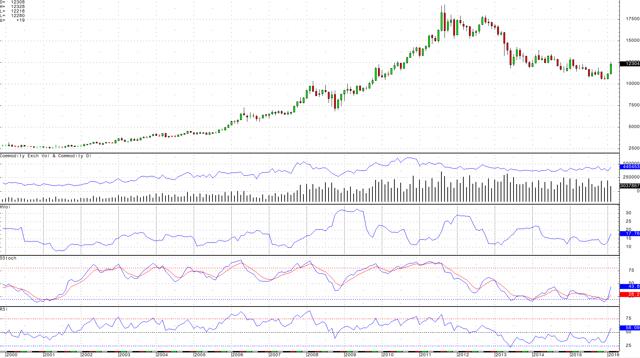 Perhaps the best graphic for gold is the monthly chart, which suggests that it could be breaking out of an almost five-year down trend with momentum pointing higher.
While gold corrected in vicious fashion early last week, the technical picture actually looks healthy. One aspect of the precious metals markets that has not been supportive of the move in gold is the action in other precious metals.
Inter-commodity spreads were a warning
One of the things that has been bothering me about the rally in gold is that divergences between other precious metals have not narrowed, as I would have expected. Generally, during bull markets in the precious metals sector, the more volatile and less liquid metals outperform gold on the upside. Last week, these divergences continued to widen.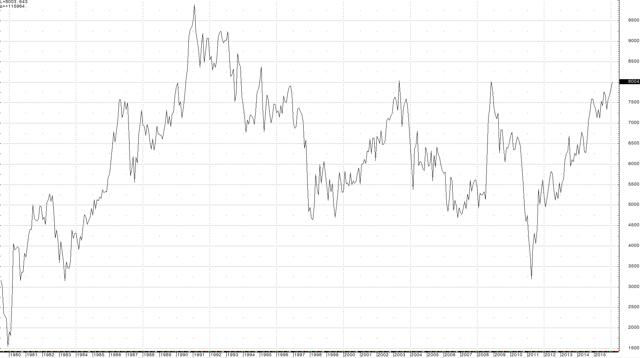 The silver-gold ratio closed last week at around the 80:1 level, or 80 ounces of silver value in each ounce of gold value. This is the highest level since November 2008 when gold and silver fell like stones as they were coming to grips with the global financial crisis.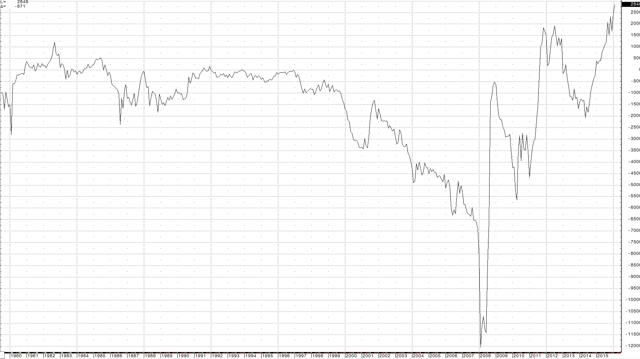 The price relationship between platinum and gold fell to an all-time low last week of a $290 discount, platinum under the price of gold. Platinum closed the week around $285 under gold. These spreads are not a validation of a bull market in gold and precious metals. They are telling us that both platinum and silver remain too cheap, or gold is too expensive at current price levels from a historical perspective. As an example, a gold price of $1225 per ounce implies a platinum price of $1425 and a silver price of over $22 per ounce at historical norms for the relationships. Platinum closed last week at $940 per ounce and silver closed at $15.35. Platinum is therefore diverging from gold by $445 and silver by $6.65 per ounce. These are huge differences. Over the years, these value relationships have reverted to norm means, however, right now it is difficult to see that happening. Perhaps deflationary pressures on metals and raw materials weigh heavily on industrial precious metals like silver and platinum while overwhelming fear is causing a flight to quality in gold.
One group that believes that gold is too expensive is Goldman Sachs, and their missive at the beginning of last week likely exacerbated the sell-off in the yellow metal.
Goldman says $1000-$1100
At the very beginning of last week, Jeff "FDR" Currie and Max "FDR" Layton, esteemed analysts at Goldman, penned a piece that said "the only thing to fear is fear itself." In that article the duo argued that all is well in markets and the rally in gold is solely the result of fear. They predicted that the price of gold would fall to $1100 per ounce in 2016 and $1000 in 2017. That piece likely contributed to the selling in gold, which fed on itself as latecomers to the market scrambled for exits as the price swooned last Monday and Tuesday.
Time will tell if Currie and Layton are correct in their analysis, but the action in gold last week was positive by the end of business on Friday with a close that was $35 higher than the lows of the week.
Increased volatility is telling us something
Gold wears two hats: it is a metal or a commodity and it is a means of exchange or a currency. Therefore, traditionally gold is less volatile than many other commodities. However, that has not been the case in 2016 and recently gold volatility has picked up. Daily historical volatility in gold was at 31.84% last week -- silver, which is generally 150% above gold in terms of volatility, is at only 33%.
A more volatile gold price is telling us something. Currie and Layton are right; there is a lot of fear in markets these days. However, where they err is that the fear is justified. Stock market volatility is up big time. The lower oil price threatens not only loan portfolios of banks around the world but adds to worries about conflict and war in the Middle East. The Russians are now mediating disputes between OPEC members in an effort to bolster the price of petroleum. There are negative interest rates in Europe and Japan, China continues to do everything they can think of to stimulate their economy and the U.S. is immersed in what is likely to be the most contentious election in decades. The world is volatile in 2016; there is no reason that markets should not be a reflection of world events.
Central banks and investment demand holds the key -- Physical buying strong
When it comes to the precious metals markets in general, it is always physical demand that determines price direction. When people around the world decide to safeguard their money in precious metals because of fear, inflation, war or any other reason, these metals appreciate.
Between February 2015 and January 2016, central banks around the world were net buyers of over 700 tons or 22.5 million ounces of gold. My sources tell me that physical demand for precious metals, particularly gold, is very strong right now even though the price has moved higher. A friend of mine who is in the physical gold business wrote a great piece on why people should be buying gold now. Chris Gaffney argues that, "The time to buy insurance is before the accident happens, not after." To me, that sums up the reason why the fellows from Goldman are wrong about gold.
Since I continue to be positive for the prospects for gold, I also believe that silver and platinum will eventually explode in a display of their tradition levels of volatility. Therefore, while I favor adding physical precious metals to a portfolio today, I think there is no better value than in platinum. "Rich man's gold" is $485 cheaper than its normal long-term value level against gold. That amounts to more than half the nominal price of platinum today.
Last week we saw a precious yo-yo in the gold market. Volatility is likely to stay high so long as there is fear in the markets. After taking a quick glance around the four corners of the earth, I believe that fear is justified. Look on Commodix for podcasts on some of my other research and opinions.
Disclosure: I/we have no positions in any stocks mentioned, and no plans to initiate any positions within the next 72 hours.
I wrote this article myself, and it expresses my own opinions. I am not receiving compensation for it (other than from Seeking Alpha). I have no business relationship with any company whose stock is mentioned in this article.
Additional disclosure: The author always holds part of his portfolio in precious metals. That percentage varies according to market conditions.