In late January, Sony (NYSE:SNE) announced its fiscal Q3 financial results. It was a successful quarter as profit increased 11% in comparison with the same period last year, and beat analyst expectations. It also showed that Kaz Hirai is capable of leading the company and executing Sony's reorganization strategy, which was announced two years ago.
Now the question rises as to whether Sony could sustain these results and create additional shareholder value in 2016.
What's next?
Sony started this year with the successful launch of its marketing campaign at the Consumer Electronics Show. It presented new technology that soon will be available for the public, like a new Smart TV or smartphone, and even a traditional refrigerator, but with touchscreens all over the surface to increase its potential.
However, the main product in Sony's presentation was PlayStation VR. It's a virtual reality headset that connects to the PlayStation platform and provides the opportunity for play their favorite games from a different point of view. Thanks to Sony's resources, it has built a great gaming ecosystem that can gain further traction with VR. Presently, PlayStation 4 has the best sales since the launch among its competitors: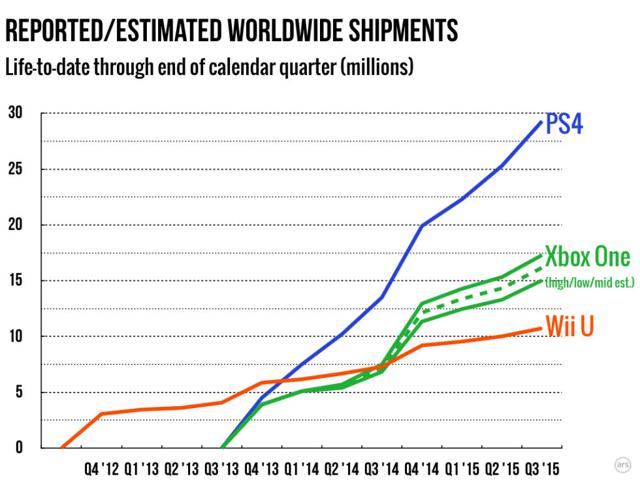 (Source: ARS)
Sony is also active in other directions. It still believes in the smartphone business and plans to release Xperia C6 and Xperia Z6 Lite later this year, along with its next generation tablet Xperia Z6. And it recently bought Israeli chip maker Altair Semiconductor for $212 million. The move represents Sony's plans to increase its presence in the Internet of Things ((IoT)).
However, the biggest event so far occurred on January 26 when Sony announced it will combine its PlayStation operations under one roof. The newly created company will be named Sony Interactive Entertainment LLC (SIE) and will oversee all of the PlayStation hardware, software and network services in San Mateo, California. It's obvious that PlayStation VR will also be a part of the new organization.
It seems that Sony plans to smoothly integrate its virtual reality device into its ecosystem and at the same time focus on its streaming and online game services. This will bring user engagement to the nextlevel and continue the company's dominance of the video gaming industry.
Risks and Financials
One of the problems that I see with owning Sony stock is its exposure to macroeconomic events. As one of the biggest companies in Japan, Sony was impacted by the country's negative interest rate policy. And since the company is also trading on the Tokyo Stock Exchange, its shares, along with other corporations, plunged in the last few weeks. This was also reflected in Sony's shares that trade on the New York Stock Exchange.
Also, the company has enormous competition in all of the fields where it participates. Take virtual reality for example. Sony became very popular only in the last couple of years, but it already has a number of big tech companies that are competing against each other for the place under the sun. The potential of VR is enormous, so it's not a surprise that the field is populated with a big number of devices, each designed for its own purposes. For example, Facebook (NASDAQ:FB) owns Oculus VR, a pioneer in commercial VR devices that is expected to release its Oculus Rift for consumers later this year for $599. Unlike PlayStation VR, which I described earlier, Oculus Rift works only with PC's and has demanding requirements. Since more people own PCs than PlayStations, it's obvious that there would be a greater demand for Facebook's device. However, Sony is making its headset for gaming purposes and it will work only with its latest console, so its plan is not to acquire as many users as it can, but rather as many gamers as it can. And that's where its ecosystem will play a huge role in PlayStation VR success.
However, the most important thing to consider before investing is Sonyare its financials. And they're actually pretty impressive. The company has a P/E ratio of 26.6, which is lower in comparison to many other tech giants. Its price-to-book value of 1.14 is higher than the industry's average and its operating margins are increasing in the last few quarters. Analysts have three "BUY" and one "HOLD" rating on Sony with a consensus price target of $41.50:

Source: Market Beat
This represents upside of over 80% and I believe that thanks to the latest developments in the company, which I described earlier, Sony can achieve its main goals and create additional long-term shareholder value.
Conclusion
The successful positioning of PS4 among competitors in the video gaming industry is a sign that Sony is heading into the right direction. The restructuring of the PlayStation business will help the company achieve full potential of its ecosystem and integrate virtual reality under one roof.
Great management, user engagement and strong financials are the main reasons why Sony will continue to grow in 2016, and Kaz Hirai proved that he's a responsible leader who won't let his people down.
Disclosure: I/we have no positions in any stocks mentioned, and no plans to initiate any positions within the next 72 hours.
I wrote this article myself, and it expresses my own opinions. I am not receiving compensation for it (other than from Seeking Alpha). I have no business relationship with any company whose stock is mentioned in this article.