Recently, a reader asked me what I thought about Public Storage (NYSE:PSA) given its rather lofty valuation.
The first thing an investor has to realize is that Public Storage has earned its valuation. Its capital structure is nearly bulletproof (perpetual preferreds instead of debt means no refinancing risk), its business model is one that is consistent through business cycles and its management has shown themselves to be immensely talented.
In short - a winner of a REIT.
That said, many REIT investors are involved in this sector for the income, something that Public Storage does not really provide. A quick look at the fundamentals of this REIT versus its storage peers and other REITs that are highly regarded and highly capitalized.

As the above table shows, the storage sector has below average dividend yields and above average P/eFFO - two things that tend to make investors nervous.
If you are expecting to get a higher yield from Public Storage: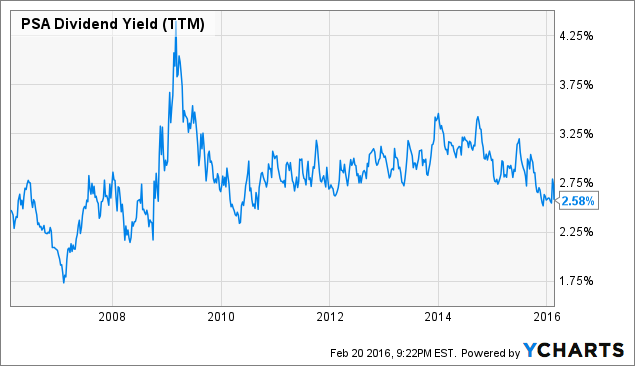 Think again. Public Storage's attraction is its total return, driven by price appreciation. The dividend yield on the stock did top 4% as REITs plummeted during the financial crisis, but if that is what it takes, not sure I want Public Storage to be paying 4% again. Scratch that, I don't want the common stock of Public Storage to be paying north of 4%. I already have a way to get over a 5% yield on Public Storage.
Yes, you guessed it, the preferred stock.
Public Storage is unique in the REIT industry (actually, virtually unique compared to any company) in that its capital structure is overwhelmingly comprised of common and preferred stock - debt is a measly 3%. Public Storage is the largest REIT issuer of preferred stock and has mastered its use in the capital structure. It is this use that has created the fortress known as their balance sheet.
Let's take a look at their outstanding preferred stock:

The table above lists all of the REIT's preferred stock, the highlighted issues are those I favor. The most recent issue, the Series B, trades below par (after stripping out the accrued dividend) and yields over 5.4% on a stripped basis. The Series S has less than a year until it can be redeemed, but it has a yield-to-call of 4.5%.
Due to the short period until it can be redeemed, it is not the optimal issue. That said, its dividend rate is a mere 50bps over the most recent issue, so should rates rise from here, the optional redemption is not a sure thing. The Series R is a shoe-in to be called, and at 1.90% yield-to-call, it is an attractive cash/short-term surrogate.
Graphically, the PSA preferred complex looks like the following: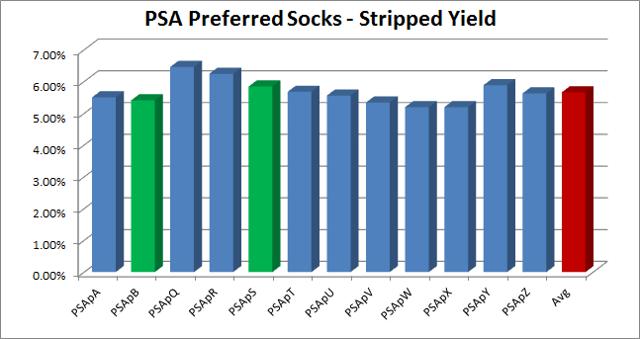 While the PSApB is not the highest yielding preferred within the complex, the combination of the price, the time until optional redemption and the yield make it the best selection.
Let's see how the chosen Public Storage preferred stocks stack up against other REIT preferred stocks.

As the above table shows, Public Storage's preferred stocks are at the low end of yields available within the REIT sector. This is the cost/price of safety. The following chart graphically illustrates the yields available within the peer group: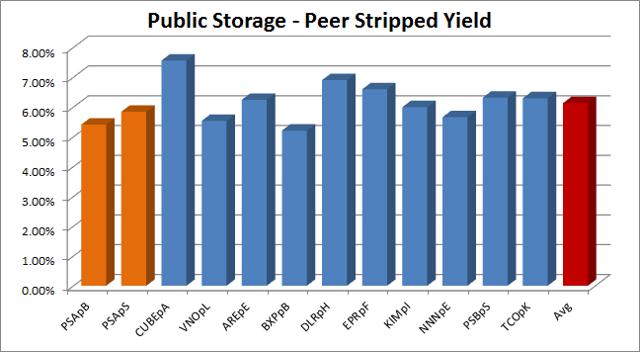 Bottom Line: Income investors often recognize the security and performance available with the purchase of Public Storage, but are often turned away by the low dividend yield. Investors who would like to own the sleep well at night Public Storage and require a higher yield can look at the preferred stock issued by the REIT, specifically the Series S and Series B warrant further consideration.
For more information on REIT preferred shares consider subscribing to my monthly newsletter. Each month, I provide details of my REIT preferred portfolio with 3 vetted picks (each month). CLICK HERE for more information.
Author's Note: I'm a Wall Street writer, and that means that I am not always right with my predictions or recommendations. That also applies to my grammar. Please excuse any typos, and I assure you that I will do my best to correct any errors if they are overlooked.
Finally, this article is free, and my sole purpose for writing it is to assist with my research (I am the editor of a newsletter, Forbes Real Estate Investor), while also providing a forum for second-level thinking. If you have not followed me, please take 5 seconds and click my name above (top of the page).
The only guarantee that I will give you is that I will uncover each and every rock I can, in an effort to find satisfactory investments that "upon thorough analysis promises safety of principal and satisfactory return. Operations not meeting these requirements are speculative." (Ben Graham)
Disclaimer: This article is intended to provide information to interested parties. As I have no knowledge of individual investor circumstances, goals, and/or portfolio concentration or diversification, readers are expected to complete their own due diligence before purchasing any stocks mentioned or recommended.
Disclosure: I am/we are long O, DLR, VTR, HTA , STAG, GPT, ROIC, HCN, OHI, LXP, KIM, WPC, DOC, EXR, MYCC, BX, TCO, SKT, UBA, STWD, CONE, BRX, CLDT, HST, APTS, FPI, CORR, NHI, CCP, WSR, CTRE, WPG, KRG, SNR, LADR, HCN, HCP.
I wrote this article myself, and it expresses my own opinions. I am not receiving compensation for it (other than from Seeking Alpha). I have no business relationship with any company whose stock is mentioned in this article.