Company Overview
Titan International Inc (NYSE:TWI) is mainly engaged in wheel manufacturing and the company has a long history in this industry. Titan International Inc has several subsidiaries that operate in the agricultural, Earthmoving, construction, and consumer segments in the United States and abroad.
Although Titan International Inc started as a wheel manufacturing company in 1890, over the last century, they have expanded and diversified their operations. Currently, besides manufacturing wheels, they also provide its products for various types of off-the-road earthmoving, mining, military, and construction equipment.
As of February 19, Titan International Inc had a market capitalization of $221.82 million and a 52-week price range of $2.50 - $12.47.
Update on the Antidumping Petition
Last week, Titan International Inc said in a press release that the US International Trade Commission (USITC) has "commenced its preliminary injury investigation, has held a preliminary injury conference and collected information from domestic producers, foreign producers and importers." Since Titan International Inc made the press release, the stock price of the company has surged from $3.04 to $4.47 on February 17, representing a 47.04% increase within 48 hours.
Prior to this, on January 8, 2016, Titan Tire Corporation, one of the subsidiaries of Titan International Inc, and the United Steelworkers (USW) jointly filed antidumping petitions on imports of certain off-the-road tires from China and India.
Furthermore, there was countervailing duty petitions on imports of certain off-the-road tires from China, India and Sri Lanka with two government bodies -- the US Department of Commerce (NYSE:DOC) and the US International Trade Commission (USITC).
The USITC voted on whether there is a reasonable indication that a domestic industry is materially injured or threatened with material injury on February 19, and soon will learn how they perceived the matter.
As an Investor, You Should Care About the Outcome of the Antidumping Petition
In international trade, dumping is a serious matter because foreign producers usually capture market share by initially exporting goods at a lower price, and pushes the domestic producers out of the market. This is illegal and the US government has the right to intervene in the free market to protect domestic manufacturers.
In this particular petition, Titan International Inc and the United Steelworkers (USW) alleged that Chinese manufacturers have exported something as tire, but the tire had a "steel wheel" in the tire.
"So it's not classified a tire," said Maurice Taylor, the CEO and Chairman of Titan International Inc. "The joke about this is that there is a duty on steel now, but by assembling the steel wheel with the tire, there is no duty on the assembly," he added.
This practice is a direct violation of antidumping clauses in international trade law that Chinese manufacturers are trying to export steel wheels as tires in the United States. There is a high probability that the petition would result in a motion in favor of the domestic steel manufacturing companies, and Titan International Inc will restore its price competitiveness as a by-product.
However, a ruling in the favor of the company is still a pipe dream and it will not have any impact on the balance sheet of Titan International Inc in the last quarter.
Regardless, Q4 2015 Results Would Likely Push the Stock Price Lower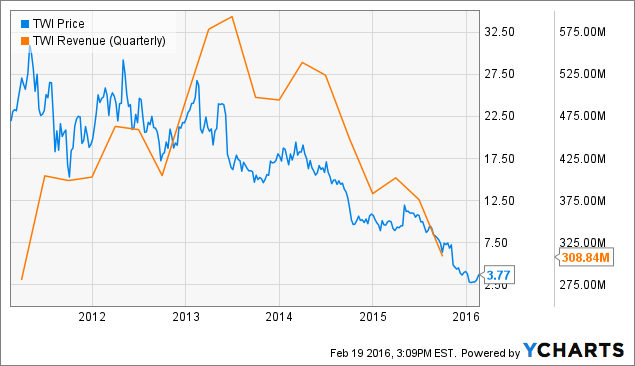 Figure 1: Price and Revenue Correlation of Titan International Inc
Over the last few years, Titan International Inc's investors had a miserable time as the stock declined by more than 85% since 2012.
While there were many factors, losing market share due to foreign dumping was certainly something the management would like to blame and hope that investors would buy that theory.
On February 25, Titan International Inc will release its Q4 2015 earnings and we believe the numbers will follow the current downturn.
In Q3, Titan International Inc's North American business experienced the largest volume decline at 29%, their sales for Earthmoving construction were down 17.5%, and the Euro devaluation had a $15 million negative impact on their undercarriage business.
While the management appears to successful at diverting investors' attention from these larger issues to antidumping petition, we believe this temporary price retracement will not last for long.
Conclusion
We have to wait a few more days to take a look at the Q4 2015 results. However, one thing is clear that the management had to deal with the same "difficult market conditions" last quarter like they dealt in the previous one.
While the stock price of Titan International Inc has gained around 47% in the last week based on wishful thinking that the US government will step in to protect steel workers by putting additional import duties on steel wheels, the fact remains that foreign competitors can still market the actual tires at a remarkably low price range compared to what Titan International Inc's brands would be able to. Hence, investors should take caution while considering buying the stock of Titan International Inc based on the recent bullish momentum and wait for the Q4 results before taking any long-term investment decisions.
Disclosure: I/we have no positions in any stocks mentioned, and no plans to initiate any positions within the next 72 hours.
I wrote this article myself, and it expresses my own opinions. I am not receiving compensation for it. I have no business relationship with any company whose stock is mentioned in this article.