Introduction
New Gold (NYSEMKT:NGD) is still aiming to become a senior gold producer and wants to boost its annual production rate to in excess of half a million ounces per year once the Rainy River project in Canada will be brought online, sometime next year. Of course, a new mine costs a lot of money, so how successful was New Gold in increasing its operating cash flow to fund the construction cost of that mine?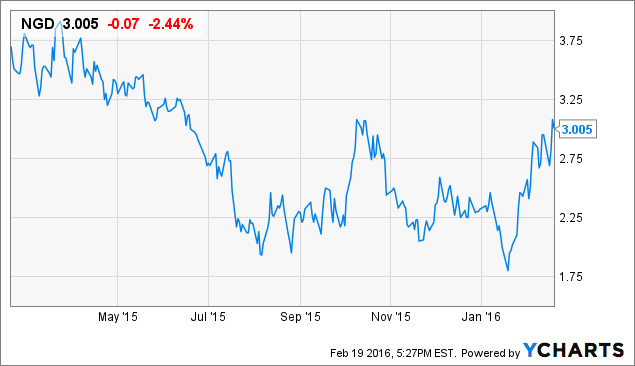 The fourth quarter probably was as good as it gets in the current downturn
I wasn't really too excited about New Gold's fourth quarter as I was expecting the 'same old, same old' kind of story whereby the New Afton mine is the main engine of New Gold's low-cost structure. Without New Afton, this would be a penny stock.
The full-year financial results were pretty good on the back of a record gold production of in excess of 435,000 ounces of gold in 2015 (which is approximately 1% higher than the upper end of the company's official guidance). The excellent full-year performance was fueled by the total production of almost 132,000 ounces gold in the final quarter of the year (which indicated a run rate of in excess of half a million ounces of gold).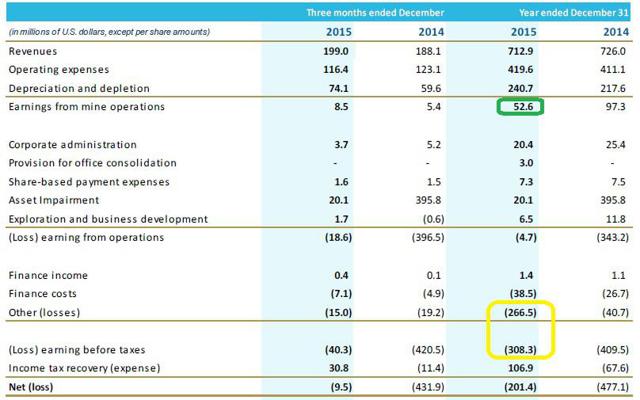 Source: press release
This high(er) production rate resulted in New Gold seeing its revenue drop by a low single digit percentage (just 2%) despite the much lower gold price. This saved the day a bit, as New Gold was still able to report a positive mine operating income. Yes, it fell by approximately 43% to $53M, but hey, a positive mine operating income is a decent achievement! Unfortunately the bottom line was showing a net loss of in excess of $201M on the back of some 'other' charges.
The full year operating cash flow was $263M which is great, but keep in mind New Gold prefers to report the interest expenses as a 'financing' activity rather than an operating activity, so the total interest expense of $52M should be deducted from New Gold's operating cash flow, resulting in an adjusted operating cash flow of $210M.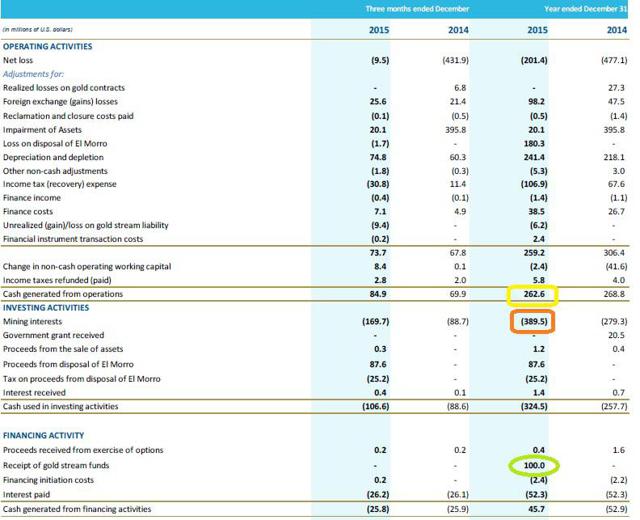 Source: press release
That's okay, but not enough to cover the $390M in capital expenditures. However, you should keep in mind a large part of these capital expenditures were spent on the construction of the Rainy River gold project in Canada. According to the fineprint in the press release, New Gold spent $241M at Rainy River which means the sustaining capex on the other assets were just $150M. So, yes, New Gold was free cash flow positive on a sustaining basis (excluding grow
New Afton remains the main driver, but perhaps Rainy River could take on this role in the future?
We have to be very honest with ourselves. If New Gold wouldn't have owned the New Afton mine, it wouldn't have been able to generate this much operating cash flow. Of the 4 mines owned and operated by New Gold, half of them had an AISC of in excess of $1000/oz whereby the Mesquite mine had an average AISC of in excess of $1150/oz. Fortunately the fourth quarter was much better for these mines as well as both the high-cost Mesquite and Peak mines were able to reduce the AISC to respectively $869 and $706/oz.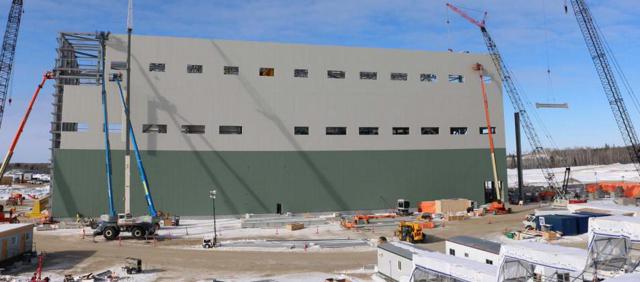 Source: company presentation
However, this seems to have been a one-time event, and New Gold is once again guiding for a full-year AISC of in excess of $1000/oz . Despite this, the consolidated AISC guidance will be $845/oz for a total production rate of 380,000 ounces of gold (once again, on the back of what will be another excellent performance at New Afton which really is a copper mine with gold as a by-product rather than a gold mine).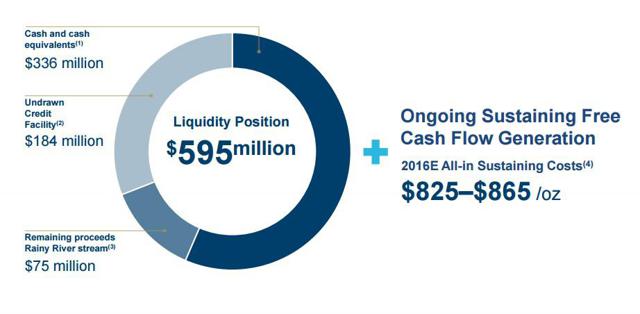 Source: company presentation
New gold also plans to spend $500M at the Rainy River gold project which will see its initial production in 2017. New Gold has provided an updated economic study based on a $1200 gold price as well as an USD/CAD exchange rate of 1.40, and the new after-tax NPV5% comes in at $759M.
However! There's something quite disturbing in the fineprint. Have a look at this:
Stream proceeds included as a net reduction to capital costs.
The NPV of $759M takes the proceeds from the streaming deal into consideration as a reduction of the up-front capex, and that's not really something I'd like to see, as this really hides the 'true' value of the project. You can't just deduct a part of your financing from the initial capex in order to boost your NPV to make your economics attractive! A streaming deal is a certain 'way' to finance a capital expenditure but is in no way a 'discount' on a capex, so I fundamentally disagree with the company's way to present the updated Rainy River NPV.
That being said, the adjusted NPV would still be positive at almost $600M (which obviously still isn't bad, although it's unclear if this does include the loss of revenue due to the gold stream), which is still good, but it's not 'as good' as New Gold would like you to believe. So, be aware of this!
Investment thesis
New Gold had an excellent fourth quarter, but the production rate will decrease in FY 2016. That's nothing to be worried about and it looks like the operating cash flow will continue to cover the sustaining capital expenditures, so New Gold should be able to 'cruise' through this year.
2017 will be a more important year for New Gold as the Rainy River project should start to produce gold, and it obviously will be in the company's best interest to make sure the ramp-up goes as smooth as possible. That being said, with a market capitalization of $1.6B, I do consider New Gold to be fairly valued and definitely not a bargain, even at $1225 gold.
Disclosure: I/we have no positions in any stocks mentioned, and no plans to initiate any positions within the next 72 hours.
I wrote this article myself, and it expresses my own opinions. I am not receiving compensation for it (other than from Seeking Alpha). I have no business relationship with any company whose stock is mentioned in this article.