Canada is the largest foreign supplier of oil and gas to the United States, and also one of its closest allies, literally and figuratively. In 2011, some Canadian petroleum companies appreciated in the double digits, while others depreciated at a comparable rate.
Many Canadian petroleum plays also provided above-average dividends, compared to the broader market. Canadian-based companies pay their dividends in Canadian currency, and are largely natural resource-backed. The Canadian dollar weakened versus the U.S. dollar during the second half of 2011 due to price reductions for various commodities such as gold and oil, and dollar strength due to European sovereign concerns.
Below is a recent performance table for seven Canadian oil & gas equities that trade within the United States (listed in alphabetical order): Baytex Energy Corp. (NYSE:BTE), Cenovus Energy Inc. (NYSE:CVE), Enbridge Inc. (NYSE:ENB), Enerplus Corporation (NYSE:ERF), Pengrowth Energy Corporation (PGH), Provident Energy Ltd. (PVX), and Penn West Petroleum Ltd. (PWE). I have included their 5-day, 2012-to-date and 3-month equity performance rates, as well as their current yields.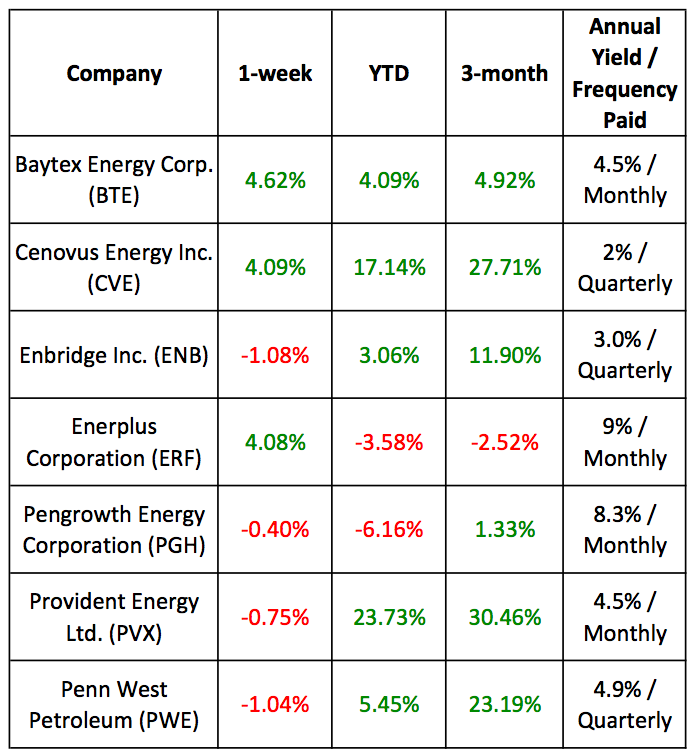 2011 was an extremely volatile year for oil prices, starting with appreciating oil on account of instability within the Arab world, some of which is still not resolved, and possibly still in its infancy. Later, oil prices declined during the late Spring and Summer on demand concerns, only to move back up again during the fourth quarter of 2011. Now, Iranian nuclear concerns are adding another potential elevating force to oil prices.
Many Canadian oil & gas equities have followed oil's recent price fluctuations over the last several quarters. The current relative oil strength could bode well for these companies, as well as for the Canadian currency. Additionally, several have significant reserves of natural gas, which some now speculate may have bottomed out after a prolonged period of decline.
So far in 2012, the best-performing listed equity is Provident Energy, which largely moved up due to the company's January 16, 2012, announcement that it will be acquired by Pembina, a Canadian oil & gas company. Provident is up 23.73% so far in 2012, and 30.46% within the last three months, not including its yield. This compares to an average YTD equity performance appreciation of 6.25% for the group.
Most Canadian oil and gas companies were Royalty Trusts ("CanRoys") before changes in Canadian law eliminated CanRoys. These trusts were similar in design to U.S. MLPs in that they avoided corporate taxes by passing most of their income to shareholders. After Canada eliminated these trusts, most of them converted into corporations. Some may need to further restructure themselves or their dividends in the coming quarters.
Disclaimer: This article is intended to be informative and should not be construed as personalized advice as it does not take into account your specific situation or objectives.
Disclosure: I am long PGH.