Parker Drilling (NYSE:PKD)
This article follows my article about PKD Q3 results published on November 6, 2015.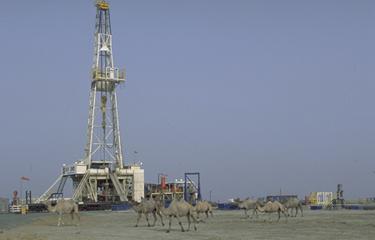 Source: Parker Drilling Rig 114.
Q4 2015 and full year 2015 Financial Snapshot (Five Consecutive Quarters)
Year 2015
Q4 2015
Q3 2015
Q2 2015
Q1 2015
Year 2014
Q4 2014

Total Revenue

in $ million

712.183
148.748
173.42
185.9
204.1
968.684
243.21

Total combined drilling revenues

$ million

465.454
98.997
116.62
121.8
128.0
620.918
150.835

Total rental tools revenues

$ million

246.729
49.751
56.80
64.1
76.1
347.766
92.378

Total operating income

in $ million

(17.338)
(20.718)
(4.547)
(7.94)
15.87
120.220
27.714
Net income in $ million
(95.073)
(35.646)
(48.62)
(14.03)
3.2
23.451
7.75
Cash and Cash equivalent $ million
134.294
134.294
104.65
116.94
113.2
108.46
108.46

Long-term debt

$ million

585.0
585.0
585.0
585.0
585.0
605.0
605.0
Earnings per share in $ (excluding special item/with)
(0.78)
(0.29)
(0.40)
(0.11)
0.03
0.19
0.06
Share outstanding in million
122.562
122.562
122.934
122.48
121.89
121.186
121.76

CapEx

In $ million

88.2
15.7
-
-
-
-
-

Adjusted EBITDA (excluding special item)

$ million

150.179
28.578
35.422
32.766
53.413
260.527
65.162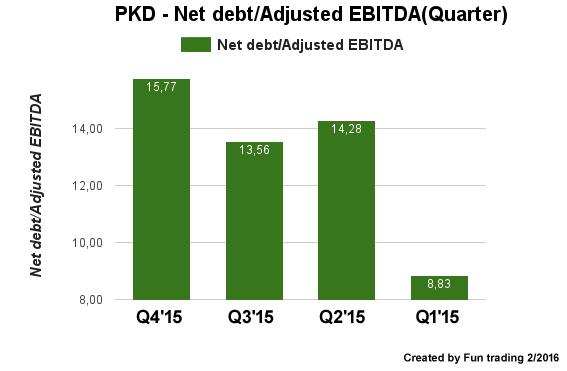 Capital expenditure in 2015 and guidance for 2016:
Capital spending in the fourth quarter was $15.7 million. Our full year capital expenditures came in at $88.2 million, as we focused on minimizing our capital spend.

Our capital expenditures in 2016 are expected to be about $50 million.
Commentary:
Parker Drilling released its 4Q'15 and full year 2015 on February 18, 2016. Revenues for 4Q'15 were $148.748 down 14.2% quarter over quarter. M. Gary Rich, CEO, said in the conference call the following:
The key takeaway is we are doing the right thing to manage through this market and our balance sheet remains strong with our yearend cash position of $134 million and liquidity of $322 million. By comparison, at the end of 2014 we had $178 million of liquidity.
The company is showing an alarming trend in revenue loss due to a continued depressed oil environment. The graph below is showing clearly this rapid degradation of the business climate.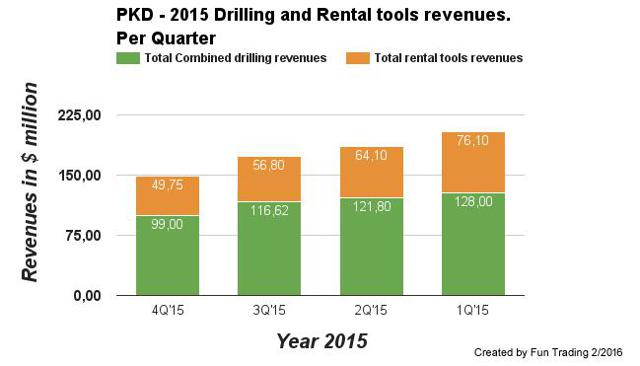 The liquidity situation start to be a subject of concern, whereas M. Chris Weber, CFO, said in the conference call:
Our liquidity at the end of the quarter was $322 million, including the $134 million cash balance and approximately $187 million available under our revolver. The revolver remains unused, aside from letters of credit.
However, due to the rapid degradation of the market outlook, the covenant relief negotiated in September 2015 allowing covenant relief until 2017, will not be enough later this year. PKD has already begun preliminary discussions with the bank regarding further covenant relief and needed flexibility.
The Net debt versus Adjuted EBITDA ratio above show a rapid degradation that will probably be even more pronounced in 1Q'16.
M. Gary Rich expects a lower revenue in 1Q'16 and said in the conference call:
As a result of the anticipated lower utilization in pricing, we expect revenues for this segment will most likely be between $80 million and $85 million with EBITDA margins near 20%... Given these factors, first quarter Rental Tool margins are not expected to be as robust as the fourth quarter.
Which means, in short, revenue for 1Q'16 will be approximately $125-$130 million, down 15% from the 4Q'15. This is not really a good omen for things to come.
Conclusion:
Parker Drilling is another struggling drilling company, with sinking revenues and reduced margin. The question is whether or not the company will be able to survive this bear cycle without avoiding some sort of debt restructuring down the road?
I do not see it as a major problem, right now, however, the company will have to re-negotiate again the debt covenants at a cost, which is not a good sign, I must admit.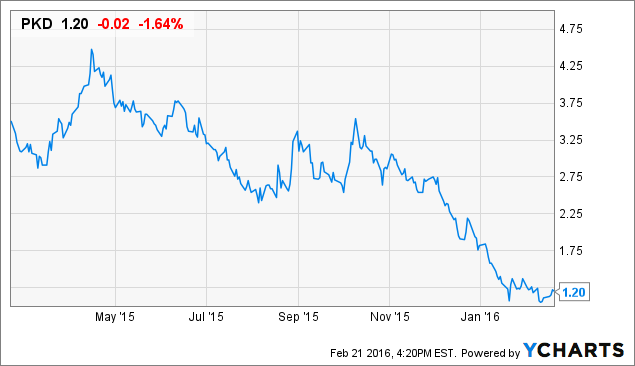 The stock price can be considered as "cheap" in the low $1-$1.20, but is it really? We will have to look at the oil prices the next few months to know if PKD has reached a support at $1 or not?
I believe a price per share in the range of $0.75-$1.10 will be attractive after the 1Q'16 results. Revenues and EBITDA are expected to go down in 1Q'16, and will put pressure again on any PPS recovery, even if oil prices can find some relief from OPEC and Russia decision to freeze production. Any PPS recovery above the $1.30 should be used to take profit.
Disclosure: I/we have no positions in any stocks mentioned, and no plans to initiate any positions within the next 72 hours.
I wrote this article myself, and it expresses my own opinions. I am not receiving compensation for it (other than from Seeking Alpha). I have no business relationship with any company whose stock is mentioned in this article.
Additional disclosure: May trade the stock at $1 or below.