In case you haven't noticed, the market is in decline. Since peaking last year, the S&P 500 (NYSEARCA:SPY) is off nearly 10% in a decline fueled by…well…a lot of things. Rather than digging into the economic and headline minutiae, let's take a step back and be little more fundamental and rational in our thinking.
Whether you like it or not, the unemployment situation in the United States is actually pretty good. In fact, this is the best gain in employment we've ever had. Check out this chart below. This is the number of consecutive months in which unemployment has declined on a year-over-year basis since the 1940s.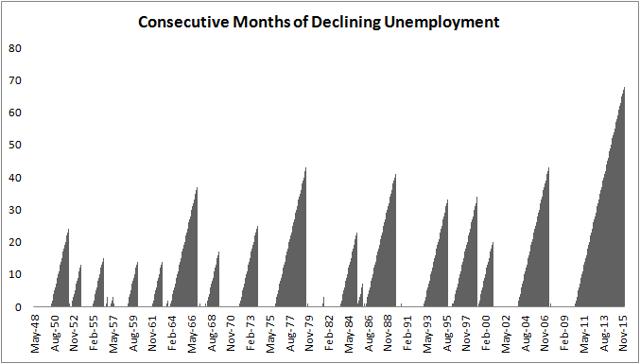 In case you need some interpretation - this is the longest period of growing employment the United States has ever experienced. This means things are rosy, the future is bright, and there's nothing but candy at the end of our rainbow…right? Wrong.
You see, when we peal back the market statistics and dig into the numbers, we've got some trouble looming. Even though we are in a statistical no-man's land with the recent gains in employment, we can still ask the market some probing questions. For example, what happens when we've had historic gains in employment and then things "fall back to earth" and unemployment increases? In other words, what happens when that chart above switches from a grey shaded region to nothing? Bad things. Using market data for the past 68 years, we can definitively say that in the past, when unemployment rises after 3 or more years of gains, the market return is negative for the next 2 years. In other words, if the past is even slightly indicative of the future, we may see negative returns in the stock market as soon as unemployment starts ticking up.
But will unemployment actually start increasing? It is my belief that it will. You see, the Federal Reserve just increased rates. This simple action has profound implications for the business cycle. When companies pursue projects, they evaluate the economics of a project against the risk-free rate of return. If a project surpasses the risk-free rate of return by a certain threshold, then projects can be pursued. When projects are pursued, capital is invested and workers are hired. However, when the Fed increases the risk-free rate of return, projects get squeezed as fewer meet the criteria for inevitability as determined by companies. In other words, the Federal Reserve's actions will impact unemployment. This, coupled with nearly $400 billion in energy-related projects cancelled due to the energy complex getting crushed over the last yea, strongly indicates that we're about to see an increase in unemployment.
"But wait, does this really impact stocks THAT much?" you ask. Thank you for asking. Unemployment is highly correlated with the stock market. In fact, it is one of the strongest correlations I've ever seen for predicting S&P 500 returns. Here's a chart. Glance at it and sync up with me below.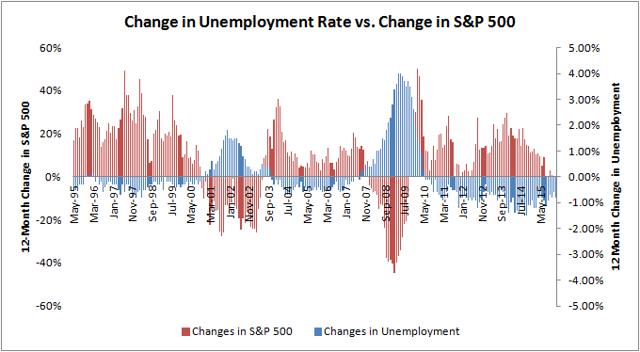 The relationship is pretty clear. When unemployment rises, stocks fall. When unemployment falls, stocks rise. In other words, the economy actually does have a tangible, measurable impact on the market. I strongly believe we're about to see a gain in unemployment. I don't know when, but I believe it will start reflecting into the numbers within the year. It's simply impossible for a whole sector of the economy to be decimated, projects to be squeezed around the world, and unemployment to continue decreasing. When unemployment begins to increase, stocks will fall. As you can see in the chart above, we're already headed that way. The cycle is changing - will you be positioned to capitalize on it? It really is time to be flat or short the S&P 500.
For a specific recommendation, I believe the most applicable instrument is the S&P 500 ETF. This instrument directly tracks movements in the underlying S&P 500 index and offers a direct participation method in market movements. Alternatively, a position in a long-dated put option or shorting an outlying futures contract allows additional participation options. Regardless, I believe the fundamentals strongly indicate that shorting or avoiding the S&P 500 is the best course of action.
Disclosure: I/we have no positions in any stocks mentioned, and no plans to initiate any positions within the next 72 hours.
I wrote this article myself, and it expresses my own opinions. I am not receiving compensation for it (other than from Seeking Alpha). I have no business relationship with any company whose stock is mentioned in this article.