In a previous article, I hypothesized that shares of Ford (NYSE:F) could go to $17 in 2016. Needless to say that event has not yet occurred but the prediction is as valid today as it was a few months ago. The company is producing results, results not appreciated by the broad market, and will drive share prices higher in the foreseeable future. Here are 7 reasons why I think this stock could see gains of 50% or more over the next 12 months.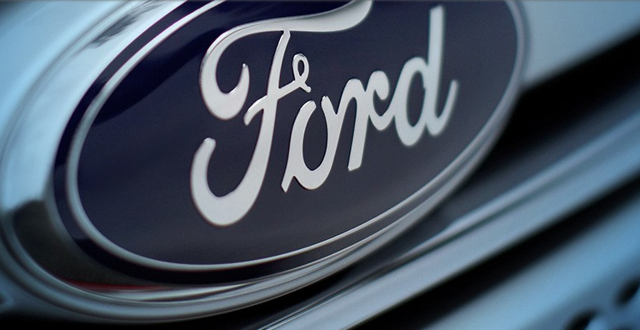 Earnings And Guidance Are Strong
Earnings are only one reason to like Ford. The recently released 4th quarter report showed a jump in profits on strong sales. Reported 4th quarter EPS was a full $0.08, or 16%, better than expected with a nearly 100% increase in operating margins. For the full year, pre-tax profits hit another new record resulting in a 20% increase in after-tax profits available to shareholders.
As for guidance, the company is expecting operating profits, automotive revenues and operating margins to be at least equal to or greater than in 2015. Based on the strength of the US auto market, strong sales in China and Europe, and initiatives to cut costs, I think this guidance is conservative.
The US Market Is Strong
The US market is strong and not showing any signs of slowing down. Full year 2015 sales hit a record, full year 2016 sales are expected to hit another new high, above 18 million, and this is expected to continue into at least 2017 with estimated sales above 18.5 million.
Sales are led by trucks and SUVs; Ford of course owning the top selling brand, the F-Series, along with another 4 vehicles among the top 20 most popular in America. Ford has been able to maintain market share throughout the year, above 15% for 2015, with January's share reported at 15.1% by Edmunds.com.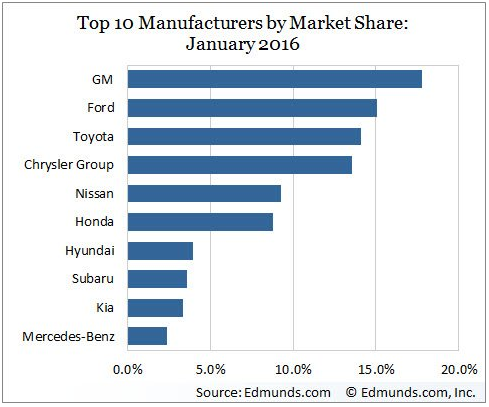 The European Market Is Strong
The European auto market is strong and gaining strength. Recently released data shows that EU sales were up 9% in January after gaining 16% in December. This makes January the third consecutive monthly increase and above the average monthly sales level for all of 2015. On a year-over-year basis, January sales were up more than 10% from January 2014.
2015 marks the third consecutive year of increasing sales in the EU economic arena, up 7.5% from the previous year. Strength was led by SUVs and trucks, with a strong showing from commercial vehicles as well. Market share in the region jumped 0.4% to 7.6%, not the highest the company has boasted for the region but consistent with the four-year average.
The Chinese Market Is Strong
Data from China is also promising. January sales figures show that Ford's sales increased 36% in January, following a 27% increase in December, despite financial market turmoil in the world's 3rd largest and fastest growing economy. The partner in the region, Changan Ford, saw sales rise more than 58% in January following a 49% increase in sales for December.
Looking forward, sales in China are only expected to increase, even with a recent downgrade of the auto market. Predictions for the next three years show an average yearly increase of 15% for the Chinese market and Ford is sure to benefit from this.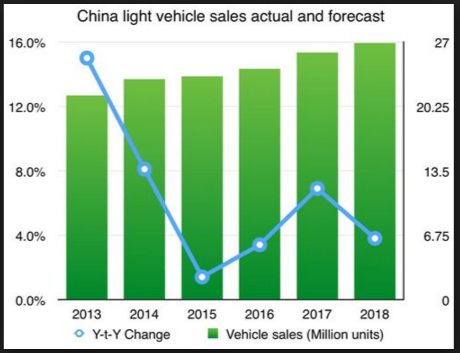 Cutting Costs And Streamlining Operations
Ford has announced several measures in recent months that will help the company to streamline operations and cut costs. One is the expansion of operations in Mexico with the addition of a new plant. The plant will allow the company to shift some of its jobs to Mexico, avoiding a costly new labor deal and allowing the US factories to focus on the more profitable F-Series and SUVs demanded by the market.
Another is a move in Europe to cut several less than popular models from the line up. This will allow for a smaller work force and is estimated by the company to save up to $200 million in annual costs.
Yet another is the decision to cease production and sales in Japan and Indonesia. These two regions have long been a thorn in the company's side as they are not profitable due to intense competition from Takata (OTCPK:TKTDY) and Toyota (NYSE:TM).
Karen Hampton, Ford's Asia/Pacific spokesperson, said this in an emailed statement. "It has become clear that there is no path to sustained profitability, nor will there be an acceptable return over time from our investments in Japan or Indonesia..." Ford is committed to restructuring parts of its business that "have no reasonable path to achieve sales growth."
Earnings And Performance Are Undervalued
Relative to the broad market all this performance is grossly undervalued. The S&P 500 is only expected to see earnings growth in the range of 5% for all of 2016 and is trading at nearly 15X forward earnings while Ford is stuck at only 6.25 forward earnings.
In terms of analyst estimates, Ford has seen a marked increase in earnings estimates for the current quarter, next quarter and full year 2016 over the past 90 days while the broad market has seen a greater than 50% decline in 2016 earnings expectations.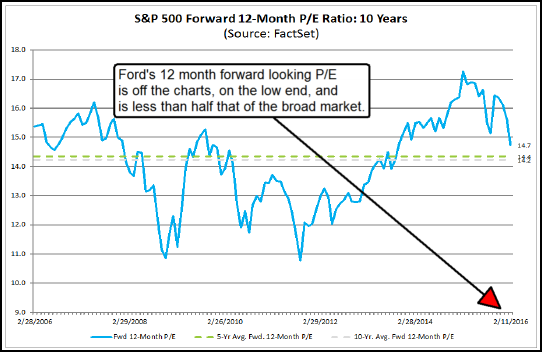 Ford is also undervalued relative to itself. The company has traded in a range of 2 to 59 times forward earnings over the past 5 years with an average of 13.45. While the valuation is not as low as it was post 2011, it is at the low end of the historic range and half that of the average. Based on valuation, and expected strength over the next two years, shares of the stock could easily double if not more.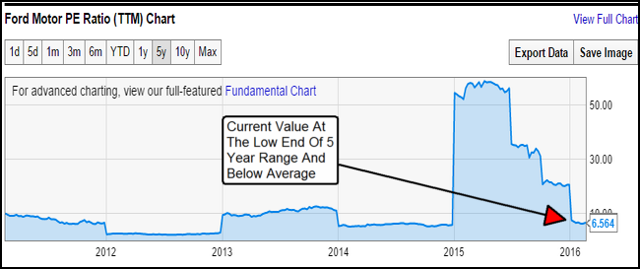 Dividends Are An Added Bonus
The company has paid a steady, stable and rising distribution since the board reinstated the dividend in 2012. Each year, as the company improves performance and earnings, the distribution increases. It doubled from 2012 to 2013, it increased 25% from 2013 to 2014 and gained another 20% in 2015. So far, in 2015, regular distributions have remained steady from the 2015 level, but a special dividend of $0.25 ups the annual payment by $0.41.
Based on company guidance for 2016, I think it not unlikely we see an increase in regular distributions and/or another special.
Summing It All Up
Ford is performing better than expected, and showing steady growth on a year-to-year basis. The 3 largest markets the company operates in are at record sales level and expected to increase these levels over the next two years. The company is taking steps to control costs and streamline operations. The dividend is stable, healthy and growing. And all this while the stock is trading at a deep discount relative to the broad market and at the low end of its valuation range. Basically, Ford is a strong buy in my opinion at these levels and could easily see a gain in share prices of at least 30% if not 50% or greater over the next 12 months.
Disclosure: I am/we are long F.
I wrote this article myself, and it expresses my own opinions. I am not receiving compensation for it (other than from Seeking Alpha). I have no business relationship with any company whose stock is mentioned in this article.