If headlines within the multi-level marketing industry haven't caught your eye lately, I think the best (ugliest) is yet to come. I'll start with the mother-ship, privately owned Amway. Recently, it was reported Amway's 2015 sales declined 12% year-over-year. Amway Chairman Steve Van Andel noted one factor in the decline was "an increasingly competitive environment in China." This could be particularly troubling for Herbalife (NYSE:HLF), given China, as of lately, has been the only region keeping Herbalife's head above water. See below for Q2 and Q3 2015 sales and you'll see a decline in EVERY region except China:


Looking at NuSkin (NYSE:NUS), you'll see a similar decline in every geographic region (including China, down 8% YoY), which certainly goes to show the multi-level marketing industry is in some serious trouble: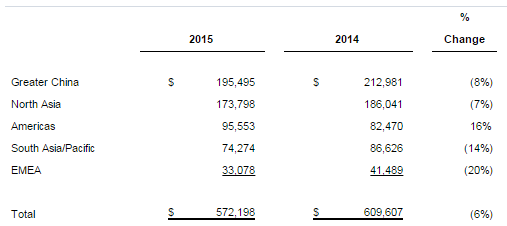 Also noteworthy is Avon (AVP) - revenue down 20% YoY, and Tupperware (TUP) - down 12.4% YoY. Am I the only one questioning whether Herbalife and NuSkin management are trustworthy given their continuous references to anticipated "return to growth?" I'm a little more on board with the thought that the multi-level marketing industry as a whole is simply a dying fad, with or without regulatory intervention. It remains to be seen whether the FTC has already set the stage for the future of the industry, given their recent enforcement action against Vemma.
Herbalife is next up to bat, reporting earnings on February 25 after market close. Personally, I think it's crazy to expect anything impressive in terms of revenue, given weight on the industry, regulatory scrutiny/overhang, as well as the fact that China revenue has been the only saving grace for the company in prior quarters. If Herbalife does meet 2015 guidance, keep in mind it reflected a 2.8 to 3.5% decline in volume points YoY (decline in net sales 11.1 to 10.4% for those not familiar with volume points), and their 2016 guidance of +3.5 to 5.5% volume points seems extremely farfetched.
News recently broke that Icahn Enterprises (NASDAQ:IEP), Herbalife's top shareholder, may soon be downgraded by S&P to junk status given their 46% decline during the past year. Once the news hit the tape, the fund fell another 12%. Given Herbalife (what many believe to be a house of cards) has until recently managed to deliver as one of Icahn's top performers, an ugly Q4 for could be the catalyst that pushes Icahn Enterprises over the edge. Bill Ackman (famed Herbalife short seller) could very well have the last laugh. With or without Carl Icahn and/or Bill Ackman, I don't see a bright future for Herbalife. I've positioned myself accordingly.
Disclosure: I am/we are short HLF, NUS.
I wrote this article myself, and it expresses my own opinions. I am not receiving compensation for it (other than from Seeking Alpha). I have no business relationship with any company whose stock is mentioned in this article.