Greenlight Capital Re (NASDAQ: GLRE), a Bermuda-based reinsurer that was started in 2004 under the premise that a P&C reinsurer can generate superior returns by partnering with a hedge fund manager (in this instance, David Einhorn's Greenlight Capital) by leveraging its investment capabilities.
Since its operation went into full effect in 2006, GLRE has produced substantial lower returns for shareholders and, worse, at over twice the volatility, measured by standard deviation on net ROEs. Company has stressed its dual-engine capability, which is supposed to produce returns on both sides of balance sheet; that did not work out as planned. Looking at its historical combined ratios, it has averaged about 103%. In the past 10 years, Greenlight Re has not been able to deliver on its promise, which, when coupled with deteriorating reinsurance market, should cause investors to think twice before investing in the name.
Subpar Investor Returns
When David Einhorn first started Greenlight Re, its business model was still relatively untested. As a matter of fact, it was rumored that it was primarily him and his own friends and families who forked in roughly $200mm to start the company. It was an exotic idea and most people invested because it's Einhorn. Also, GLRE was the first one in the space who successfully secured an AM Best rating in 2006 to write substantial volume of premiums.
I personally think the novelty of this business model finally weared off in 2015 when the investment portfolio generated substantial losses (also in 2008 during crisis), leading the stock to start trading below book value (see chart below as of 2/19/16), which I believe is warranted.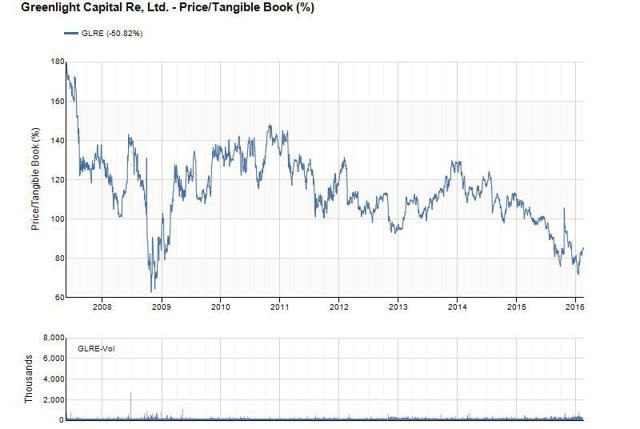 Historically, the company almost always traded above book under the belief that Einhorn can generate greater return on the assets side even when the insurance business writes at 100 combined (i.e. breakeven) or slightly worse because the high investment return would compensate for the loss making insurance operations. We talked about the operating leverage and the basic economics of how a P&C reinsurer would work in my article on RenassianeRe (NYSE: RNR). Here is a direct comparison below on GLRE and a traditional P&C reinsurer (RenRe). We can see the power of investment leverage here. But, when investments fail, such as 2015 and 2008, losses can also be astronomical. Nine months to date in 2015, combined ratio hit 116% and -16.9% return on the investment side, which led to $283 million in losses in those nine months alone. To put it in perspective, common equity was $1.2bn at 2014 year end - essentially Company and Einhorn lost 24% for public investors.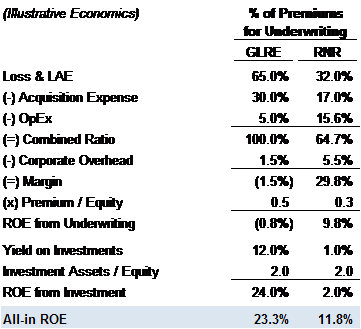 Let's also compare GLRE's Net ROE against its peers - a true testament if the dual-class engine works or not. We observe that, on average, GLRE's average return on equity was only 6.5% from 2006-9M2015 while its peers delivered 12.3% from 2006-2015. What's worse is that the volatility of returns is 2.6x higher for Greenlight Re.

Now, for people who invested in the IPO in May 2007, they would have gained a meager 5%, while the S&P 500 was up 26% as of 2/19/16. Please see chart below.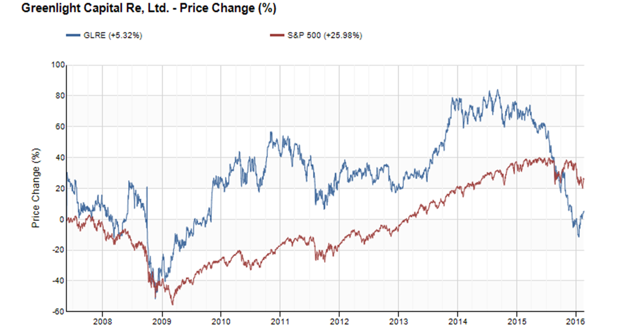 Below-average Underwriting
On the underwriting side, we observe that the Company seems to be busier focusing on generating float for the hedge fund, rather than exercising discipline in finding risk adjusted reinsurance risks. From 2006 till now, average combined ratio for Greenlight Re was 103% while its peers produced about 86% - a substantial spread.
Also, if we look closely in their latest 10-K filings (2014), Greenlight Re has been taking unfavorable reserve development since 2010. Management claims that it's due to uncertainty around reserve development. We all know that's the nature of insurance business. But 5-year in a row development is quite unacceptable. This suggests aggressive reserving methodologies that should be overhauled or further reviewed by management.

Aggressive Investment Portfolio
The company also failed its investment objective. In its latest investor presentation, management has long proclaimed capital preservation as a priority. We witnessed an investment loss reaching almost $240 million in nine months to date. In Einhorn's latest disclosures, his Q4 letter reported that the fund lost 3.8% in the quarter and 20.2% for 2015. But further troubles continued in the first couple months of 2016, with S&P down 7% as of 2/19/16.
Based on GLRE's latest quarterly filings, the investment portfolio consists of 81% equity securities, 9% other investments (mostly commodities and private and unlisted equity securities), and the remainder is in debt instruments. For capital preservation, I may argue that this construction of portfolio is quite aggressive for a short-tail risk underwriter. If we look at RenaissanceRe, its portfolio is made up of 75% fixed income, 4% equity, and remainder in short term securities.
Challenges Ahead
As I previously mentioned in RenaissanceRe's article, reinsurance rates have been under tremendous distress, with property catastrophe pricing down 30%+ in just two years. At the same time, there's an abundance of capital chasing after the same risks, driving down underwriting returns for the entire sector. Property catastrophe specialist RNR even admitted that sustained rate hardening is nearly impossible given overcapacity and the amount of capital available which can enter the market quickly with nearly no friction.
Also, in the space, Third Point Re (NYSE: TPRE) is another replica of Greenlight Re. This would only heighten competition. Third Point Re's stock also traded down significantly, currently below book value as well.
Conclusion
Greenlight Re started as a novel concept with an objective of amplified returns through the dual-engine business model, which has back fired given recent equity market turmoil. Some may argue that investing in Greenlight Re is no different than getting exposure to a well known hedge fund manager. But as we can see from the past ten years (that's enough of data points), we see subpar ROEs and much higher volatility. If you ask me if it's worth the hype, I argue not, because it does not create incremental returns for shareholders.
Disclosure: I/we have no positions in any stocks mentioned, and no plans to initiate any positions within the next 72 hours.
I wrote this article myself, and it expresses my own opinions. I am not receiving compensation for it (other than from Seeking Alpha). I have no business relationship with any company whose stock is mentioned in this article.
Additional disclosure: Readers are advised that the material contained herein should be used solely for informational purposes. Readers should conduct their own research and due diligence and obtain professional advice before making investment decision. We will not be liable for any loss or damage caused by information obtained in our materials. Readers are solely responsible for their own investment decisions.