Intro
SVB Financial Group (NASDAQ:SIVB) is multi-faceted holding company that consists of three primary operating segments: a Global Commercial Bank, SVB Private Bank, and SVB Capital.
The Global Commercial Bank provides services, usually loans, for SIVB's commercial clients.
SVB Private Bank provides services for SIVB's private clients, usually private equity/venture capitalists.
SVB Capital is in charge of SIVB's capital expenditures and fund management.
Company Strengths
SVB Financial has made its fortune primarily through commercial loans to companies within the tech and life science industries. Only 6% of its portfolio is invested in startups, but through this 6% it was involved with 50% of all venture-capital-backed tech and life science companies in America, and 47% of U.S. tech and life science companies with an IPO in 2015.
These are significant numbers. They show SIVB is not only diversified within these two industries, but is directly involved in its future.
It should also be noted that SIVB has been able to keep its NPA ratio consistently low, roughly .45% over the last 5 years (starting in 2014). It jumped to roughly .75% near the end of 2015, but is still much lower than the U.S. average NPA of 1.7%.
One pleasant anomaly to note is the bank's liquidity. In 2014 its loan/deposits ratio was 41% which is down about 8% from the year before. Compared to its competitors, SIVB is ultra-liquid. In comparison, M&T banks L/D ratio was 89% in 2014, and Wells Fargo's was 74%. Some may argue that this is indicative of SIVB failing to reach its earnings potential, but with the current economic environment I like to see the safety that this ratio provides.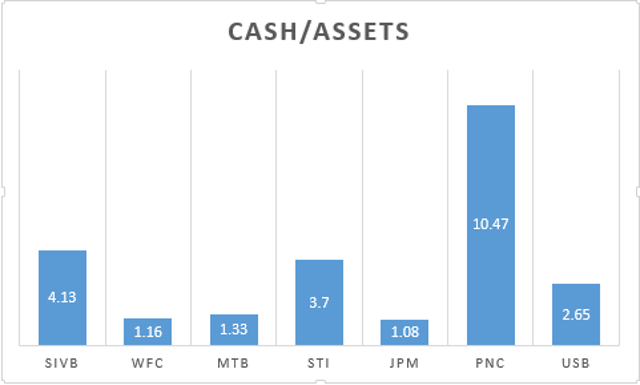 Adding to its deposits strength, is SIVB's sizable cache of cash. With $1.79 billion on the books, its cash/assets ratio is 4.56%. This is greater than many of its competitors, with the exception of PNC.
Again, a large amount of cash on hand is almost always a good thing to have.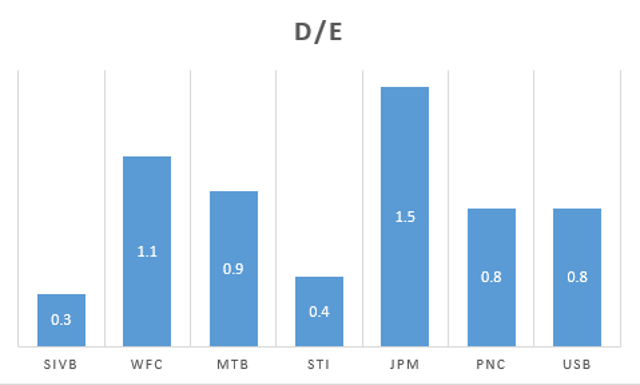 Further down the balance sheet we see that SIVB has one of the lowest debt/equity ratios in the industry at .3. Besides hinting at a stable company and decreasing the amount of money leaving the company due to interest payments, low levels of debt provide a great deal of flexibility for the company in the future. If and when adverse events happen, they will have the option to be able to continue to fund growth and operations through debt issuances. A company with high debt would not have this option.
Finally, SIVB has streamlined its expenses, decreasing its efficiency ratio by 20% over the last 10 years. At 60% in 2014, it could be sitting lower, but the trend is in a healthy direction. The lower the efficiency ratio the more money for growth, and for you and me.
Headwinds
There are three major headwinds facing SIVB: Federal interest rates, the startup economy, and increased legal regulations.
First up, the Fed. A huge source of revenue for banks is made off of the spread between the interest rates they pay on deposits and the Fed's interest rate. Rosy rate projections lead to rosier profit projections and vice versa.
After the Fed raised rates for the first time since 2006, by 25 basis points in December of last year, banks were hopeful of another raise later this year. Now head chairwoman Janet Yellen has talked about taking American negative. It seems like this is an unlikely scenario, but if the U.S. did follow in the footsteps of Japan and the EU, it is certain that bank revenues would take a big hit.
SIVB would be no exception. Lowering short-term rates by 25 basis points could cost the company roughly $17 million in net interest income.
Failure in the economy, specifically the startup economy, could have similarly negative results. In fact, it is quite possible SIVB may experience decreasing opportunities for venture capitalism in the near future.
Wells Fargo senior economist, Mark Vitner, has found that business in general has been on the downtick in California. He cites high operating costs and regulatory burden as the most likely cause. On top of this, the number of capital rounds has decreased, possibly indicating a slowness in the emergence of new companies.
Lastly, legal regulations. In this category there are two main issues. The first is the Volcker Rule and the second is SIVB's quickening approach towards $50 billion in assets.
The Volcker Rule will be implemented in 2017, with a possible extension until 2022. At the end of 2014 SIVB had $338 million (aggregate fair value) invested in a manner that violates the Volcker Rule. When the rule is implemented, SIVB will need to terminate these investments.
The second issue will occur when SIVB accumulates $50 billion in assets. When the bank reaches $50 billion in assets, it will be held to stricter government regulation. Because of this SIVB has publicly stated it is aiming for a Tier 1 leverage ratio between 7 and 8 percent. In its 4th quarter earnings report for 2015, it talked briefly about possibly raising debt levels to hit this target. This would mean higher debt and possibly a lower share price.
Addressing Headwinds
All three of these issues may have adverse effects on SIVB's revenue stream and put downward pressure on the stock price over the next couple of years. However, I believe SIVB has positioned itself to continue to grow and gain value in the long haul.
SIVB has a high level of liquidity, cash, and low levels of debt. On top of that, it is primarily invested within two industries which are necessary for our wellbeing and an integral part of our society.
I believe that because of this, SIVB has the longevity required to outlast razor-thin interest rates, depressed economies, and new and restricting legal regulations while maintaining a relatively stable and healthy company. However, it is very possible that these issues will eat away SIVB's revenue, causing negative growth both within the company and the share price.
What than will drive the company's growth?
The answer is foreign development.
Growth
SIVB began global operations in 2004. Since then, it has yet to gain more than 10% of revenue from its foreign branches.
However, besides SIVB's recent decision to sell its Indian branch, a decision most likely caused by its partner's decision (NYSE:HSBC) to shut down its private banking business in India, growth has proliferated.
In 2012, SIVB launched a branch in the U.K. as well as partner with the Chinese Shanghai Pudong Development bank. In GDP terms, China is the second largest economy in the world, and the EU is home to a number of countries in both the top 40 and top 10.
SIVB also recently acquired its local currency license in China. This means that SIVB will be able to operate in China solely using the renminbi. According to the China Bank Regulatory Commission, SIVB is part of only a small handful of U.S. and British banks to achieve this.
A more tangible look at SIVB's growth gives us the following numbers.
In 2013, (not sure the percentage) global client count increased by over 700 clients. Over 500 of which were recruited in the only 18-month-old U.K. branch.
In 2014, global client count increased by 60%. This means SIVB gained more than 1,000 clients internationally.
In 2015, global client count increased again by 33%.
After only 11 years, SIVB has not only prepared the way for further success in a number of the world's largest economies, but has demonstrated admirable growth in the process. I fully expect this growth to continue at a rapid pace and be the primary catalyst of company value in the future.
Conclusion
In conclusion, SVB Financial Group is involved with two industries that I am confident the world will need for a long time to come. SIVB also has experience and achieved success as venture capitalists. There will always be innovation, even though it may falter, and the need for those to fund it.
The company certainly faces some strong headwinds in the coming years, but it has the money and equity to deal with it while still being able to fund its own company growth.
The investor may want to observe this company over the next couple of years, specifically its global operations and response to headwinds, but I am bullish on SIVB in the long term.
Disclosure: I/we have no positions in any stocks mentioned, and no plans to initiate any positions within the next 72 hours.
I wrote this article myself, and it expresses my own opinions. I am not receiving compensation for it (other than from Seeking Alpha). I have no business relationship with any company whose stock is mentioned in this article.