Most investors enjoy taking a little bit of their play money and placing a bet on a speculative stock or other investment vehicle in order to get a big pay out. But over the last couple of years, younger investors in particular have appeared to move beyond that and are rolling the dice on one of the most dangerous speculative investments there is the VelocityShares Daily 3x Long Crude ETN (NYSEARCA:UWTI).
The problem is even among speculative investments there's a measure of safety that should be considered. Also, since there is so much money being thrown at UWTI, this seems to be more than speculation, it looks like it's becoming an investment fad that could do a lot of harm to younger investors, especially if they take a relatively big loss as measured against their net worth and try to recoup it by throwing more capital at it they can't afford to lose. This is happening among Millennials, as Bloomberg recently reported.
What is most concerning about this to me is Millennials have had trouble coming up with enough money for a down payment to acquire a home. Where are they getting the money to invest in something as risky as UWTI since they're so low on cash? They're finding a way to put together the capital, as evidenced by the average 3-month daily volume of 91.4 million.
For those considering getting into this ETN because you heard of someone making a killing very quickly - don't do it! There are far more people losing money on this ETN than there are making money. The negative 100 percent return since it launched is proof of that.
source: Bloomberg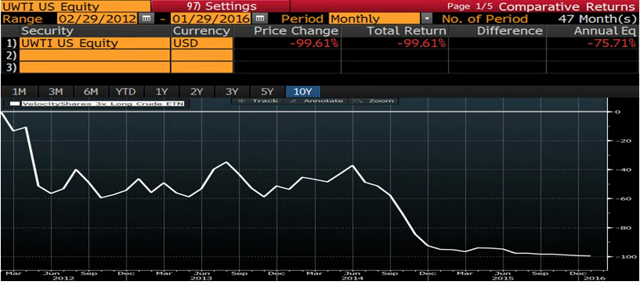 Danger is volatility and roll costs
When thinking in terms of taking a position in UWTI, there are several things an investor should know. The first and most important is these types of investment vehicles are built to be held for only about a 24-hour period or less. The longer it is held the less it acts like it was intended to when developed.
The ETN is leveraged at 3X, but that is only something that is reliable over a period of 24 hours. After that the 3-for-1 exposure falls apart. That is probably more important to understand about this type of investment and others like it than anything else.
As for leverage, which is the primary catalyst for its volatility, it is reset every day. That can be great for those enjoying an upward move in oil, but if the ETN is held over a period of time, and the price of oil reverses direction, returns can and do quickly erode.
Oil is already extremely volatile. Add to that this highly leveraged product and an investor is playing with fire. The problem is if there if a bet is made and there is a quick loss, some investors will be tempted to remain in so they can recover those losses. This can make it much worse than it would have otherwise been.
Leverage works great for those that get lucky, but it's a disaster for those getting in at the wrong time. In other words, this isn't an investment, it's more like a casino. Remember, the House always wins, not you. Just because there are people that occasionally beat the House and brag about it doesn't mean anything has changed with the averages. The same is true with UWTI.
Another consideration is the roll costs weighing on the ETN. These are added because of the costs associated with tracking front-month oil futures.
Taken together, the volatility now inherent in the price of oil, combined with this extremely volatile ETN, only increases the possibility of great losses. I know some will argue there's also a chance to make some huge profits. Yes. That's true. But the risks far outweigh the potential rewards with this type of investment. Remember, since the inception of this ETN it is down almost 100 percent.
Still that hasn't stopped investors from piling into the ETN. Since January 2015, inflows have been around $2.4 billion, with well over $700 million of that coming since January 2016. About a third of that came in one day when the headlines suggested production cut deals were in the works.
Psychology of these types of investments
I mentioned earlier that even among these risky investments there are those that are much safer than others. For example, a number of years ago when silver was making its long-term upward move, I invested in a similar type of investment; although it wasn't at the same risk level as UWTI.
What was different is silver, being very volatile itself, could be fairly accurately measured as to its price movements. I had been tracking it for awhile and knew the industry very well. I placed short-term bets on the upward movement and the same with downward movement; although not at the same time.
It worked out very well for me. At my best run I had fourteen straight winning positions. You probably know where I'm going with this. Once this starts to happen, it's easy to start thinking you know what you're doing in a way someone else doesn't. The market can quickly remove any of that out of you. It did with me. Eventually I experienced what anyone playing with volatile investments do: I had a couple of bad days, where a significant portion of my gains were eliminated.
The point is if we do have some wins, we psychologically start feeling good about our "expertise" in making the right picks and choices. We start to become legends in our own minds. I think most of us, in some capacity or another, embrace that attitude at some point during the investment process. Volatile stocks or other securities can quickly humble us. Hopefully it happens before it costs investors everything.
On the other side of the psychology, a big loss can turn someone off from long-term, patient investing because they interpret the market from the point of view of these volatile investment vehicles. This is why it's best just to stay out of them.
Taking a position in volatile stocks can be exciting. It's not like the usual investing which has as much drama as turtles racing against one another down a long stretch of flat land, which is what most investments in truth should be. For that reason these types of volatile stocks attract those looking for some excitement, based upon the stories of those making a killing in less than a day. The problem is all the losses the rest of those taking a position in them experience are ignored.
The problem with oil at this time
I've been writing about oil for over a decade now, and when U.S. shale became a significant player, it changed the industry forever. Everything that had been counted on and fairly predictable in the past, has been disrupted. This is why the price movement of oil has been so volatile, even as it has continued on its downward spiral.
We are still in the middle of the disruption, and conflicting reports and signals from traditional oil powerhouses like Russia and Saudi Arabia, add to the uncertainty of how the market will deal with the low-price environment, if it can or does at all.
This has created the volatile environment for huge swings in UWTI and similar types of ETNs, beyond the usual volatility associated with these types of leveraged investment vehicles. This is where the huge gains can get exciting, and what attracts even more speculators or gamblers to take a position in them. It's similar to lotteries when the payout gets higher and higher, even though the chance of winning is reduced.
What is attractive to players at this time is the assumption the price of oil has nowhere to go but up. It appears many are betting what available capital they have on this unproven thesis. Oil has recently found support on headline-driven fictions of an inevitable deal between major producers to cut production. This is after Saudi Arabia has said over and over it won't cut production, but will let market forces work the low price of oil out. With fundamentals not driving the price at this time, it's going to come crashing down once again once investors understand the idea of a production freeze isn't going to lead to a reduction in output. Even a production freeze is based upon all major producers agreeing to take part. It's not going to happen.
Conclusion
I have no idea if oil has found a bottom yet or not, but I do know all the hype about a production deal being in the works isn't how it'll work out. What doesn't the market understand about Saudi Arabia saying it won't cut production? Iran has said the same. That means eventually the price of oil will come plummeting down once again. Only floating the idea of a freeze of cut in production has artificially moved the price of oil up. Believing it will lead to a supply cut deal is what has kept it there for a few days. That will unwind fairly quickly.
For that reason, many investors in UWTI are going to get hammered over the next couple of weeks. Sure, the volatility in the price of oil will remain because the price has been strongly responding to headlines, even if they're not based in fact or reality. That means a few lucky speculators will make some nice, temporary gains, while the rest will get crushed. Once a big hit is experienced, it's hard to get the capital back by further investing in that same product. Those doing that can lose even a lot more money because they don't know the market or understand what's driving the price of oil at this time.
If there was a predictable upward movement in the price of oil, some of this would make sense, but within this low-price oil environment coming as a result of a disruption from the new shale competitors, we have no idea what the market will look like in the future, and how it will impact the price of oil over time.
Eventually the price of oil will come back some, but to what level and at what pace is not discernible yet. If oil demand remains subdued like the market suspects at this time, and production continues at current levels or even increases, oil could remain extremely low for a year or two more.
Those betting on a raise in prices could lose all the extra capital they have when they could be putting it into stocks that have a much higher chance of success over time. It may not be as exciting, but it should preserve capital while generating a consistent return.
Disclosure: I/we have no positions in any stocks mentioned, and no plans to initiate any positions within the next 72 hours.
I wrote this article myself, and it expresses my own opinions. I am not receiving compensation for it (other than from Seeking Alpha). I have no business relationship with any company whose stock is mentioned in this article.