Ford (NYSE:F) has been a very average stock over the LTM. While investors were continually disappointed with the volatility that was hitting the stock despite the company's strong performance, I started to take a look at the equity myself to see if it was an attractive LT addition. There are three reasons I am currently picking up Ford in my portfolio: the favorable economic data after a record year for the company, a sizeable dividend, and a greater risk/reward scenario.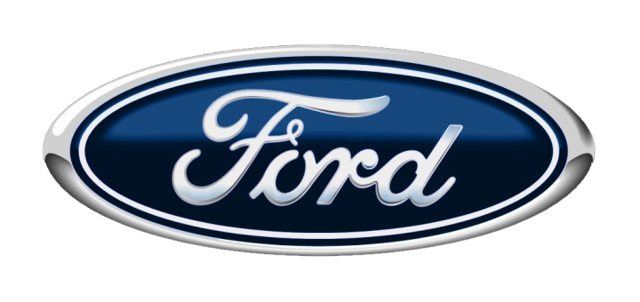 1. The Economics Are Supportive
In Europe, we have the company increasing its market share by 40 bp to 7.1% YOY, with car registrations up 11.4% in January. More importantly, perhaps, is that sales were up 10% in January for Ford Europe. That's exceptional when we start to think about the fear that has begun to swell around the markets, with the word "recession" continually in headlines. Additionally on the global scale, we'll start to see a small reduction in operating costs as Ford adds more production in its two factories in Mexico, at San Luis Potosi and Mexico City.
While there's no denying the fact that corporate earnings across the broader market have begun to decline, we look to Ford's bottom line to provide us with some relief. Ford grew adjusted EPS from $0.24 in Q1 2015 to $0.80 in Q4 2015, with adjusted net income showing an increase on the same time frame from $1.04 billion to $2.18 billion. These are two notable statistics that warrant a buy, in my opinion.
Furthermore, I know individuals are concerned about the 2.6% decrease in U.S. vehicle sales YOY for January, with the F-Series being a laggard. We can call it an anomaly month due to warmer weather, or we can accept that it happened and look 12 months forward to when the company will already have an easier comp set in stone. The report has likely already been priced into the stock.
I believe investors are too quick to forget that this is the company that sold a record number of vehicles last year at 17.5 million. This is also the company that generated $5.5 billion more in net income YOY to end the full year 2015 and this is the company that more than tripled revenue in 2015. Understanding that Ford has the capacity to continue to perform and generate strong earnings makes the stock look favorable to me. Naturally, a year like that would warrant a surge in Ford's stock, but this is a low beta stock and the S&P 500 was, and continues to remain, volatile, as the broader market is weighed down by factors not directly related to Ford, like lower for longer crude oil prices.
Below are some of the excellent 2015 financial results:

Source: Ford Q4 PR
Naturally, Ford is projecting a sizeable demand from consumers, especially domestically, over the next few years considering they're launching four new models. From a mature company like Ford, I have to see growth catalysts and an initiative like this shows me that management is confident in the multi-year outlook for car consumers.
2. The Dividend Is Attractive
I'm a college junior, so that largely means I have a higher risk tolerance than most investors; however, I recognize the value that current income can have in a portfolio, especially if the dividends are collected over a long period of time and reinvested. Ford is sporting a dividend yield of 4.97% on a 3Y net growth rate of 50.37%. I want that last figure to really sink in: 50.37%. Projected over another three years, all else equal, the stock would be paying a yield of 7.44% at the beginning of 2019. Collecting current income in an uncertain market like the one we're experiencing is a key strategy to keep your portfolio safer than others.
When it comes to dividends, I like to know that management wants to outperform. The average S&P 500 dividend yield is 2.27% and the average DJIA yield is 3.09%. Ford's yield clearly trumps both of these. Especially if the major averages start to decline and individuals start to see notable losses in their equities, the inflows are going to come to stable yielders on great growth rates like Ford. Unfortunately, I did not catch the shares in time for the special cash dividend of $0.25 (representing an individual current yield of 2.06%, annualized 8.26%) as the ex-date was January 27.
A function I enjoy using for dividend paying equities is Bloomberg's dividend discount model. According to this model, the theoretical price per share should be $18.86, which would represent 55.87% upside from the current share price.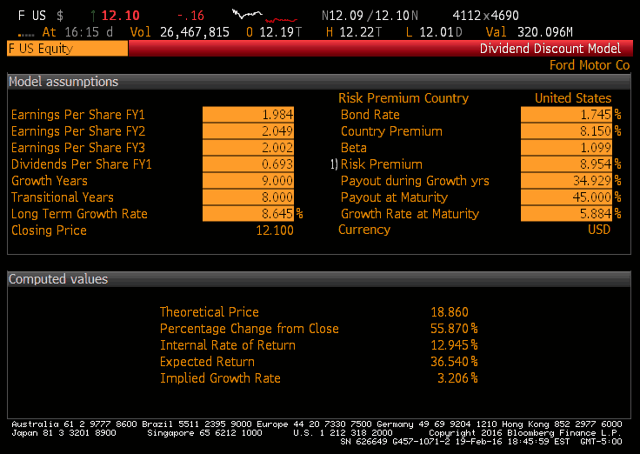 Source: Bloomberg
3. The Risk/Reward Scenario Was Renewed
After a very average year of performance in 2015, we saw Ford continually fluctuate in the $14 range, topping $15 a few times. Going back even further, the stock had two sustained runs above $16 in 2015. If the stock at all bounces back to the $14 level it was trading at before the new year began, I'll make 15.7%, on top of the 8.62% I've already earned. However, I do not believe I will exit the trade because Ford is a stock I plan to hold for the long, long term. Furthermore, the stock is trading 26.17% down from its 52-week high of $16.39. On top of that, the stock is down 12.31% YTD, which just creates more room to initiate an entry with greater upside. Below are both the YTD and 6 month views for Ford versus the S&P 500.
Source: Bloomberg
I'm thinking long term here. A sub-$12 entry was hard for me to ignore and with my cost basis at $11.14, the last time we saw levels like that was late 2012 before the stock zoomed up to over $17 a share by the end of 2013. That risk/reward is very attractive to me.
I'm well aware that this company will decline with the broader market if there is recession in equities, not just on an earnings basis. Considering that Ford has drastically underperformed the S&P 500 throughout the last two years, it's safe to say that the stock would see a more aggravated downtrend than the broader market. Even with a low beta of 1.15, this is something I have to be cognizant of and why I have a small position in Direxion's Daily S&P 500 Bear 3x (NYSEARCA:SPXS) to hedge my risk, with the leverage in tune to my allocation.
Conclusion
A high current yield, a favorable economic scenario, and a cushion in the risk/reward scenario all point to an increase in the stock over the NTM. Backed by a strong dividend growth rate and record performance in 2015, the stock is poised for excellent upside. 2015 will be a tough year of comps to beat, which expectations will assuredly factor in. The recent decrease in the stock just allowed investors to have a renewed long opportunity.
Disclosure: I am/we are long F, SPXS.
I wrote this article myself, and it expresses my own opinions. I am not receiving compensation for it (other than from Seeking Alpha). I have no business relationship with any company whose stock is mentioned in this article.