Good fourth quarter results from Nokia (NYSE:NOK) should have helped push the stock higher. Instead, the market is still cautious with the networking giant. The company disappointed investors at the start of the month with an arbitration ruling with Samsung (OTC:SSNLF). Investors hoped for a bigger, better settlement payout. Looking ahead, investors should expect Nokia's stock range-bound in the near-term and moving higher in the medium term.

Nokia received $2.78B (EUR 2.5B) from selling its HERE mapping unit. Another $1.45B (EUR 1.3B) will come from the 2016-2018 Samsung arbitration. Exiting non-core business will help Nokia keep its focus on its strength: networking. Unfortunately, in the fourth quarter, revenue from Nokia Networks fell 5 percent. Software sales helped boost gross margin to 39.6 percent.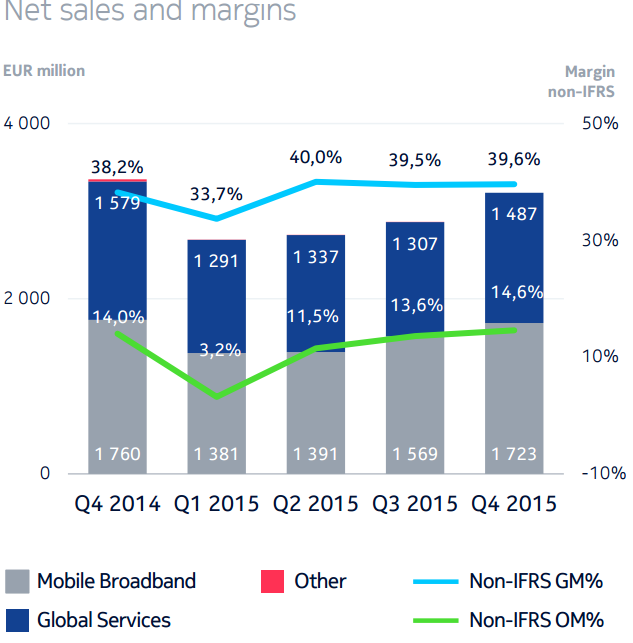 Source: Nokia
Cost controls helped sustain Nokia's profit margin, along with a higher mix in LTE, small cells, and mobile broadband.
Nokia touted 5G as the next big shift in mobile, but investors should expect revenue growth supported by LTE rollouts in 2016. China and the Asia-Pacific are key markets for LTE this year. In the last quarter, Japan was the laggard in the region. Sales in Europe and North America also fell by seven percent and six percent, respectively. Surprisingly, revenue increased 17 percent in China due to LTE rollouts. Even though markets worried about a slowdown there at the end of last year, Nokia did well there. China is only 15 percent of Nokia's sales. Expect the mix of sales in China to increase.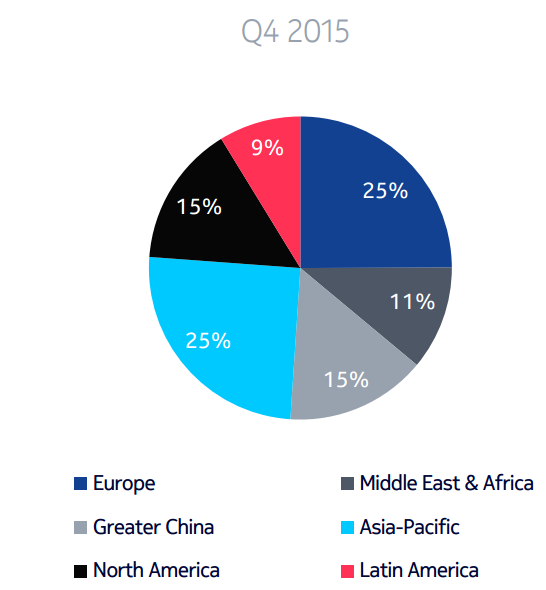 Special dividend
Shareholders will earn income holding Nokia shares, through its special dividend of $0.11 per share, on top of the regular $0.18 per share dividend. At a share count of 6 billion, the dividend, share buyback, and delivering will mean a return of $7.8 billion (EUR $7 billion) for shareholders.
Near-term headwinds
Despite Alcatel-Lucent already cutting costs ahead of companies combining operations, Nokia's stock may get stuck in a trading range. Management already allocated returning a large portion of cash to shareholders. Nokia did not forecast a follow-through in strong sales in the current quarter. Winning 5G deals will need the company making upfront investments. The company downplayed the outlook for the first quarter on its conference call:
For Q1 2016, net sales and non-IFRS operating margin in Networks are expected to be influenced by factors including a flattish CapEx environment for Nokia's overall addressable market in 2016, a declining wireless infrastructure market in 2016 with a greater than normal seasonal decline in Q1, competitive industry dynamics, product and regional mix, the timing of major network deployments, and execution of integration and synergy plans.
Nokia also expects weakness in Russia and Japan. China's market may weaken in 2016.
Upside from IP monetization
Nokia may still realize further gains from its intellectual property. Nokia's arbitration with Samsung only involved the IP from the Technologies unit. The company may still report revenue from IP held by Alcatel-Lucent. This includes IP related to IoT and automobiles.
Risks
Nokia must sustain gross margins in the high-30's to low 40's. If demand in networking and mobile weaken this year, Nokia may not have enough sales in software to offset the difference.
Bottom line
Now that Nokia is bigger than ever, thanks to its acquisition of Alcatel-Lucent, investors may expect steady revenue growth in the years ahead. Investors still face some unknowns, such as macro weakness, a slowdown in infrastructure spend in China, and unforeseen costs integrating Alcatel-Lucent. Conversely, investors will earn a steady dividend. Debt restructuring and the potential for an even bigger share buyback should help support the share price at current levels.
Disclosure: I/we have no positions in any stocks mentioned, but may initiate a long position in NOK over the next 72 hours.
I wrote this article myself, and it expresses my own opinions. I am not receiving compensation for it (other than from Seeking Alpha). I have no business relationship with any company whose stock is mentioned in this article.
Editor's Note: This article discusses one or more securities that do not trade on a major U.S. exchange. Please be aware of the risks associated with these stocks.