There is a new kid on the brokerage block and I think it will transform investing.
RobinHood is a trading app that was founded in 2014 by two Stanford grads. As of early 2015, the company had grown to 25 employees. Its main attributes are $0 commissions and no minimum account balance. So far it is privately funded, having received about $60 million of seed funding from various venture capitalists and entrepreneurs. Google Ventures (NASDAQ:GOOG) was the first backer and rapper Snoop Dogg is another. It's interesting that the company hasn't tried to make a profit from free trading yet. This Investopedia article speculates that the company will eventually offer margin trading while charging a very low interest rate. Advertising might be another avenue to pursue. Frankly, it doesn't matter to me as long as they have enough seed funding for the time being. I would encourage younger or lower-net-worth investors to give the platform a shot, and even experienced traders may be interested.
RobinHood's cofounder explains why the traditional brokerage fees are relics of a bygone era:
Ten years ago, you wouldn't have been able to provide this service with 25 people. It would have taken 500.
I've tried the platform recently and the experience was so pleasant that I am switching all of my accounts over from a traditional brokerage.
Free trades are liberating, especially compared to the $10 E*TRADE (NASDAQ:ETFC) commissions I'm accustomed to. My rule of thumb for E*TRADE was to trade blocks of at least $2,000 so that commissions didn't skim too much of my profit. But with RobinHood, I can and have traded sub-$100 increments. This generally lowers my stress levels and it gives me less fear of selling. I am more than happy to sell, even for a %1 profit, because there is absolutely no cost to me. For that reason, day traders may love RobinHood.
Furthermore, the zero commission allows me to use capital more efficiently. For example, I had $80 left after a larger trade was executed at a slightly lower price than expected. That enabled me to pick up 4 shares of SolarCity (SCTY) after it crashed. Retail investors can't reasonably make that type of trade with a traditional brokerage.
There are a few drawbacks but they will apply mostly to more-experienced investors. First, there's no desktop version of the app, so trades need to be executed on a phone (iPhone or Android). A web version is reportedly in the works. Experienced traders might find the app lacking in features, but it is refreshingly easy to use.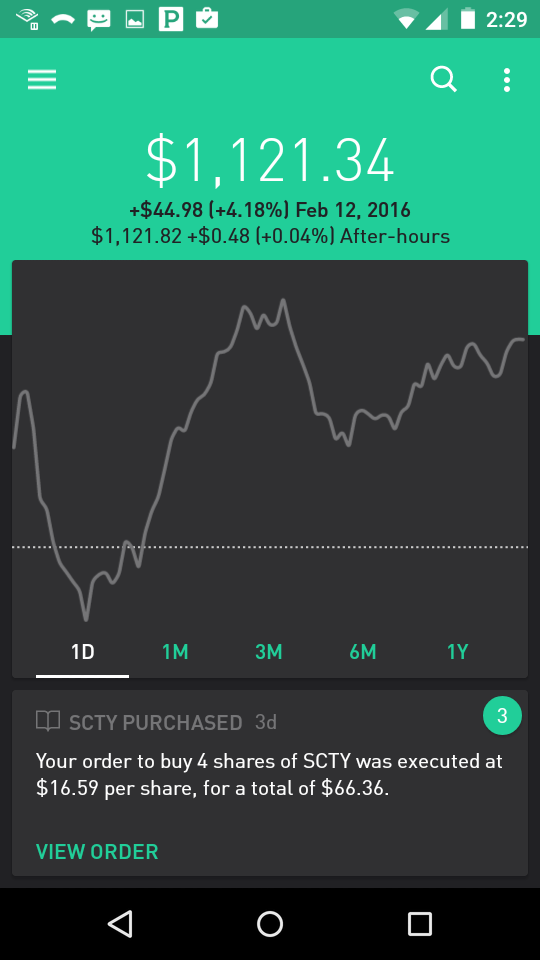 I do miss the way E*TRADE makes newly-deposited funds available immediately -- with RobinHood, you will be waiting at least three days for your funds to clear, regardless of the size of your account.
Finally, there is no option trading and no margin trading (yet). In my case, that is not necessarily a negative. These more advanced trades typically carry even higher commissions than the standard $10 fee, so I am more than happy to leave that game behind. Furthermore, having recently seen The Big Short film about the housing market collapse, I suspect that such squirrely financial arrangements are not necessarily positive for the market as a whole.
Where does this leave traditional brokerages? It is likely that RobinHood is already trimming the margins of E*TRADE, TD Ameritrade (NASDAQ:AMTD), Charles Schwab (NYSE:SCHW), etc. For example, glancing briefly at E*TRADE's quarterly results, I see that "commissions, fees, and service charges" are down roughly 10% year-over-year and it was only a $59M one-time charge that made the quarter seem successful year-over-year.
These traditional brokerages may be profitable and fundamentally sound, but once there is a more efficient method, it is only a matter of time until the public takes notice. Furthermore, over 80% of RobinHood's 700,000 users are millennials who are just starting to hit a stride in their careers and their buying power. Millennials have just recently surpassed Gen-X'ers as the most numerous in the workplace. As they age further and grow wealthier, it seems likely that RobinHood's market share will grow in kind.
I would suggest shorting E*TRADE in particular as it has some of the largest commissions in the industry. Ironically, you won't be able to short it with a RobinHood account.
Disclosure: I am/we are long SCTY.
I wrote this article myself, and it expresses my own opinions. I am not receiving compensation for it (other than from Seeking Alpha). I have no business relationship with any company whose stock is mentioned in this article.