Introduction
It's always great and exciting to 'discover' a new company that seems to be undervalued, and I was quite excited when I first discussed Charles River Laboratories (NYSE:CRL) in September of last year. Just three weeks later, when the company was trading at just $64 per share, I initiated a long position and am quite happy to see this position is already 25% up. But I think there's more to come…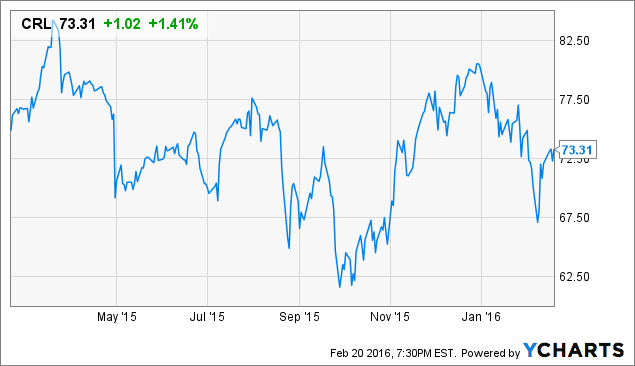 FY 2015 once again was a pretty good year…
Unexpectedly, Charles River once again reported a very strong revenue growth as it saw its top line increase from $1.3B to $1.36B (+5%) thanks to a 7.5% increase in its service revenues. As the operating expenses remained quite reasonable, CRL4s operating income actually increased by 16.2% compared to the operating income in 2014 (and by 36% compared to FY 2013), and these are very impressive results.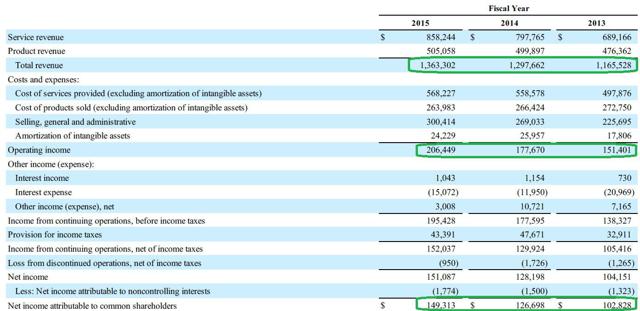 Source: SEC filings
The operating income is increasing much faster than the revenue, and the operating margin has increased from 12.99% in 2013 to in excess of 15% in 2015, so I think you're now starting to understand why I was excited to 'discover' Charles River. The bottom line is also showing some very impressive improvements as the net income increased by almost 20% to $149M (which is approximately $3.23 per share).
That's great, but in a previous article I already identified the company's adjusted free cash flow is usually higher than the net income. And indeed, 2015 didn't disappoint me either and it once again shows why investors and shareholders should read past the fancy headlines and try to find out how much cash a company is really generating!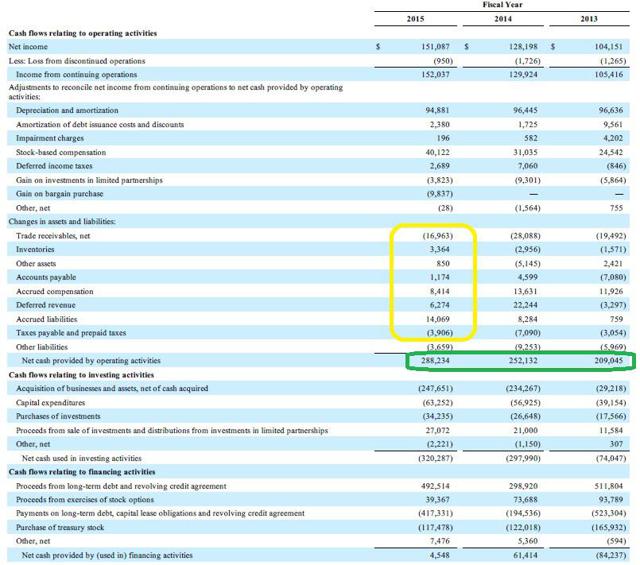 Source: SEC filings
Charles River reported an operating cash flow of $288M, but as there was a positive impact from cash generated through working capital changes, I'd like to adjust this number to exclude all changes in Charles River's working capital position. After doing so, the adjusted operating cash flow does decrease slightly to $279M but as the capex was just $63M, the adjusted free cash flow came in at $216M, and that's a very impressive result and roughly in line with my previous expectations.
Charles River didn't do anything stupid with the cash, and it doesn't even pay a dividend as it thinks it can reinvest the money in the business resulting in better returns for its shareholders compared to paying a simple dividend. Approximately half of the free cash flow was used to repurchase shares, and the other half was used to fund new acquisitions which will definitely be accretive for the full-year 2016 results.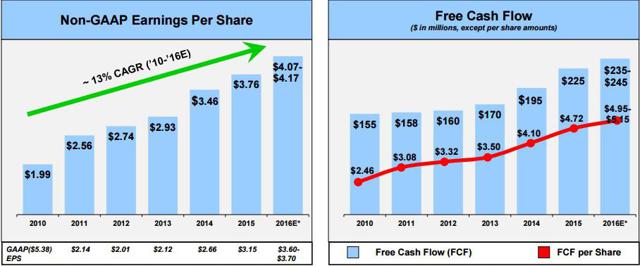 Source: company presentation
But even after digesting the Celsis-acquisition, Charles River was still hungry.
… Allowing the company to acquire a large bolt-on target
Indeed, in the first month of the current financial year, Charles River announced it entered into an agreement to buy WIL Research for $585M in cash (funded by the existing cash position, free cash flow and by drawing down more cash from its existing credit facility).
That's not a huge surprise as I already explained Charles River had been planning to use its free cash flow to expand its future operations. The company doesn't pay a dividend and I don't mind that at all. Sure, it's nice to receive a dividend from time to time as it ensures a continuously incoming cash flow in a portfolio, but if Charles River has a better way to spend the cash, I'm fully supporting their acquisition strategy.
So will the WIL-deal be accretive? And does it increase the pressure on the balance sheet?
Yes, I think so. According to Charles River, the acquisition will increase the 2017 EPS by approximately $0.50/share (which is approximately $23M) resulting in a net profit increase of approximately 15%. Charles River hasn't shared the operating or free cash flow of WIL, but as the operating margin is in the 'mid-teens', I would assume the metrics would be quite similar to Charles River's consolidated operations, where the free cash flow is approximately 40% higher than the reported net profit.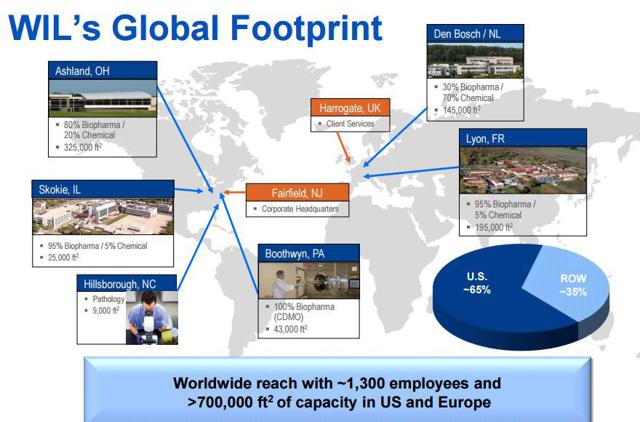 Source: company presentation
This means that if Charles is expecting the new unit to contribute $23M in net profit, it's not unlikely the added free cash flow will be anywhere between $30M and $35M, resulting in a FCF yield of 5-5.5% for WIL Research. That's not cheap, but I'm convinced Charles River will be able to improve this result in 2018 and 2019 to end up with a FCF yield on the purchase price of in excess of 6%.
Yes, Charles River did have some debt on the balance sheet (the net debt as of at the end of last year was $750M for a net debt/EBITDA ratio of 2.2, so adding $600M in net debt will increase the net debt to $1.35B. However, assuming a net cash flow of $200M after spending cash on share repurchases, I do expect the year end net debt position to come in at $1.15B whilst the EBITDA could come in closer to $400M. This means Charles net debt/EBITDA ratio will probably come in above 2.5, but this situation will be rectified in 2017 as the net debt will start to fall (assuming the adjusted free cash flow increases to in excess of $250M, which actually is a conservative estimate).
On top of that, you shouldn't forget Charles River has access to an ultra-cheap credit facility and the cost of its debt should be less than 2%. So if it would draw down the entire amount and pay 2% on a $585M price tag, the annual interest expense would be less than $12M whilst the acquisition would generate in excess of $30M in free cash flow.
So, yes, buying WIL will temporarily increase the pressure on the balance sheet, but this situation should be rectified before the end of this year, as the company has already indicated reducing the debt is its top priority (so don't count on share repurchases this year!).
Due to the planned acquisition of WIL Research and our goal to quickly repay debt, cash flow generation has become an ever greater focus for us.[…] As a result, we expect to limit our stock repurchase activity in 2016 and be less active in M&A. We will also be keenly focused on integrating all of our current acquisitions and managing our existing businesses.
Investment thesis
Back in September, I recommended to write two put options maturing in February, and as the company's share price closed higher than those strike prices, I was able to keep the option premiums in my pocket. I would have loved to pick up more stock at an average of $62/share, but I'm still happy with my current position which I intend to hold for the long run. The free cash flow in 2015 once again didn't disappoint and I think Charles River Laboratories could become a 'cornerstone' of my defensive portfolio as it seems to be making some very smart acquisitions lately.
2016 will be a calm year as there won't be any special acquisitions, and I just expect Charles River to incorporate the new acquisitions in the asset portfolio and to use the free cash flow to reduce the total amount of debt. I will continue to hold my shares of Charles River and would be very interested to add stock on any pullback. At $74/share, I expect the free cash flow yield to be 7%.
Disclosure: I am/we are long CRL.
I wrote this article myself, and it expresses my own opinions. I am not receiving compensation for it (other than from Seeking Alpha). I have no business relationship with any company whose stock is mentioned in this article.