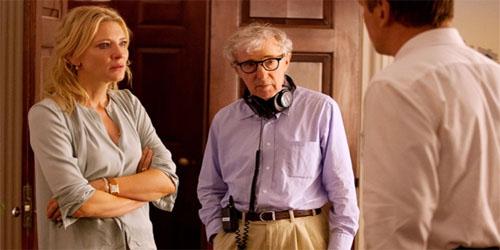 Source: Sony Pictures Classic
Amazon (NASDAQ:AMZN) recently landed a big punch in its battle to solidify itself as a major player in this new normal of film distribution and it comes courtesy of Woody Allen.
The Oscar winning director has decided to partner with Amazon over traditional partner Sony Pictures Classics for his next film. The untitled project will be headlined by Steve Carell, Blake Lively, Jesse Eisenberg and Jeannie Berlin and was acquired for what Deadline reports to be "a eight figure deal."
This is a big acquisition for Amazon, which is already working with Allen on a new six-episode TV with Miley Cyrus. Moreover Allen's films are consistently in the Oscar conversation, which is the exact space Amazon and Netflix (NASDAQ:NFLX) are competing to break into immediately.
Thus far neither studio has had luck, but both also take differing approaches. Netflix insists on a day-and-date release, which limits its films to art-house type cinemas since the major chains see no value for them in that approach.
Conversely Amazon is open to working with the theaters and have the films come to its servers after a particular window. The issue is that even though Amazon agrees to a windowed release, theaters still aren't entirely receptive. The major chains want it the traditional way or no way which is helping no one.
Yet from their perspective, it makes sense, the traditional model is where the theaters make their money, but Amazon is trying to extend an olive branch but the theaters are shunning it without a second look. Netflix is Netflix, it's not going to budge from day-and-date like it won't budge from its "all at once" TV release model. Amazon though is trying to play nice as its executives know a partnership gives it more value and ammunition with both consumers and filmmakers.
The other difference between Amazon and Netflix is their acquisition style. Netflix usually only buys the streaming rights because that's all it cares about (outside of a Oscar qualifying run in theaters), but Amazon buys both streaming and traditional. Now they must find that partner for the theatrical run and that could be challenging; but not impossible. Amazon's team is led by respected industry vet Bob Berney and if anyone can make the right deals, it's him.
Amazon is set to have 12 films out this year including the anticipated Elvis and Nixon, which stars Michael Shannon and Kevin Spacey. In that case Amazon is teaming with Bleecker Street, which ran the successful awards campaign for Trumbo.
Both Amazon and Netflix may be the leaders in the field (along with Hulu), but investors got started a little this week when Apple (NASDAQ:AAPL) was revealed to be working on a new Dr. Dre series. The drama, Vital Signs, was expected to be Apple's intro into this market, but now it looks like it was designed to help Apple Music.
Still, it's likely Apple's going to get involved here in a big way at some point with its own service, whether it's for streaming movies or streaming series or both. Right now its team is smartly staying back and surveying the field until it feels the timing is right. Apple's team is waiting to see what's next for Amazon, Netflix and company and Woody Allen upping his involvement is a big development.
Disclosure: I/we have no positions in any stocks mentioned, and no plans to initiate any positions within the next 72 hours.
I wrote this article myself, and it expresses my own opinions. I am not receiving compensation for it (other than from Seeking Alpha). I have no business relationship with any company whose stock is mentioned in this article.