Arena (NASDAQ:ARNA) investors saw another disappointing week of Belviq sales. The 2016 weight loss season is shaping up to be a reality check in the sector as a whole, and a reality check that current weight loss treatments are falling well short of what is needed to turn around the stances on weight loss drugs.
This past week sales came in at about 9,400 scripts. Belviq was the only player in the sector to report a sales decline. The tepid sales are happening for several reasons. There is a lack of marketing support because marketing costs have demonstrated that the sales benefit derived from the effort is not delivering the desired benefit. Tepid sales are also partly due to the "newness" of Belviq wearing off. Perhaps most importantly, the drop off in sales is attributable to results that are simply not compelling enough to justify the cost.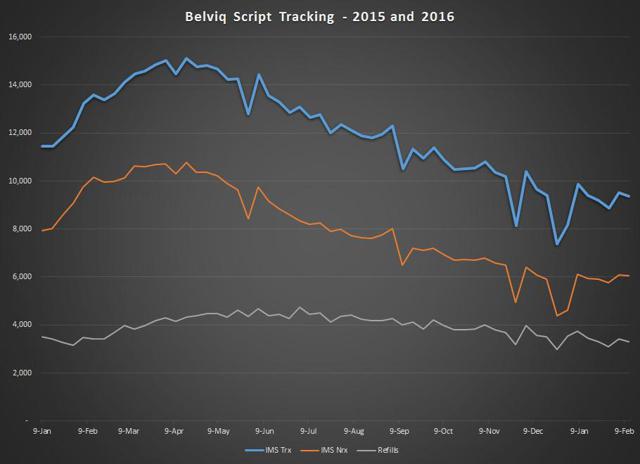 Chart Source - Spencer Osborne
Before shifting into quarter over quarter, year over year, and market share, I want to take a minute to discuss an important developing dynamic regarding this sector. Insurance companies and the medical community are assessing this sector closely. They are tracking the value of these drugs, the risk vs. reward, and even whether these treatments are a wise path to take. One such study was completed in 2015 by the California Technology Assessment Forum. In 2015 the CTAF completed an assessment regarding the anti-obesity sector. The results of this study might be eye-opening for investors that have been looking at this space for quite some time.
CTAF had the following to say about Belviq:
"In the three good-quality RCTs, reductions in total body weight were modest, ranging from 4.5-5.8% among lorcaserin recipients, compared to a 1.5-2.8% mean decrease among those taking the placebo (p<0.001 for lorcaserin vs. placebo in all studies). A single study reported outcomes related to comorbidity status and found 50.4% of lorcaserin patients versus 26.3% of placebo patients achieved a hemoglobin A1c (HbA1c) <7% (p>0.001) (O'Neil, 2012). Discontinuation of lorcaserin from drug-related AEs occurred in 4.3-8.6% of patients across studies, and approximately 80% of study participants experienced any AE.

We judge there to be moderate certainty of a small net benefit of lorcaserin (10 mg, administered once or twice daily) over lifestyle modification for weight loss in patients with BMI levels between 35-39.9. There is moderate certainty because while three good quality studies reported consistent weight-loss results, two studies excluded patients with common obesity-related comorbidities. We found no evidence of lorcaserin's benefits in populations with BMI levels ≤35 or ≥40."
and
"Finally, all four of the newer weight-loss medications have been FDA-approved, but benefits are again relatively modest in comparison to conventional weight-loss management. Across all four medications, total weight loss ranged from 3-7% in comparison to placebo or active comparator therapy. In addition, there are limited data on resolution or improvement in comorbidities, lack of information on long-term weight trends, high rates of discontinuation in many studies, and not inconsequential concerns about potential to harm (two of the four are scheduled substances). Of interest to this review, none of the drugs of focus provide any comparative evidence in overweight but non-obese subjects (i.e., BMI 25-30), despite the fact that the labeling for all four allows for use in such patients."
A big issue that CTAF identified with Belviq and its direct competitors was the cost effectiveness of these drugs. In simple terms, insurance companies have many ways to gauge cost effectiveness. One way they do this is to assess the cost vs. the quality adjusted life year. The goal is to have the cost be as low as possible for each QALY gained. The industry tries to see a range of $50,000 to $100,000 as an acceptable ratio. Bariatric surgery, while expensive, delivers a Cost-effectiveness estimate over 10 years which ranged from approximately $24,000 to $63,000 per quality-adjusted life year (QALY) gained vs. conventional treatment. These are numbers insurers can live with. In contrast, pills such as Belviq are higher than $100,000 because of the fact that very small benefit is gained.
"In contrast, the much more modest weight loss achieved with the vBloc device [from Enteromedics (ETRM)] and N/B [(Contrave from Orexigen (NASDAQ:OREX)] pharmacotherapy, coupled with their high implantation and ongoing therapy costs, respectively, resulted in much higher cost-effectiveness ratios (>$100,000 per QALY vs. conventional treatment). Results were more favorable when these treatment options were considered "in sequence" with bariatric surgery for those failing initial treatment, in particular for a "drug first" regimen in which those with successful weight loss at one year continued to receive medication while patients requiring surgery were able to receive surgery after an initial weight loss."
The bottom line is that drugs such as lorcaserin are not delivering enough benefit to sway the longer term numbers in favor of insurance companies covering these for any length of time. We may eventually see a shift where the coverage is success driven ( the Belviq label actually suggests stopping the drug if thresholds are not met at 3 months), and that if the drugs do not work, a next step needs to be taken. Belviq is not alone in this "expensive" category. Qsymia, Contrave, Saxenda, and the vBloc Maestro device are also in the same boat. That makes it a challenging sector overall.
The bottom line is that I highly recommend that anyone invested in this sector read the CTAF report and grasp what it is outlining.
In looking at quarter over quarter performance we see that Belviq is still underselling the previous quarter. Sales in Q1 of 2016 are now pacing at 11.62% behind what we were seeing in Q4. In fact, Belviq sales in Q1 of 2016 are pacing behind each of the last 4 quarters.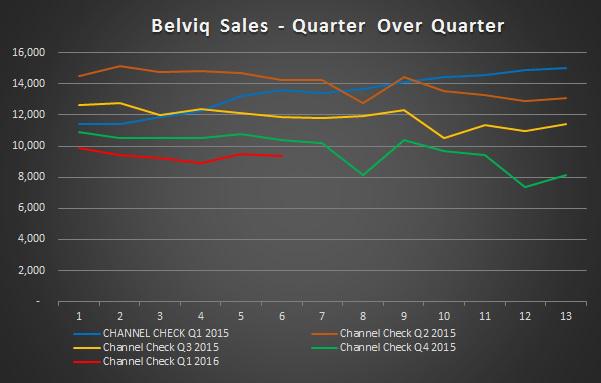 Chart Source - Spencer Osborne
On a year over year basis Belviq sales are falling behind as well. This dynamic is important for investors to understand early because it is how financial comparisons are most often made. Revenue for Arena is paid on bottles shipped instead of sales, but the dynamics will at some point even out. Sales in Q1 of 2016 are now pacing 23.81% behind Q1 of 2015. Worse still, the trajectory is negative. I did have one passionate reader reach out to me and say that when sales are down in conjunction with the stock it is time to buy. If I were judging Arena on sales of Belviq alone, it would not be a time to buy. In my opinion the only reason to buy into this equity now is the potential for the pipeline, and investors should know that the pipeline will take time to get to maturity. There still exists a potential for another round of dilution, so I would not be in a hurry to make a move.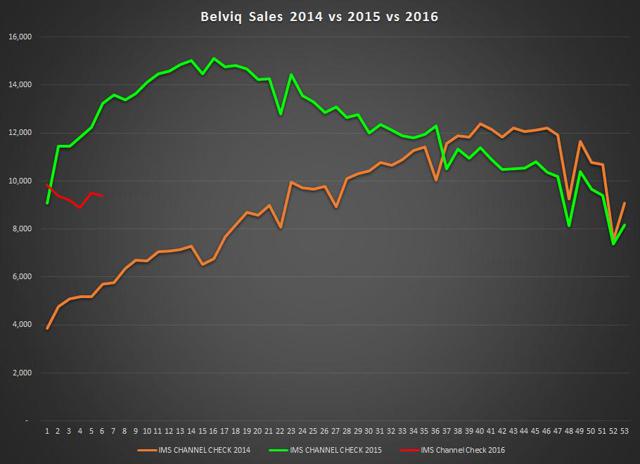 Chart Source - Spencer Osborne
In looking at market share we see that Belviq is now sitting near its lowest share ever. The all-time low is 28.10% share. This past week Belviq had a 28.12% share. In my opinion keeping above 25% share is critical for this drug. The reason for that is maintaining a relevance with insurance companies. If Contrave from Orexigen can get itself onto better insurance tiers because of the results and volume it is delivering, it will become harder for Belviq to compete.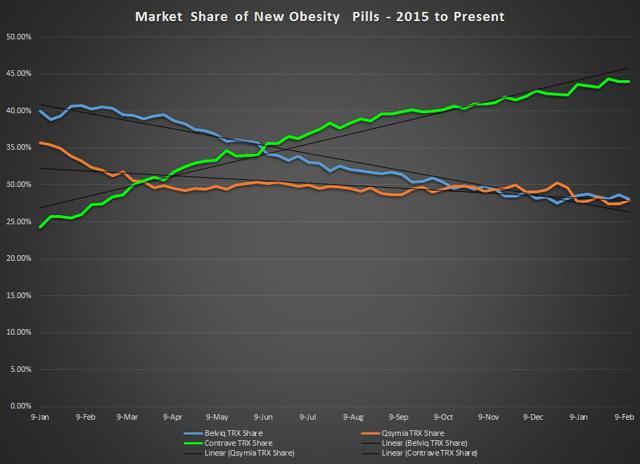 Chart Source - Spencer Osborne
In looking a sector growth we can begin to see some of the problematic dynamics of 2016. Sales in week 6 of 2016 are 0.95% lower than week 6 of 2015. On a cumulative basis sales of the sector in 2016 are now pacing just 7.48% better than last year. That is incredible considering that Contrave sales last year were only at a bit over 9,000 and now are near 15,000. Thus far in 2016 Contrave owns 100% of the modest growth in the sector. The only drug demonstrating year over year growth at this stage is Contrave, and as things appear now, that honeymoon may end somewhere in Q2 or Q3. A scary thing to consider is that low double digit growth in this sector was expected for 2016, and we have already dipped into single digits just 6 weeks into the year.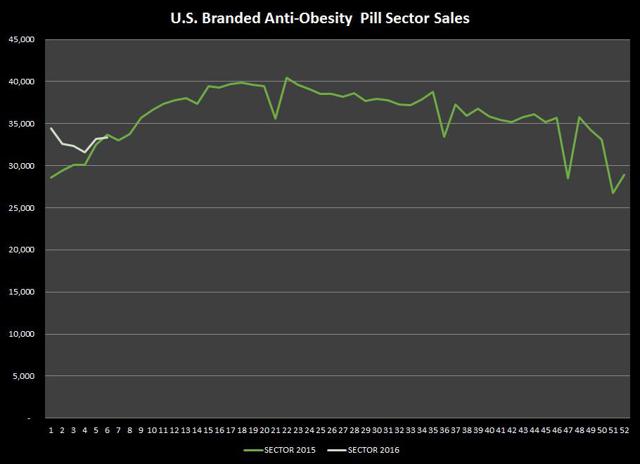 Chart Source - Spencer Osborne
The bottom line on Arena is this. Belviq is not pulling its weight in helping to drive this company forward. There is pipeline potential, but the best pipeline candidates are likely to report phase 2 data at the end of the year. There could be potential catalysts with that data, and in particular if they can get a major partnership out of it. That being said, getting to that point is not without risk. My opinion is that Arena is a pipeline play. If you are counting on Belviq to bring home the bacon, be prepared to wait a long time. Stay Tuned!
Disclosure: I am/we are long ARNA, OREX.
I wrote this article myself, and it expresses my own opinions. I am not receiving compensation for it (other than from Seeking Alpha). I have no business relationship with any company whose stock is mentioned in this article.
Additional disclosure: I have no position in Enteromedics
Editor's Note: This article covers one or more stocks trading at less than $1 per share and/or with less than a $100 million market cap. Please be aware of the risks associated with these stocks.