Introduction:
Varian Medical (NYSE:VAR) is the market leader within the cancer treatment space, which is among the leading causes of morbidity and mortality worldwide with more than 8 million cancer related deaths worldwide every year according to data from the World Health Organization. Despite being in a leading position for cancer treatment and being actively involved in the value chain of cancer treatment, VAR has traded flat since their first quarter 2016 results announcement that saw them beat both top- and bottom- line. The concern in my view is the soft gross orders from overseas markets especially in key markets like Japan and China. Nonetheless, I note that the concern with softness from international markets is not something new, and VAR has already corrected more than 15% since last year, despite the softness in orders, results on a constant currency basis outweigh that of the temporary weakness in overseas orders. Accordingly, I see the latest sell down as manifestly excessive, and have accumulated positions in VAR last week.
About
VAR has three reportable segments, 1) the oncology services, which accounted for more than three quarters of their revenue (76%), 2) the imaging segment, which account for the next 20% and 3) particle therapy takes the rest in the latest financial year. The revenue mix has been relatively stable over the last three years.
First quarter results beat expectations but international orders disappoint
VAR reported first quarter results that beat the street's estimates for top- and bottom- line. Their oncology department grew 9% on a constant currency basis, driven primarily by their international business, which grew by 31% on a constant currency basis.
Despite the strong results, concerns about their softer than expected international orders from key markets like Japan and China saw VAR trading down after the results announcement. In my view, the recent sell down in the shares of VAR is a little excessive especially when we consider that gross orders is just down 1% on a constant currency basis.
Customers of Varian
According to their annual report 2015, VAR's main customers include university research and community hospitals, private and governmental institutions, healthcare agencies, physicians' offices, oncology practices, radiotherapy centers and cancer care clinics.
I think the customer base gives investors like me reasonable comfort as this act as a form of barriers for new entrants. This is because healthcare agencies above are not likely to simply switch to another competitor without them first undergoing strict tests and suitability.
Key Operating Metrics: Valuations
I used the earnings and cash flow price multiple to value VAR based on their closing price on the 19th of February. At 18.5x, and 20.8x, they are trading at a not insignificant discount to their medical equipment peers in the market. As mentioned above, I think the discount to their peers is the result of the street's fears of a general slow down in international sales that affected VAR.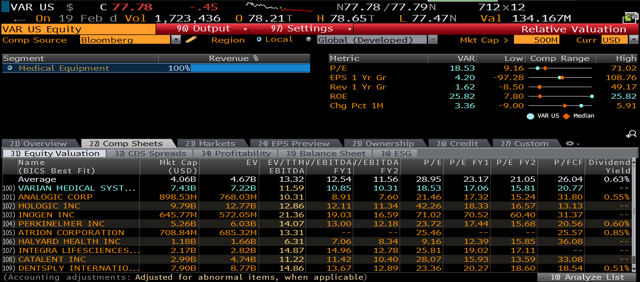 Source: Bloomberg
With that said however, the sell-down is overly excessive in my view in the near-term as the current slow down in international sales is in-line with general economic softness in Japan and China.
Risk considerations
The negative interest rates adopted by the Bank of Japan last month highlighted how far Japan is to an economic recovery in my view. A persistent slow down in Japan could see VAR's international revenue, which accounts for about 55% of total revenues in 2015 remain soft.
Strong Balance Sheet smoothens the ride
Despite the near- and mid- term volatility, VAR's strong net cash position should offer investors some comfort to tide through the current volatility. Referring to the diagram below, I calculated VAR's Net Cash position, you can see the formula for yourself below.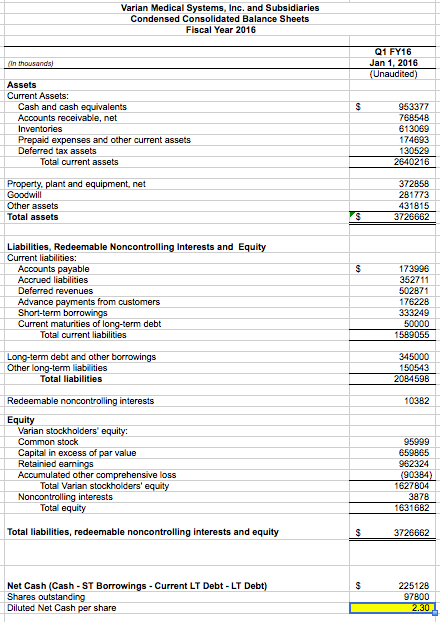 Source: Company data
The data above illustrates VAR's balance sheet as at the latest quarter. I then took the total net cash of VAR (after removing debt) and divided this by their total diluted shares outstanding to get a diluted net cash per share of $2.30. This strong financial position puts them in a good position to ride out the current economic volatility.
Conclusion
According to statistics by the Centers for Disease and Control, cancer is the second leading cause of death in the United States. This means that one out of every four deaths is the direct result of cancer. An ageing population in the U.S, European Union and in the Asia Pacific countries will continue to see demand remain resilient in the mid- to long- term for high quality medical equipment products. VAR's exciting pipeline of innovative products in the oncology space could cement their position in the oncology field. I think the recent price correction presents an excellent opportunity to accumulate shares of VAR.
Disclosure: I am/we are long VAR, BDX.
I wrote this article myself, and it expresses my own opinions. I am not receiving compensation for it (other than from Seeking Alpha). I have no business relationship with any company whose stock is mentioned in this article.