CVR Partners (NYSE:UAN) has just reported it's Q4 results, with a beat on the bottom line and a slight miss at the top. Yet, shares have declined 55% over the past year, due to general weakness in ammonia and UAN markets as well as company specific issues. In 2016 alone shares have been down 32% at Wednesday's close, just prior to the earnings report.
I believe after Q4 2015 results, shares of CVR Partners are greatly undervalued at current levels. Even in light of market weakness, there are short- and long-term catalysts to support further upside from today's levels.
Q4 2016 Results
There was nothing extraordinary in UAN's Q4 results to make note of. On a year-over-year basis production was slightly higher with much lower petroleum-coke costs ($23 vs $27 in Q4 2015). Mixed sales volumes along with lower prices for both ammonia and UAN resulted in declines in total revenues and EPS.
But the key takeaway is in fact that the company is back on track, given the major shortfall experienced in Q3 2015:
... however, following the turnaround, the air separation unit operated by Linde, that feeds nitrogen and oxygen to our facility was impacted by three separate unexpected shutdowns during August and September. The total additional downtime during the third quarter from the three shutdowns was approximately 18 days.

The combined impact from the planned downtime from the turnaround and unplanned outages due to Linde's air separation unit was between $0.20 and $0.25 per unit. (Mark Pytosh, Q3 call.)
Today, it appears the company is back on track and the results show that there are no "gremlins" post-Linde outage that are still haunting company's operations. While this does not guarantee absence of adverse events further down the road, it certainly does not justify the 17% yield (given actual 2015 distributions of $1.11), which now appears to be now fully sustainable.
Market Conditions
This is still a major concern for any potential investor who may consider adding CVR Partners to their portfolio -- the declining prices of ammonia and UAN. Q4 average realized prices for CVR Partners were 12.4% and 10.5% down for ammonia and UAN year over year, while being flat and down 4.6% for the whole year (2015 vs. 2014). The CME Futures Urea contract for February 2016 clearly shows a strong downtrend pattern, which those appears to have been broken recently: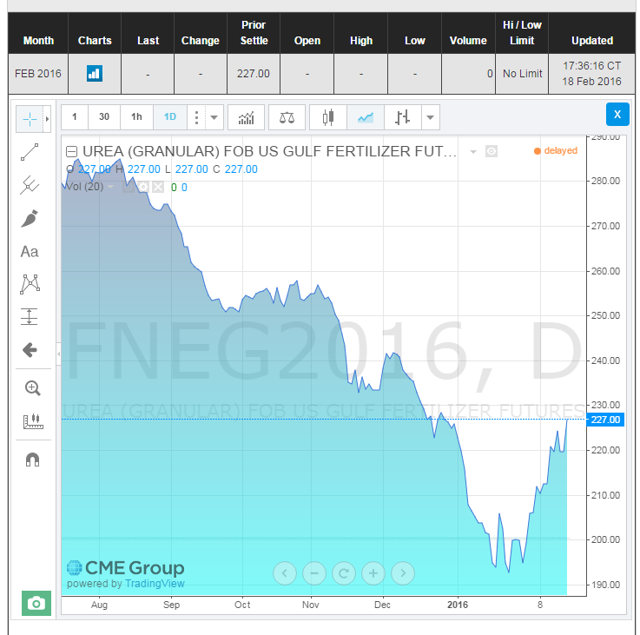 One of the likely reasons for reversal maybe the upcoming planting season and demand improvement:
In addition, based on industry reports and our observations in our key selling markets, it appears only 50% to 60% of the typical amount of nitrogen was applied in the fall. This further indicates that a significant amount of nitrogen fertilizer will be needed -- will need to be purchased to meet this year's spring demand. (Mark Pytosh, Q3 call.)
In fact, over the past two years, CVR Partners equity tends to outperform early in the year (though trend breaks in 2013):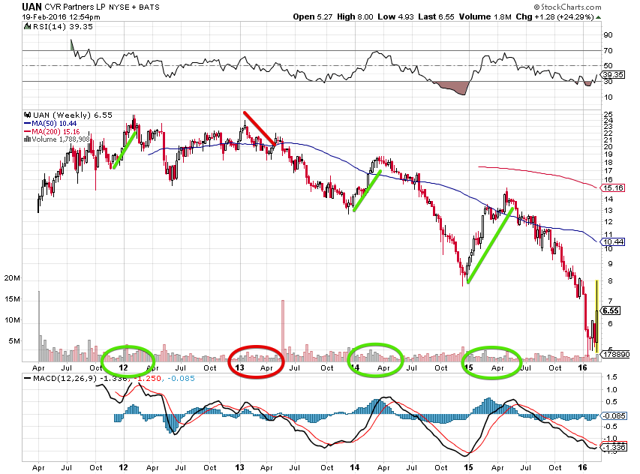 Overall, I believe that good results in Q4, implication of stability and upcoming planting season strongly outweigh operational risks and the general declining trend of fertilizer prices.
Long-Term "Joker": RNF Merger
Lastly, there is also merger with Rentech Nitrogen Partners (NYSE:RNF) which is expected to close by the end of Q1 and will make CVR Partners the "second largest producer of urea ammonium nitrate in North America" (Jack Lipinski, press release).
The merger appears to be on track and while operational synergies and improved performance will still need to be proven, management seems quite optimistic:
The strategic rationale for the merger remains firmly in place and we look forward to expanding our footprint into new geographic markets as well as broadening our customer relationships. We also expect a benefit from East Dubuque usage of natural as a free stock (Mark Pytosh, Q3 call).
Bottom Line
Overall, I'm greatly encouraged by Q4 2015 results and believe there is quite a bit of room to run to the upside and investing in the shares, at least in the shorter term, is very reasonable. In fact, I have extended my position before Thursday close at around $6.50 per share. For short-term investors, I would suggest buying and holding into April with ~$9-$10 per share target as Q1 2016 report approaches.
Disclosure: I am/we are long UAN.
I wrote this article myself, and it expresses my own opinions. I am not receiving compensation for it (other than from Seeking Alpha). I have no business relationship with any company whose stock is mentioned in this article.