Come March and investors in Teva (NYSE:TEVA) would keenly await the USFDA decision on its novel asthma biologic drug candidate reslizumab. Reslizumab PDUFA action date is in March 2016. Reslizumab acts through a same mechanism as GSK's Nucala (IL-5 inhibition) which was recently approved by the USFDA (November 4, 2015).
If approved it would be the second IL-5 inhibitor on the market. Reslizumab has demonstrated efficacy comparable to GSK's Nucala, although there are some safety concerns.
A USFDA decision is important and is likely to have material implications on Teva stock price for two reasons
1) Reslizumab addresses a potentially large market - It could garner sales in excess of a billion dollars.
2) An approval would also sway investor's concerns related to Teva's over dependence on Copaxone for its earnings. Estimates suggest that Copaxone contributes approximately 50% of Teva's earnings. Copaxone faces threat from generic competitors. Teva has managed to sustain Copaxone sales despite generic competition by launching a more convenient dose of Copaxone (thrice weekly) but this still has not entirely alleviated concerns. Generic companies have filed Para-IV on the newer version of Copaxone too.
I believe reslizumab if approved could have a notable impact on Teva stock price for two reasons
1) Investor perception of the risk-reward of investing in Teva will improve - Reslizumab approval would give investor confidence on its NCE pipeline and ability to sustain earnings in absence of Copaxone.
2) Reslizumab is a potential blockbuster and if approved would have a major positive impact on the future earning potential of Teva
Pros and Cons of Reslizumab winning USFDA Approval
Pros
The USFDA advisory committee has voted in favor of an approval for the drug.
To address the safety issues (anaphylaxis and muscle toxicity) reslizumab may be approved with REMS (Risk Evaluation and Management strategy) plan
Since reslizumab is to be intravenously administered in presence of a healthcare practitioner safety issues like anaphylaxis are manageable.
Cons
Safety concerns have been observed with reslizumab while such issues have not been seen with GSK's Nucala
Until the approval of Nucala there was clearly a major unmet need which is not the case now
The USFDA has in the past, made decisions, which were not aligned with the USFDA advisory committee vote.
The USFDA advisory committee was not fully convinced about the dose used in the trial. They have indicated that there is a chance that a lower dose could have offered better safety. The dose ranging data provided could have been better.
The members of the USFDA advisory committee also pointed that there was inadequate number of US patients in the study.
Potential Peak sales for Reslizumab if approved
Target Market Size Reslizumab is intended for the treatment of severe asthma patients with eosinophilic phenotype. 300,000 to 400,000 patients in the US have severe asthma with eosinophillic phenotype. These patients are not adequately controlled on inhaled drugs (Inhaled corticosteroids + LABA ) and leukotrine modifier. As a result, these patients are prescribed systemic steroids (oral). Oral steroids have tremendous long-term burden for patients if chronically used. The major safety issues associated with long term use of systemic steroids being diabetes, osteoporosis, cataract, cushing disease and an increased risk of infections.
Penetration of IL-5 inhibitors in the target market- The penetration of IL-5 inhibitors would be lower as payors have imposed significant reimbursement hurdles. If we assume a 35% penetration of IL-5 in target market, the market opportunity in the US would be close to $3.5b (assuming an annual cost of treatment at $32,500 - same as Nucala)
Teva's Reslizumab versus GSK's Nucala - Reslizumab is comparable to Nucala on efficacy but there are some disadvantages with reslizumab which is likely to restrict its market share. Nucala has a more convenient mode of administration. Nucala is to be administered subcutaneously, while reslizumab is an intravenous administration. There are also some major safety issues with reslizumab like anaphylaxis and muscle toxicity. Such issues have not shown up in GSK's Nucala clinical trials. GSK obviously has a much better rapport, brand, and marketing presence among pulmonologists/allergists/immunologists in the US which should help it dominate the market.
Upcoming Competition - AstraZeneca should also reach the market with an IL-5 inhibitor (benralizumab) for treatment of severe asthma patients with eosinophillic phenotype in the US around 2017. Benralizumab can be administered at home by patients unlike reslizumab which will be a major advantage.
Considering the above factors I expect Teva to garner around 15% market share which should translate to about $500m in annual sales in the US. The ex-US sales (EU + Japan + Rest of World) should be around the same levels as US sales. Worldwide Teva's reslizumab should garner about $1b in peak sales.
Conclusion - A positive USFDA advisory committee improves the odds of a positive USFDA action on reslizumab. At the current valuations, I see the downside risk as limited in case approval does not come through. I would recommend a long position on Teva ahead of the PDUFA action date on reslizumab. I see a potential 10% upside in the stock price.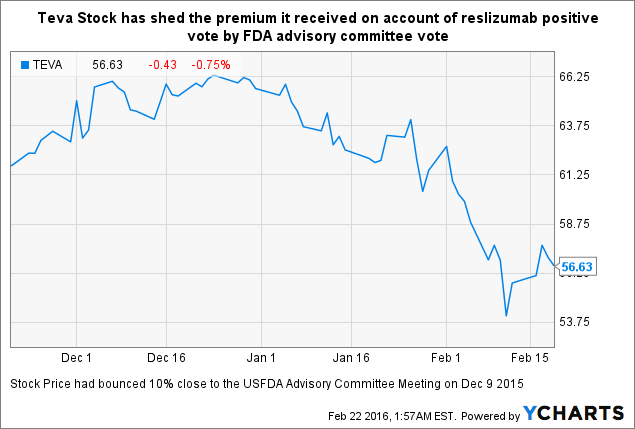 Disclosure: I/we have no positions in any stocks mentioned, and no plans to initiate any positions within the next 72 hours.
I wrote this article myself, and it expresses my own opinions. I am not receiving compensation for it (other than from Seeking Alpha). I have no business relationship with any company whose stock is mentioned in this article.