(Image source: Medcitynews.com)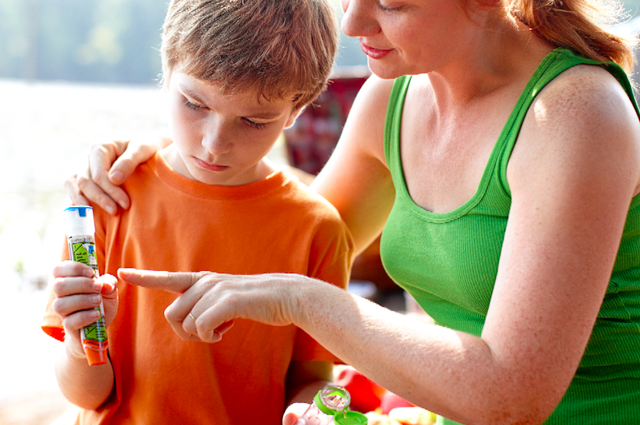 Changes are coming to the way you buy prescription drugs
I started this article as a follow up to one I wrote recently about Antares Pharma (NASDAQ:ATRS), with the intention to mainly talk about a potential issue that was coming up with regards to its generic version of the Mylan N.V. (NASDAQ:MYL) EpiPen. Antares recently obtained FDA approval to start making a version of the popular autoinjector pens.
If you're unfamiliar with the EpiPen, it contains epinephrine, a synthetic version of adrenaline. Epinephrine is used primarily as an emergency treatment for anaphylactic shock, most frequently caused by severe allergic reactions (such as those caused by bee stings). These are commonly kept on hand at children's schools, and some people need to have quick access to them at all times. Someone with peanut allergies for example.
Before I move on, a current problem facing EpiPen users
EpiPen is in a class of drugs that most insurance companies commonly refer to as "Branded Generics". My first article about Antares was centered around that concept. Antares is looking to provide its own patented autoinjectors in a deal with Teva (NYSE:TEVA) to produce its version of the product.
In October of last year, a manufacturing problem was discovered in competing products sold by Sanofi S.A. (NYSE:SNY) in the US as Auvi-Q, and in Canada as Allerject. This eventually led to a recall of these products. Mylan, suddenly finding itself in a situation of having very little competition, as well as having aggressively promoting its own product just before the recalls, essentially had a monopoly on its hands.
Whether accidentally or intentionally, prices of medication has risen
And that's going to bring us to the heart of this article. The price of EpiPen had already increased from about $60 in 2007 to nearly $400 last year. This was partially due to good marketing from Mylan, and also the discontinuation of its single injection package. EpiPen is now only sold in twin packs. In the absence of competition, and the very well-known brand name, pharmacies like CVS/Caremark (NYSE:CVS), and Walgreens (NASDAQ:WBA) have been able to demand even higher prices for the pens.
For people who live with the constant threat of death from anaphylaxis, this is a horrifying development. Turing Pharmaceuticals, the company led by Martin Shkreli, took advantage of a similar situation to increase the price of the generic drug pyrimethamine. As of right now, Turing is the only company making that drug, which is sold under the brand name Daraprim. Shkreli is drawing huge media attention for increasing the price of Daraprim by over 5,500%.
Pictured below: One of the bad guys
(Image source: CNN.com)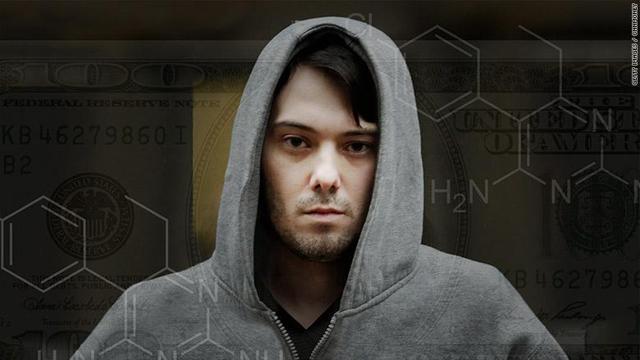 In 2014, the price of generic Adderall XR increased by several hundred percent due to a shortage of one of the amphetamine salts. Shire (NASDAQ:SHPG) attributed this to the government imposing limits on how much amphetamine could be brought into the country. While Shire somehow had enough supply of the ingredient to produce its brand version, generic drugmakers couldn't keep up, so customers purchasing generics found themselves paying nearly as much as the brand. Generic Adderall XR is still relatively high priced today, with prescriptions running into the hundreds of dollars.
It has been the case for a long time that people expected to pay a higher price for popular, designer drugs like Viagra from Pfizer (NYSE:PFE), but were willing to wait for lower-cost products. However, when you or your children suffer from something like ADHD, it can make your life pretty unmanageable. I have personally seen parents brought to tears at the pharmacy on learning that they would have to pay hundreds of dollars for these medicines.
Insurance companies aren't sitting still for this
While the Affordable Healthcare Act (what many people affectionately refer to as "Obamacare") is still in its infancy, commercial insurers are taking action. The largest in this business, UnitedHealth Group (NYSE:UNH), along with smaller but well-established competitors including Cigna (NYSE:CI) and Humana (NYSE:HUM) are combating these drug costs by transferring the burden of costs to the patients.
The traditional structure of healthcare in this country has been to allow patients to obtain the drug of their choice by paying only a fraction of the cost in form of co-pays. A patient might be able to obtain a generic medication for $15 for example, and the branded drug for $50. In most cases, the chemicals needed to produce the generic versions can be obtained for pennies, but generic makers were able to charge much higher prices because insurance companies would pay the majority of those costs.
But now, more of these insurance plans are adding large deductibles up front, where the patient must pay the entire cost of their medications until the deductible has been paid out of pocket. These upfront expenses can be several thousand dollars.
What is happening as a result of high deductible plans
Some people who are prescribed maintenance medications have either refused to fill them or are asking their prescribers to find lower-cost alternatives if they are available. This is exactly what the healthcare industry has been after for a lot of years. When the patients refuse to pay the higher prices, the generic makers (as well as brand) start to lower the cost of their products.
In the longer run, this should motivate generic manufacturers to be more competitive, as opposed to in the past where it was fairly easy to get into the business and make money.
The bottom line
Generic drugmakers' large profit margins are going to feel the pinch soon. We are still inside of the first quarter for the year, and most insurance plans had their benefits reset on January 1st. That means starting about a month from now, we should see the quarterly profits of generic drugmakers getting hit.
It could mean opportunity if the stocks are hit harder than they should be or it could create a value trap if prices continue to be pressured down. At the very least, if you were considering buying the stock of a major generic drugmaker, it makes sense to wait a little before acting.
Disclosure: I am/we are long PFE.
I wrote this article myself, and it expresses my own opinions. I am not receiving compensation for it (other than from Seeking Alpha). I have no business relationship with any company whose stock is mentioned in this article.